End Youth Homelessness' (EYH), a national movement of local charities, has launched a new T-shirt collection #HomeIsWhere.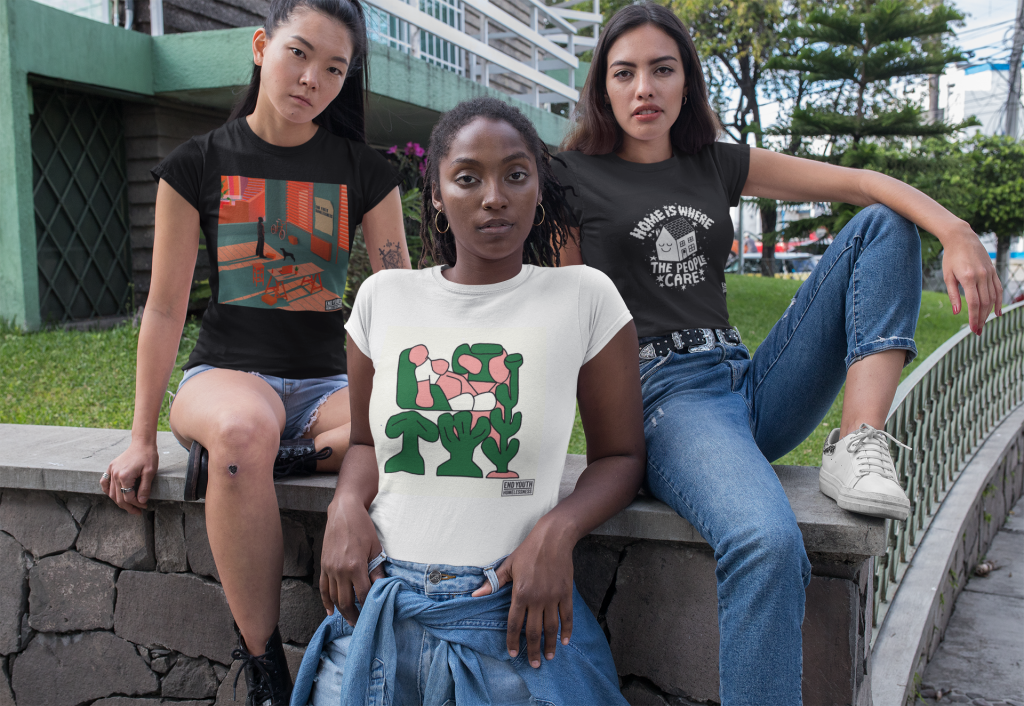 EYH invited artists to interpret the theme 'Home is where…' to help raise money and awareness of the work they do getting vulnerable young people into safe and secure accommodation. Lending their creativity to the cause, illustrators Biff, Hannah Warren, Marylou, Tishk Barzanji, and Tom Guilmard have joined forces to help EYH to raise the profile of the 103,000 young people who faced homelessness last year.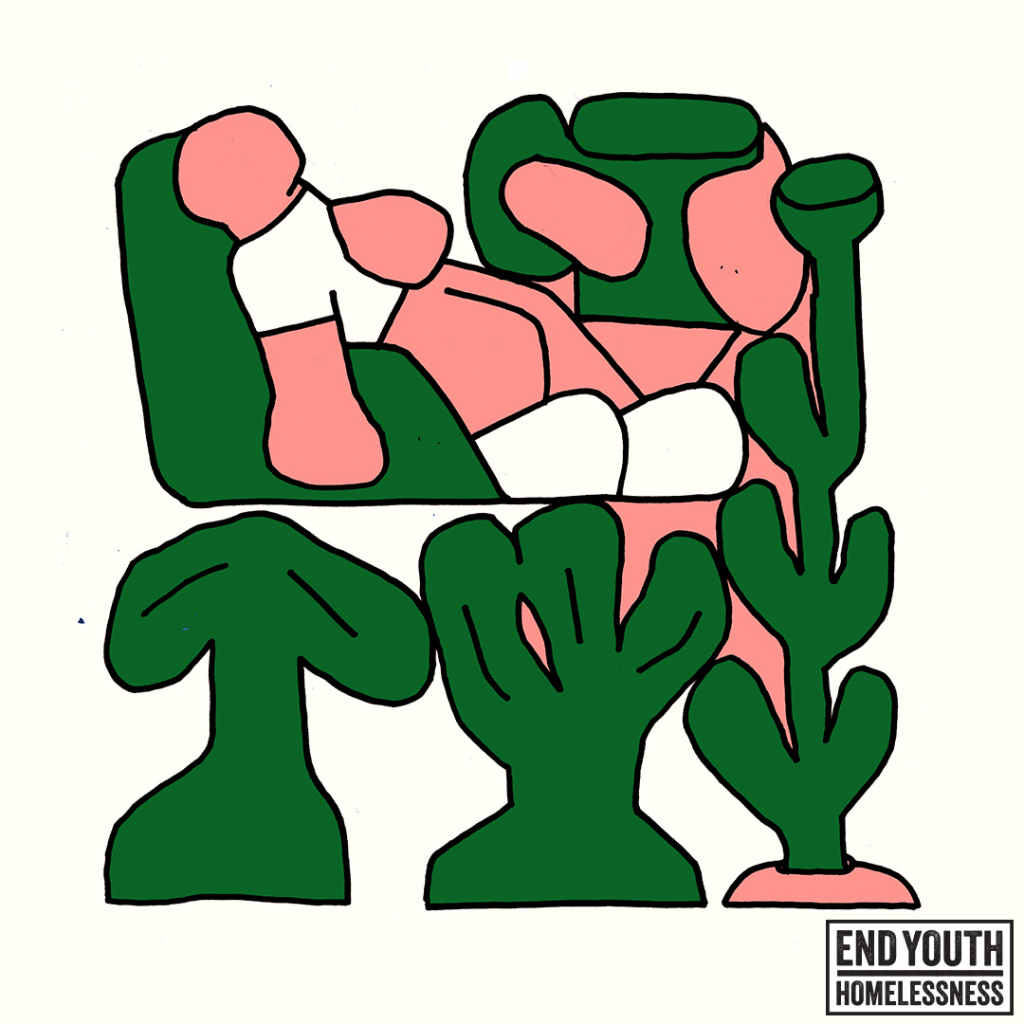 Tom Guilmard
EYH's concept invited the artists, represented by agency Jelly London, to express what home means to them individually, or what it might mean for a young person who does not have a place to call home. The designs are reflective of the artists' individual styles, and are all united by their message of hope for homeless young people to turn their lives around. The campaign offers a chance to support the work of end youth homelessness while owning an ethically made T-shirt with an original design. Home means something different to all of us: supporters are able to choose the design that best reflects what it means to them.
EYH is calling on supporters and the public to help spread the word of the campaign by sharing their chosen artwork on their Instagram feed, along with the hashtag #HomeIsWhere. Artworks can be downloaded from the EYH website or shared directly from the EYH Instagram page.
Funds raised through T-shirt sales will support EYH's new Housing Fund, which supports young people who are facing homelessness, into their own homes. The Fund will provide the practical help they need to find and move into a suitable home, as well as offering bursary and bond schemes to tackle prohibitive upfront costs. It costs EYH £20 to provide a young person with an hour of support with a resettlement professional who will help a young person find a home of their own and escape homelessness for good.
The beautiful organic cotton T-shirts are available for £20 each from our e-shop; the same amount it costs to provide a young person with an hour of help with a resettlement professional. Buy here: https://endyouthhomelessness.teemill.com
End Youth Homelessness is calling on the public to make change happen and support the Housing Fund by buying a T-shirt today.
Nick Connolly, MD at End Youth Homelessness said:
"It's exciting to see high profile artists and illustrators taking action to help young people escape homelessness. This creative campaign will help raise money and awareness for our new Housing Fund, a springboard that helps young people overcome the practical and financial hurdles to securing a home. Support the Housing Fund by buying a T-shirt today, and help us spread the message that every young person deserves a safe place to call home."
Buy here: endyouthhomelessness.teemill.com
ABOUT END YOUTH HOMELESSNESS
End Youth Homelessness (EYH) is a national movement to end youth homelessness in the UK. EYH brings together local charities to tackle youth homelessness on a national scale. EYH charities work with 30,000 young people who are amongst the most deprived in the UK. The charities supported through End Youth Homelessness are: 1625 Independent People (Bristol), Aberdeen Foyer (Aberdeen), The Amber Foundation (Surrey, Wiltshire, and Devon), St. Basils (West Midlands), The Benjamin Foundation (Norfolk), Centrepoint (Barnsley, Bradford, London, Manchester, and Sunderland), Llamau (Wales), MACS (Northern Ireland), The Rock Trust (Edinburgh), and Roundabout (Sheffield), Step by Step (South East). eyh.org.uk
ABOUT THE ARTISTS
Biff is an illustrator & lettering artist with a relaxed, distinctive and characterful style. Endlessly inspired by film & lyrics, his limitless imagination enables him to produce creations that are fresh, comedic, current and instilled with immeasurable character. biffstudio.co.uk
Hannah Warren is a London based illustrator Hannah Warren specialises in deceptively simple, colourful
and characterful illustrations with strong lines. Her work is playful, energetic, joyful
and occasionally whimsical with a nod to retro design inspired by the bold colour palettes of mid-century print advertising and vintage travel posters. hannahwarren.com
Marylou Faure is a Parisian illustrator Marylou has been living and working in London since 2012. Specialising in figurative work, bold colours and hand lettering, Marylou aspires to create artwork that invokes joy with her cheeky and playful style. Marylou believes in using her skills for good and enjoys working on projects for a strong social or ethical cause. maryloufaure.com
Tishk Barzanji is a Kurdish visual artist based in London whose work frequently explores isolation and anxiety in his surrealist urban landscapes. His passion for architecture and art began back in 1998 whilst living in Dalston – the people he grew up with and the environment he was around, shaped his ideas to what he practices now. tishkbarzanji.co.uk
Tom Guilmard Born and raised in Milton Keynes, Toms work aims to communicate ideas with simplicity as the driving aesthetic. There's a distinctive, naive quality to Tom's drawings with every frame packed with humour and charm with an underlying sense of melancholy. jellylondon.com/tom-guilmard
ABOUT JELLY LONDON
Jelly are an animation production company and illustration based in New York and London. They represent a curated roster of exceptionally talented Animation Directors, Commercial Artists, Illustrators and Letterers/Typographers who bring brilliantly crafted animation and illustration to life.
Categories
Tags