Michael Petry opens a new exhibition The Landscape of the Gods next week at HSBC Space. He will be making a landscape installation of his new acrylic on canvas paintings. Each individual painting references the idea of heaven in various world religions.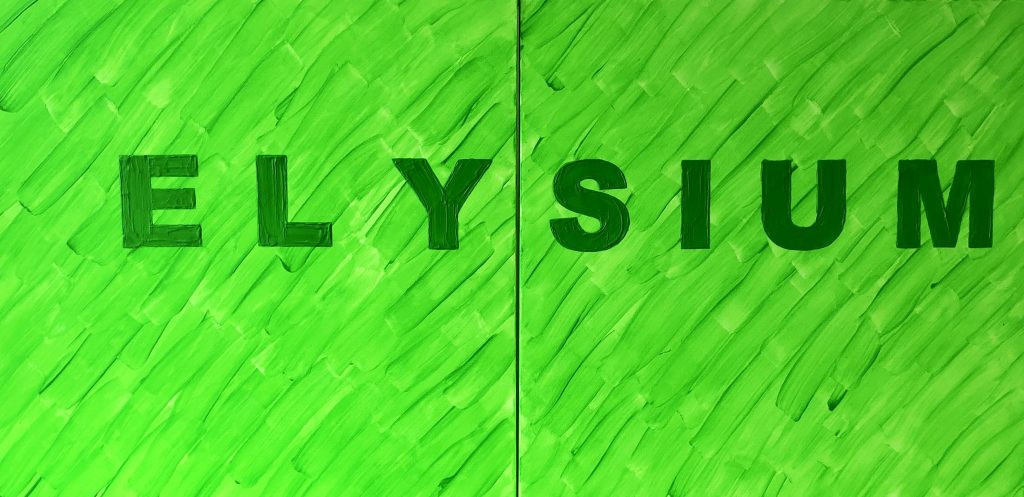 Michael Petry acrylic on canvas Elysium 1x2m
The monochrome works feature a detailed abstracted background that has a direct reference to the religion whose name for heaven is featured as painted text on top the painted ground. For example, the word ELYSIUM (in green) floats on top of what appear to be green glades of grass, a reference to the ancient Greek idea that heaven for mortals was to be found there.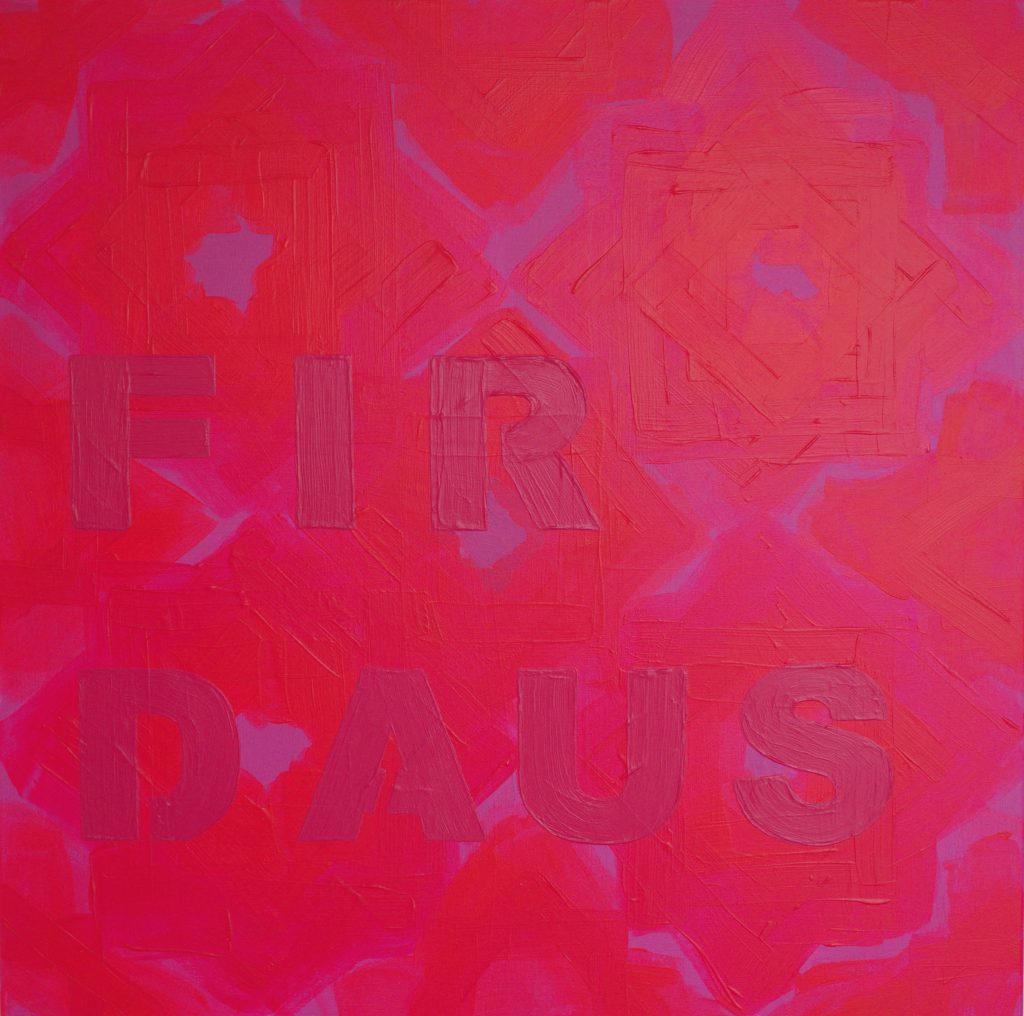 Michael Petry acrylic on canvas Firadus
Petry investigates the notion of heaven in ancient Chinese thought (Tian), Hindu (Vaikuntha), Islamic (Firdaus) and Buddhist (Nirvana) philosophy. Petry is looking at the names of the heavens (and the hells) as a visual investigation into the landscapes of the Gods. The abodes of the Gods are synonymous with all that is beautiful (heaven, paradise) and sometimes, mortals could enter those abodes after death if they met the entry criteria. The names of these abodes are part of our cultural inheritance, which is every bit as powerful as our genetic inheritance, names which evoke wonder, beauty and awe.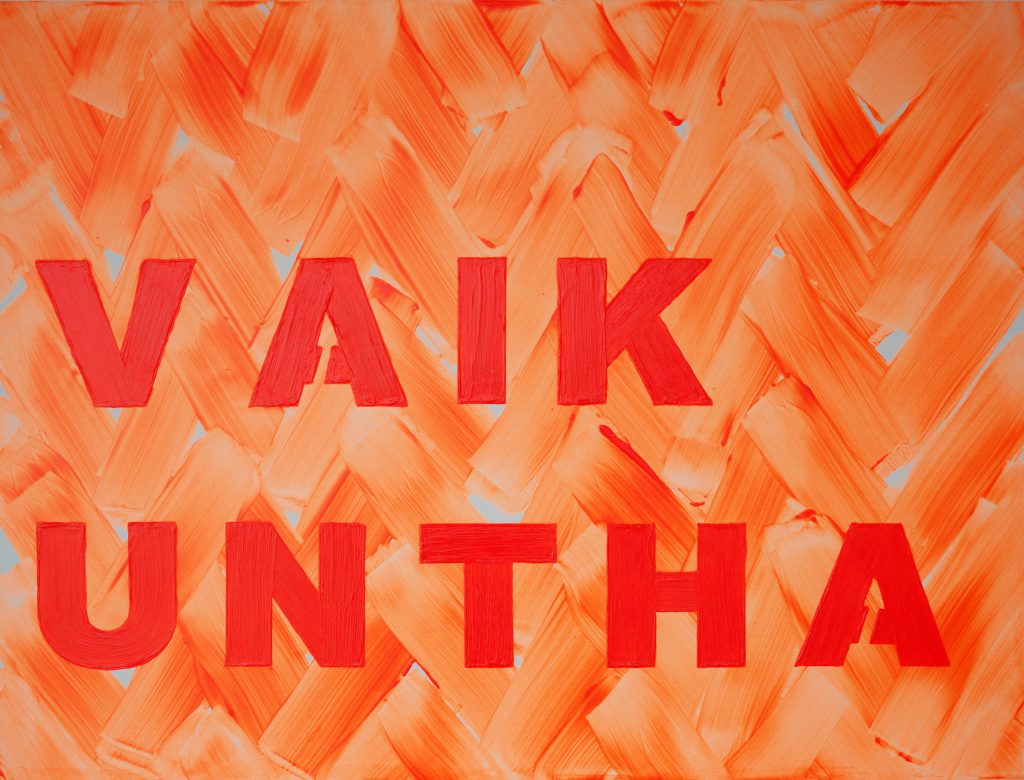 Michael Petry acrylic on canvas Vaikuntha 1 x 1.5m
The English word 'heaven' can mean both the abode of the Gods, and the firmament in which the sun, the moon and the stars are embedded. Names provoke thoughts, and thoughts provoke actions. These new works are like the God Janus whose two faces looked in opposite directions, for they too have two faces – one which addresses a word, and the other which addresses the memories and beliefs the word evokes.


Michael Petry acrylic on canvas Nirvana
The Landscape of the Gods is of course not complete without those who inhabit that terrain. As part of this series of work Petry has made libations to the Gods in the form of conceptual word portraits. These painting are intended as offerings to the Gods who are named. They are function as portable shrines – ways of remembering the names of the Gods, and in so remembering, of rekindling their memory and power.
The works will travel next to Cross Lanes Projects, Kendal for the exhibition Conceptual Landscapes.
Michael Petry's The Landscape of the Gods at HSBC Space March 11th – May 15th, 2020
HSBC Level 6, 8 Canada Square, Canary Wharf, London E14 5HQ
Michael Petry discusses his practice with curator Daniel Lancaster. Guests will have the chance to view his solo exhibition The Landscape of the Gods. RSVP essential: ART@hsbc.com
Wednesday 11th March 2020 Opens: 6PM Artist talk ^;30 – 7:15 including Q&A
Complimentary drinks will be served. Guests welcome
Visiting the show By appointment only, email ART@hsbc.com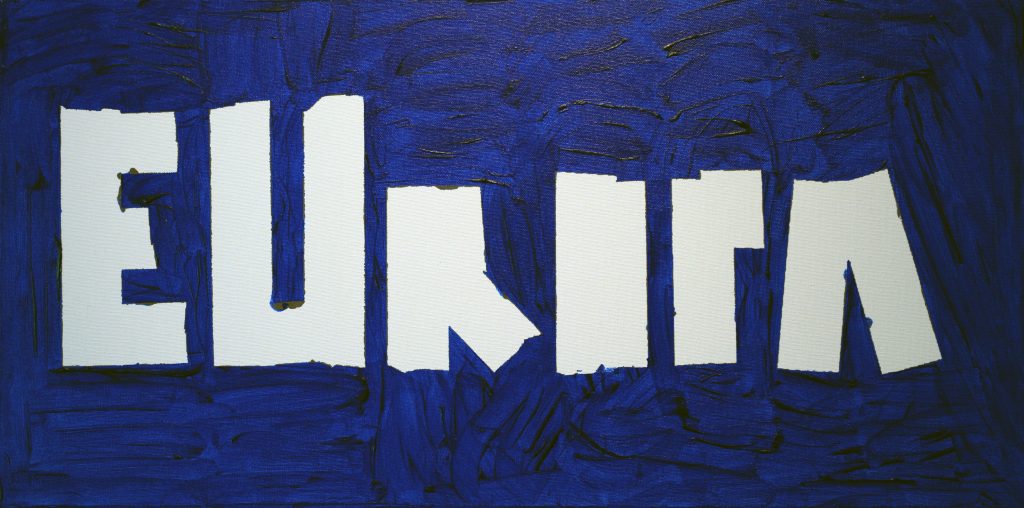 Michael Petry acrylic on canvas Europa
Categories
Tags