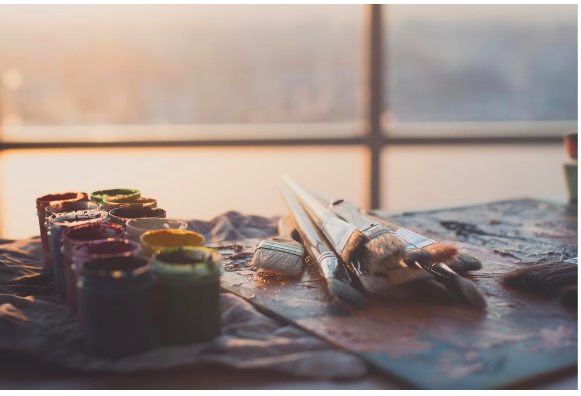 If you run a studio in an arts district, then you're probably competing with neighboring studios to attract potential visitors and buyers. A lot of people who don't frequently visit art galleries might feel a little hesitant about stepping into one because some artists are known for being overly salesperson-ish, and also because some studios give off an "upscale and pretentious" vibe.
One of the best ways to promote your work and make more money off your art is to make sure that your studio or art gallery is totally guest-friendly and inviting to passers-by. Here are 5 ways you can achieve that.
1 Keep it Cool
Sometimes people don't like going into art studios because of the artists themselves. Some artists tend to press patrons a little bit too hard about buying one of their works. When someone walks into your studio, you should just focus on being friendly. Let them check out your work and don't distract them too much from doing so. Make small talk if you have the opportunity, but don't overdo it. Most people like to stroll in and out of art galleries with lots of gawking and little talk.
It's always a good idea to have custom business cards in your studio. Even if a patron doesn't want to buy something just that second, they might really like your work and plan on coming back. You might also consider having a sign-up sheet for a mailing list so you can inform them of any sales or new pieces that you're selling. Also be sure to have signs that promote your social media pages so they can follow you online.
2 Give Away Promotional Items
People love getting free stuff, so consider having promotional items in your studio that you can give to patrons. Have your logo or name printed on the promotional items and give them to patrons that come in, and give them to patrons who purchase your work.
The one mistake that businesses make with promotional items is that they choose products that are going to be discarded very quickly. The best promotional items are those which people will hold onto the longest—and the more time those products will have to etch your name into a customer's memory. Good promo items include flash drives, pens (especially good for an artist), and bags (also good for patrons to carry their newly-purchased art). Custom hand sanitizer is a practical thing to have in your studio and also to give to patrons.
3 Have Somewhere to Sit
Always have chairs or a sofa for your patrons to sit on, so long as you've got the space in your studio. Sofas give your guests an opportunity to sit down and rest if they're tired, which will help keep them in your studio longer and prevent them from leaving for the comfort of a coffee shop.
If you're trying to give your studio a little more playfulness and character, you might consider choosing alternative seating options, like bean bag chairs or a hanging basket chair. These types of chairs are super fun and may encourage people to enter your studio, and give the impression that you're not such a serious and scary artist.
4 Play Music
Playing music is one of the most simple ways to rejuvenate your studio. Get some wireless speakers for your studio and create a playlist. Be thoughtful about the kind of music you play. Ideally, the music should match the vibe of your art. But you want to avoid adding music that's too "weird" and which will drive patrons out of your studio. It's totally okay to play mainstream music if that suits your style.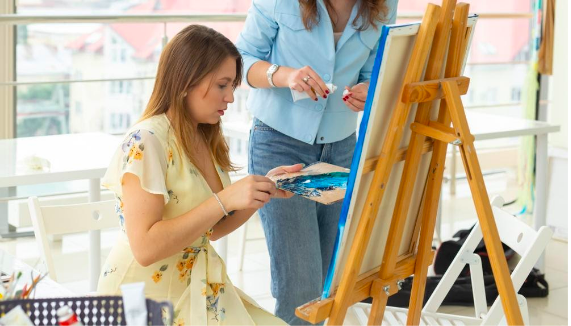 5 Lead Art Classes
A terrific way to drive traffic into your studio and to make some extra money is to lead art classes at your studio. You can teach beginning, intermediate, and advanced art classes to the community. It feels good to teach your skills to people who are itching to learn, and you could even turn your classes into a profitable side hustle. But one of the best benefits is that you'll have more people entering your studio on a routine basis. And when passers-by see your studio filled up, they'll be more likely to come in and see what all the fuss is about.
 Utilize one or more of these 5 tips and see the difference they make!
Categories
Tags