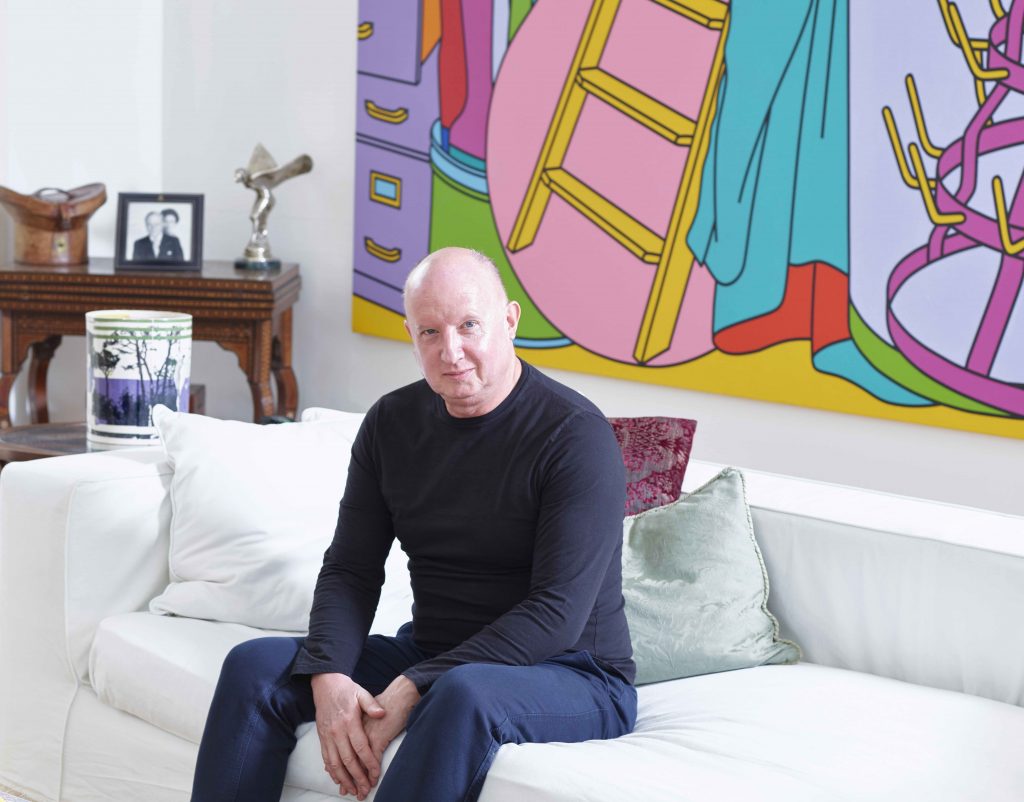 Phillips is to present The Robert Tibbles Collection: Young British Artists & More, a multitude of YBA treasures to be sold across the London auctions including 20th Century & Contemporary Art, New Now, Photographs, and Editions. The collection includes seminal works by Damien Hirst, Gilbert & George, Gary Hume, Michael Craig-Martin, Sarah Morris, and Julian Opie, among others – often acquired directly from the artists or galleries the same year of their creation. The 30 works in this collection are expected to realise a total in the region of £4 million, with the first works highlighting the 20th Century & Contemporary Art sales on 13th and 14th February.
A bond salesman for many years, Robert Tibbles' collecting journey began at the genesis of a movement that transformed contemporary British art, and ushered a novel artistic language built on rebellion and audacity.
Robert Tibbles, said,
"The collection has filled my head and my heart. I have been incredibly lucky to have been shown fantastic stuff whilst in a position to buy it, and to put this collection together. It is great the idea that these works will go on to new owners, and I hope they are able to enjoy them just as much as I have."
We caught up with Robert ahead of the sale to ask him a few questions about the auction, his collecting and the future.
Why are you selling now?
This has been a very long process of accumulating works over 30 years. I've looked at it from every possible angle, and ultimately it's a collection, and ultimately it's complete. You can go through years of saying, "I didn't get a Bridget Riley; I didn't get a preservation piece by Damien Hirst; I didn't get Tracey Emin's Bed." There are things that I missed out on, but I realised that those imperfections are what make it my collection. There is a point where you just can't make it more than what it already is. It makes sense for all of it to be shown as a complete collection, and I hope the new owners enjoy these works just as much as I have.
Do you think Karsten Schubert should have been and should be given more credit for his contribution to the uk contemporary art scene?
Karsten Schubert was instrumental to my initial interest, providing me with introductions to many artists I hadn't previously heard of. He was an incredibly knowledgeable and forward thinking art dealer, and he would often explain how certain artists had been the inspiration for the artists of the future. It was interesting to see the genesis and the metamorphosis generation to generation. Karsten said, "You know, in a sense it's a journey". Without him the collection would not have been possible. I always respected him and was very grateful to him.

"DAMIEN HIRST b. 1965 Bodies glass, faced particleboard, ramin, plastic, aluminium and pharmaceutical packaging 137.2 x 101.6 x 22.9 cm (54 x 40 x 9 in.) Executed in 1989. ESTIMATE £1,200,000 – 1,800,000 PROVENANCE Karsten Schubert, London (acquired directly from the artist in 1989) Acquired from the above by the present owner in 1989 
Did you think Hirst would become as successful as he has? 
Of course not! The number of people I have had say to me – "This artist is going to be famous!" – have all proven to be completely incorrect. There is something incredibly complex and fortuitous about artists who ultimately can support themselves as artists. To have been presented with Bodies in 1989 was a big break with what you would have thought of as the trajectory of art in the UK. This was the first piece of a new movement! You could never have foretold that Damien would have been such a massive star – and what a wonderful thing he is! And of course there have been plenty of others… Gary Hume, Michael Landy, Matt Collishaw… Etc.
These artists have all worked hard and were very good at getting their works to the collectors. That was probably the biggest difference that Michael Craig-Martin and Karsten Schubert made, as they would get you to look at art in a way which was not only about the aesthetics but also about the practicality of it and its importance. It was after this that Jay Jopling came to represent Damien Hirst and took him to the next stratospheric leap. Jay Jopling is a very different type of dealer. He has a fantastic understanding of contemporary art but ultimately he is very good with people. It is about relationships too.

MICHAEL CRAIG-MARTIN b. 1941 Narrative Painting 1993-4' on the overlap acrylic on canvas 183.1 x 366.1 cm (72 1/ 8 x 144 1/ 8 in.) Painted in 1993-94. ESTIMATE £30,000-40,000 PROVENANCE Acquired directly from the artist by the present owner in 1994
If you realise a few million from the sale – what are you going to do with it? 
Bringing the collection to auction with Phillips has been a very important moment for me. This has never been about the money, but about putting a collection together. I can't say exactly what I will do afterwards but I can tell you what I hope to do… I'd love to go out and be as moved by and to have as strong a conviction for new artists and other works. After all, this is how my collection evolved in the first place.
Do you still buy artwork from emerging artists? And if you do who do you like at the moment? 
The epiphany that I had was essentially that the collection was complete, and this has only really struck me in the last couple of years. I have looked at the collection from every possible angle and have not been able to add well, after a certain date, to these particular works which are so connected. That interest and searching for missing pieces was to the exclusion of looking at other artists. I'm so looking forward to being introduced to and educated about the artists that are graduating today and in the early stages of their careers, and that in itself is an extremely interesting thing, and really the core of how this collection got put together in the first place.
20th Century & Contemporary Art Evening Sale Auction: 13th February 2020, 7pm London 20th Century & Contemporary Art Day Sale Auction: 14th February 2020, 2pm Phillips 30 Berkeley Square @phillipsauction

GILBERT & GEORGE b. 1943 and b. 1942 CITY FAIRIES mixed media, in artists' frames, in 18 parts overall 253.7 x 426.8 cm (99 7/8 x 168 in.) Executed in 1991. ESTIMATE £120,000-180,000
Categories
Tags