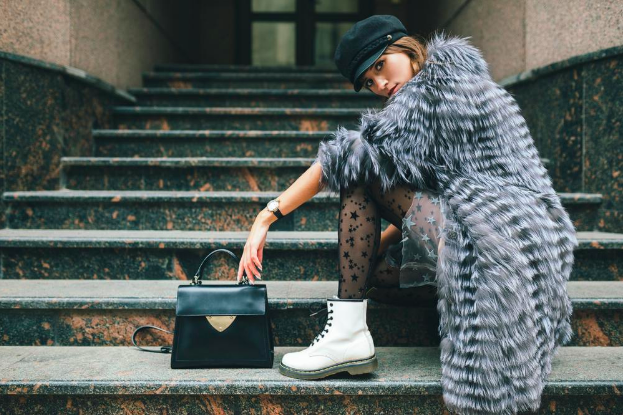 When it's cold outside, it can be tempting to stay cozy by the fireplace, but unfortunately, that's not always an option. When you have to meet the demands of your busy schedule and leave your blanket and slippers at home, you'll need to update your wardrobe to help keep the cold away. 
Fortunately, when it comes to fall and winter fashion, it doesn't have to be all about functionality—there are plenty of trendy and flattering pieces to create ensembles you'll be excited to wear. To help you figure out what to wear this season for formal occasions, lunch dates, work, and more, here are some of our favorite warm winter styles to add to your wardrobe on any budget: 
Soft Scarves
While scarves are classic essential for any winter outfit, in 2019 it's all about oversized and fluffy scarves that are built for warmth. And luckily, both styles can be dressed up or dressed down, depending on your own style and the occasion. You'll probably want to stay away from silk scarves until summer since they don't provide much coverage.
Comfy Shoes 
When you think of winter shoes, your first thought is likely boots. From over-the-knee to booties, you really can't go wrong. And while they are a staple of the season, you might actually have quite a few options, weather permitting. As long as it isn't snowing you can throw on a pair of winter flats or platform sneakers for a change of pace. Even if it's pretty cold outside, if you bundle up on top with a good jacket and thick scarf, you should be fine.
The priority when picking your shoes for your winter style is to make comfort your priority. While the chill in the air might be nipping at your nose, you shouldn't be worried about the aching in your toes. 
Outerwear for Every Occasion
From the classic leather jacket to a more formal ankle length coats, having diverse outerwear that suits your style is simply a must. Here are a few types of outerwear we recommend investing in this season: 
Trench coat

Heavy-duty denim jacket (ones with shearling trim are especially hot right now) 

Peacoat 

Lightweight or insulated raincoat

(depending on where you live)

Wool-blend coat 

Puffer jacket 

Teddy coat 
Having a few different styles will make it easier to stay warm without having to sacrifice looking your best. It doesn't hurt to have a few hoodies or sweatshirts that you can throw on for more casual days. Luckily, there are plenty of stylish sweatshirts available.
Colorful Sweaters
It doesn't seem like neon is going anywhere this season, and that counts for sweaters too. While these bold colors are toned down a bit for winter, they're still a great way to make your outfit pop. Plus, it's a fun way to break up the classic reds, browns, and other rich colors that likely make up the bulk of your winter wardrobe. 
In addition to unconventional colors, make sure to mix up your sweater collection with a few oversized yet flattering sweaters that will be a welcome addition once the holiday parties start filling up your calendar. 
Stylish Hats 
A trendy hat can take your look to the next level, but it can also help keep you warm. This season, we're loving these styles: 
Wide-brimmed suede hats 

Leather Breton caps 

Tweed newsboy caps 
For especially chilly days, we recommend a thick beanie that covers your ears. 
Seasonal Skirts
While it might seem like skirts are reserved for spring and summer, that doesn't have to be the case. It's all about choosing the right length or material, or simply pairing it with tights. For example, a thick plaid, suede, or leather skirt can be paired with a sweater and boots for a chic ensemble. Or, a patchwork or velvet ankle length skirt is perfect for a slightly more conservative but still trendy look. 
Incorporating these warm essentials into your winter wardrobe is sure to make bracing the cold much easier this season. And, don't forget to complete your outfit with the right jewelry (we're seeing statement pieces, chokers, and rhinestones center stage this year). 
Looking for great gift ideas? All of these styles make great presents for your fashion forward friends, especially because the holiday season is just at the beginning of winter. 
About Mark Westall