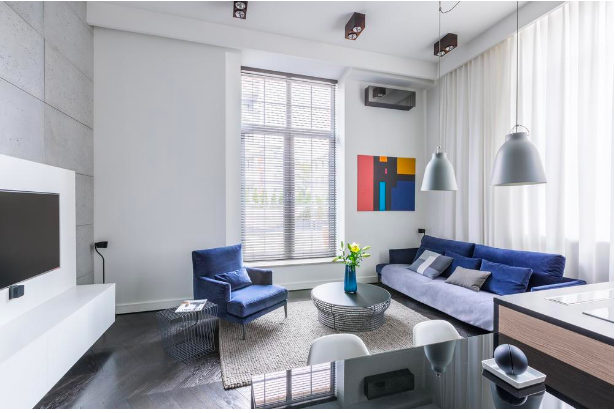 Renting a studio apartment can be a lot of fun—although it's smaller than a 1-bedroom apartment, you get the whole space to yourself and you don't have to deal with any noisy or messy roommates. But obviously, it can feel hard to feel totally comfortable living in a smaller space—it can even be downright claustrophobic.
Thankfully, there are a few things you can do to rejuvenate your home and make your studio apartment feel less crowded and more homey. Here are 7 ways to make your studio more comfortable.
Incorporate Storage Furniture
One of the most difficult things about living in a studio apartment is that you don't have a lot of storage space. You definitely don't want to clutter up your apartment with storage boxes—and you don't have to. Just use furniture that has built-in storage.
An ottoman sofa is one of the most common types of furniture that incorporates storage inside, and what's great about ottomans is that they're usually compact enough for a studio. But you can also incorporate storage benches, and under-the-bed drawers to store items that you don't have shelf space for.
Use Against-the-Wall Furniture
In a studio apartment, it's best to keep most of your furniture up against the wall. That way you'll be able to maximize the amount of floor space you have available and make your studio feel roomier. Try and keep your bed, sofa, and desk against the wall. Use corner desks, benches, and even bean bag chairs to save space while adding comfort. If you need a table to dine on, you might consider getting a cocktail table.
There are definitely some exceptions to this rule. Some studio apartment dwellers like to use furniture to segment their apartment into "rooms" or distinct living spaces. You can do this by strategically placing bookshelves or console tables to divide the room.
Don't Clutter the Walls
One of the best ways to decorate your apartment and make it feel homier is to adorn the walls with photos and art. Unfortunately, cluttered walls in a studio apartment can make your studio apartment feel…cluttered. That's not to say you shouldn't decorate your walls, but might want to be a little more minimalistic than if you were decorating a larger apartment.
There are still some creative ways you can enjoy your favorite photos without hanging them on the wall. You could, for instance, choose your favorite pictures and create personalized photo pillows to place on your bed or ottoman. Or you could get a digital picture frame that's able to display many of your favorite photos, while only taking up a single portrait space.
Use Wall Shelves
You don't have as much floor space in a studio apartment, so you've definitely got to use the wall space where you can. Buy some wall shelves and hang them up wherever you see fit. You can use the wall shelves for anything, whether it be storage, displaying photos, or holding books and keepsakes.
Again, you shouldn't hang up too many wall shelves or else your studio may start to feel cluttered. One or two wall shelves will be useful and also create a nice furniture accent.
Use White (can use mirror too)
Utilize the color white to make your studio feel roomier. You don't need to incorporate a ton of white, and your walls don't even need to be painted white. You can simply add white bed sheets, white pillows, or white furniture here and there to "air out" your apartment. What's great about white is that it blends in with virtually every color palette, so you can incorporate it no matter what your room style is.
Another cool trick is to place a standing or hanging mirror against the wall. The mirror will give the illusion that your apartment is roomier.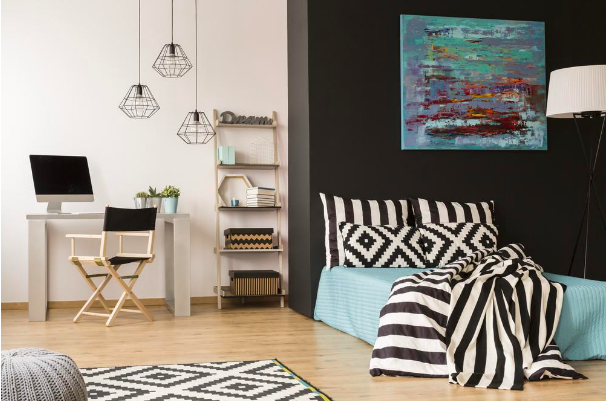 Leave Some Floor Space
We've mentioned this several times thus far, but it's worth its own bullet point. The coziest studio apartments have enough room for you to walk, stand, and enjoy the company of others. If you have to maneuver around furniture to walk from one side of your apartment to the other, then you're probably going to feel a little cluttered. Your guests might feel cluttered too if you have people over.
Practice Tidiness
It's helpful to be tidy and pick up after yourself when you're living in a studio. In a larger apartment or a house, it's easier to look past a sink full of dirty dishes, or a living room that's littered with stuff. But in a studio, untidiness is much more noticeable and can significantly distract from your comfort.
That's all there is to it! Just abide by these 7 tips if you want your studio apartment to be comfier.
Categories
Tags