This Friday, pianist and composer Nik Baertsch, and multidisciplinary visual artist Sophie Clements present a collaborative audio-visual work that draws the audience into a mesmeric meditation on elemental forces and cycles. Film, light, sculpture and music are brought together in a poetic dramaturgy that transcends categorisation.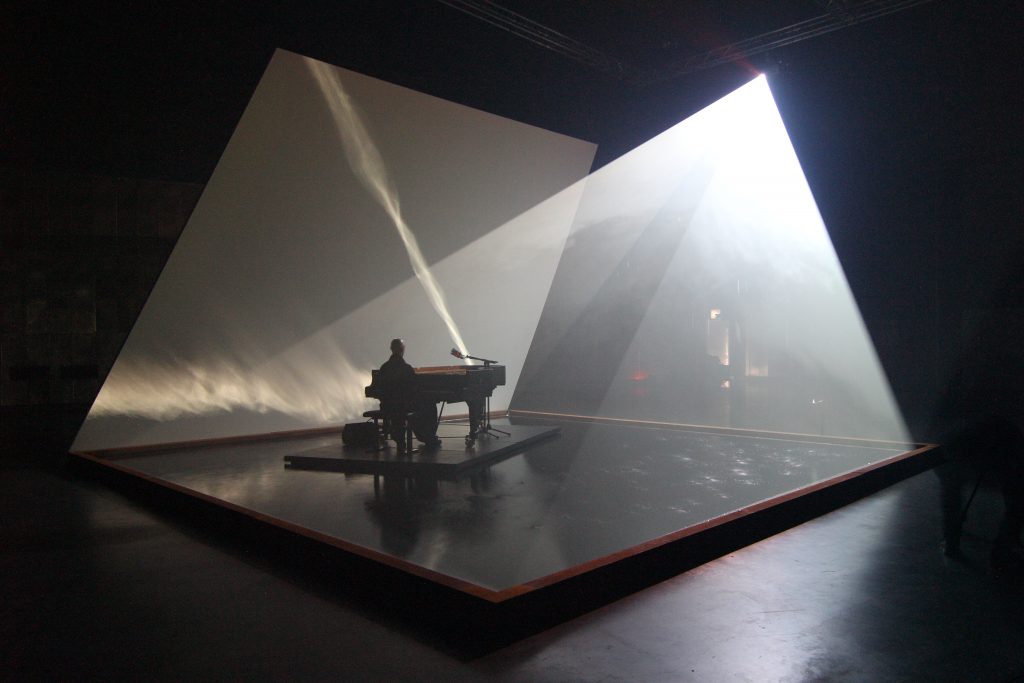 In 2015, Nik Baertsch and Sophie Clements – two artists whose individual practices had long fascinated each other – began a creative conversation that would result in 'When the Clouds Clear' – an extraordinary and ambitious performance piece that fuses their sensibilities to create a hybridised, yet perfectly harmonised, work of art.
"The ambition was to have the two languages of audio and visual art speaking as a singular voice."
, says Clements.
Through intense periods of inspirational exchange they identified a conceptual meeting point – a shared interest in the sense of transcendence that can be reached by the focussing in on simple forms – the listener or viewer pulled towards a concentrated experience through subtle, minimal changes. The idea of the mesmeric and the shifting perception of time, where one can easily lose oneself in the flow of repetitive movements, such as light dancing on the surface of water, or in the cycles of minimal composition – is also key to both artists.
Iteration was fundamental in the process of making the final work. The two artists worked closely together to gradually sculpt new musical and physical forms, in symphony. Clements – who has been working for over a decade across disciplines that include filmmaking and installation design, and who regularly collaborates with composers – drew inspiration from Baertsch's extensive body of work, applying her approach to music to give it a tangible presence, through the introduction of natural elements, and a variety of media, into the physical performance space. The result, says Clements, is
"a piece of theatre with the aesthetic of sculpture, in the setting of a concert."
'When the Clouds Clear' takes its name from 'The Moon in the Water', a poem about Zen and Japanese swordsmanship, which emerged as an anchor for the artists' ideas, and a fitting text to underpin the work:
The water does not try to reflect the moon and the moon has no desire to be reflected
but when the clouds clear there is moon in the water. Drawing upon influences in Asian philosophy, fine art, theatre, science and minimalism, Ba?rtsch and Clements take concepts of the mesmeric, the elemental and the ritualistic, and materialise them through water, light and sound, to create an hour-long performance installation piece that, though rooted in reduction and simplicity, carries the viewer on a poetic and affecting dramaturgy of natural forces.
When the Clouds Clear @ Barbican on Friday 15th November 2019 as part of the EFG London Jazz Festival. barbican.org.uk
About The Artists
Nik Baertsch is a Zurich based composer, pianist and producer and label, club and festival co-founder. He is internationally known for his modular RITUAL GROOVE MUSIC, which is influenced by funk, new classical music, jazz and Japanese aesthetics. He is working on his projects with his acoustic music ritual group MOBILE, his zenfunk quartet RONIN and solo. He also cooperates for special projects with other partners like Laurie Anderson, Henrik Schwarz or Sophie Clements and writes compositions for ensembles like Bang On A Can, Britten Sinfonia or the Zurich Chamber Orchestra. MOBILE has created ritualistic performances of several hours or even days within a multimedia set up with guest artists like poets, light designers, visual artists, dancers and sword masters. Nik has worked for these projects with partners like the Theaterspektakel Zurich, the NYU Arts Centre Abu Dhabi, the University of Osaka, the ballet of the opera house Zurich or the Enjoy Jazz Festival and the European Molecular Biology Laboratory in Heidelberg.
Nik plays regularly in the relevant concert halls and at international festivals like the Elbphilharmonie Hamburg, the NY Winter Jazz Fest or the London Jazz Festival. Nik is an ECM recording artist since 2006. Nik lectured in 'Practical Aesthetics' at the Musikhochschule ZH/Winterthur (2000-2003) and ran residencies, workshops and lectures at several institutions (i.e. Trinity Laban Conservatoire of Music and Dance London (UK), Musikhochschule fu?r Musik und Theater Leipzig (DE), Lucerne University of Applied Sciences and Arts (CH), and Zurcher Hochschule der Ku?nste (CH). Nik won 1999 and 2002 the career award of the 'UBS Cultural Foundation', 2002 the 'Werkjahr' (career award) from the city of Zurich, 2006 the priority jazz support from the Swiss Arts Council Pro Helvetia. In 2015 he was nominated for the Swiss Music Prize by the federal office of Culture of Switzerland and 2016 he was the winner of the category "rising stars keyboards" by the critics poll of the Downbeat Magazine (USA). Nik won the Art Award of the City of Zurich 2019.
Sophie Clements is a London based artist whose work occupies a space between filmmaking, sculpture and sound. Her work ranges from solo gallery works to large-scale collaborative pieces with composers/ musicians. The diverse output of her work is underpinned and linked by a fundamental interest in sound, experimental music, and scientific process. Clements came to filmmaking via studies in science (biochemistry), music (she trained as a drummer and percussionist) and design, and it is the combination of these disciplines that define her work and approach to visual art. She holds an MA from the Royal College of Art. Clements' solo works have been exhibited in galleries and museums internationally, including the Barbican, London, Seoul Museum of Art, The Harris Museum, Preston and The National Gallery of Contemporary Art, Oslo. Her interdisciplinary work with music includes a long-standing collaborative partnership with composer J.Peter Schwalm, with whom she has worked since 2006, and pieces for composer Thomas Ades, electronic musician Scanner, and contemporary ensemble Icebreaker. Her work in this field has been performed at venues internationally, such as The Royal Opera House, The Barbican and The Science Museum in London, Dublin National Concert Hall, Ireland, PUNKT festival, Norway and Hamburg NDR. Sophie is a tutor at Central St Martins School of Art (CSM) London, and a visiting tutor in cross-arts collaboration at the Guildhall School of Music, London. She is the joint Artistic Director of the MAP/making project (music, arts and performance), a long-standing educational project that brings together artists and musicians in a yearly large-scale, site-specific performance. Sophie won the Jerwood Moving Image prize for film and video in 2008.
Categories
Tags