All-round the world, inventors of every kind are always at work trying to dream up the products that are going to make them rich, and possibly even famous. As time has gone on this has become harder and harder – quite simply because, so much has been invented already that it is increasingly hard to devise a truly simple and original idea.
Of the millions and millions of inventions that have taken off and made fortunes many have certain elements in common. The first is that a huge number of them are based on a simple idea and are relatively cheap to produce. Add to this mass appeal and a high price-mark-up and these create a good recipe for success. Finally, if there's also a strong element of re-usability, then there are all the hallmarks of a winning concept.
Some of the inventors of these five amazing ideas made a fortune for themselves, others led to huge industries. All of the inventions have achieved global success.
Colour photography
Of the many inventions originating in Ireland this, arguably, is the one that has the greatest impact worldwide. You might think that it was an American giant like Eastman Kodak who discovered how to capture images in colour. But, in fact, it was an Irish physicist and professor at Dublin University called John Joly. Born in 1857, in 1894 he devised the process that was to transform photography.
While it was a relatively expensive process, it was also very simple, hence its almost immediate popularity. It was also the inspiration that led other inventors to use his achievements as a starting point to refine and develop other processes that would be more cost-effective to produce.
This led to some hugely profitable companies, including the previously mentioned Eastman Kodak. But it's also an example of an invention with a definite life cycle as the advent of digital photography has made it an out-dated technology with a relatively small number of users today.
Slots
At around the same time that Joly was working on colour photography, over in California a young electrical engineer called Charles Fey was developing a project of his own. The first ever slot machine was called the Liberty Bell, consisted of three reels with a combination of five different symbols and a jackpot of 50 cents – marked by the machine's bell being rung.
Soon after building his prototype Fey realised how successful it could be and quit his job with the California Electricity Company to go into full time production.
As the technology advanced, the games became more and more sophisticated and they transformed from being mechanical to electrical machines. The latest evolution has seen the explosion of super-sophisticated online slots which offer all the excitement of the machines you'll find in casinos, with the added convenience of being playable wherever and whenever you want. So, rather than being an idea whose time has come and gone, the slots game looks it's going to be with us forever.
Cats' Eyes
For an example of a brilliantly simple idea which came at precisely the right time then the cat's eye is a good choice.
It was invented in 1934 by a Yorkshireman called Percy Shaw who was an engineer and a keen amateur inventor. There are a couple of stories about his inspiration. The first is that he was driving home one dark night and saw the reflection of a cat's eyes by the roadside, giving him the idea. The second is that when the tram lines were taken up in his home town of Halifax there was no longer a way to see the curves of the roads at night. So he decided to recreate their reflectivity in another way.
Whichever story is the most accurate, it was the blackouts in the Second World War that led to them being widely adopted as an alternative to street lights. Following success at home, an international market soon sprang up – and Shaw's fortune was made.
Fidget Spinner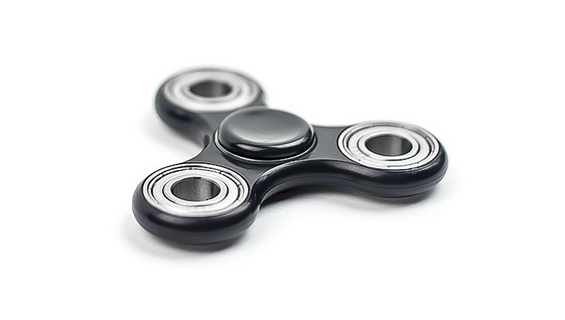 Another way to ensure success is to invent something that then goes on to be a worldwide craze. There are plenty of examples of this, and many are incredibly simple. One that's often cited is the hula hoop and a similar, more modern, equivalent is the Fidget Spinner. These seemingly arrived from nowhere. But, suddenly, it seemed like every school playground was full of children playing with these simple, colourful spinners
The identity of the actual inventor of the toy is disputed but a name often mentioned is Catherine Hettiger – although she has never personally made much money from the spinner, having been unable to afford the patent on it.
Its popularity was boosted even more when a theory was advanced that playing with the toy could increase levels of concentration and minimise distractions for pupils with ADHD. This meant that the recreational soon also became the therapeutic which certainly did no harm to sales. However, like all crazes and fads, the peak for its popularity has surely now passed.
K'Nex
Although not as successful as the timeless global phenomenon that is Lego, Joel Glickman's invention is another example of the huge potential of the toy market. It's also proof that if an idea's a good one it's worth taking a risk or two.
Glickman came up with the concept when he was idly playing with plastic straws at a wedding reception. He approached toy makers Mattel and Hasbro who weren't interested. Luckily, his family was in the plastics business so he decided to gamble by converting part of the factory to a K'Nex production line. Luckily, it paid off and within four years worldwide sales had reached $100 million. Thinking he could then retire, Glickman walked away from the business. But this saw sales drop so he returned and successfully steered it back into profitability.
So hopefully these examples have given you some inspiration about how to invent a winner yourself – now all you need is some hard work, real determination and more than a little luck. Apart from that, it should be easy!
Categories
Tags