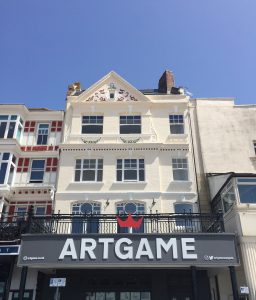 ARTGAME:
An anagram of its location Margate, gallery space and art hotel Artgame has recently joined the burgeoning art scene based in Kent's seaside town. In recent years the opening of contemporary art galleries the Turner Contemporary and Carl Freedman as well as artist Tracey Emin returning to her formative roots with her new 30,000 sq. ft studio in the old Thanet Press site has seen Margate establishing itself as a global 'go-to' art destination.
Located on Margate's beach front, the gallery hosts monthly shows from local artists of international repute while the hotel above the gallery caters to art enthused visitors that flock to Margate. The hotel comprises of four fully refurbished, luxury apartments each with its own personality and décor as designed by Margate-based, urban artists dr.d, Hayden Kays and Charlie Evaristo-Boyce whose title for his installation is also social media's word du jour….
Photographs courtesy of Artgame
Charlie Evaristo-Boyce, Amazing
KANGOL:

The arrival of a wind-kissed autumn chill necessitates mandatory protection from the head down, however all year round a hat can add stylistic and symbolic value and is an instantaneous way to add LL Cool J credentials to one's 'look'. Kangol's associations with counterculture is far-reaching, however its roots track back to a remote corner of North West England. At its core Kangol prides itself on producing quality products using many of the same techniques that were developed over 80 years ago by founder Jacques Spreiregen.
Today Kangol is a cross-cultural fusion, taking the best of British heritage, the birth of hip-hop and mixing it with street style prowess. Kangol was adopted by the early hip hop pioneers and cultural influencers of 1980s New York. Legendary artists such as the Beastie Boys, the Notorious B.I.G., Eric B. and Rakim, Sugar Hill Gang's Big Bank Hank whose violet bucket hat featured in their 1979 music video 'Rapper's Delight' and Grandmaster Flash, who has one of his Kangol hats in the Hip Hop Hall of Fame, all wore Kangol. Timely and worldly, Kangol's versatility is what makes it a heroic, iconic classic!
Photographs courtesy of Kangol
MARCO ANTONIO x RANKIN: 
Marco Antonio x Rankin celebrates the creative partnership between fashion and portrait photographer Rankin and make-up artist Marco Antonio. Rankin's roll call of credits span co-founder of Dazed & Confused magazine, founder of Hunger magazine, entrepreneur, director and publisher of over 40 books. Renowned for his collaborative approach this includes a beauty book series featuring make-up mavens Alex Box, Caroline Saulnier, Ayami Nishimura and Andrew Gallimore.
In his latest publication, once again Rankin, together with Antonio, subverts expectations of cosmetics experimenting with artistic innovation and aesthetic boundaries. As perceptions of 'beauty' broaden and visual forms of self-expression are being challenged and rewritten, safe to say Rankin has never played safe. Exploring the creative potential of cosmetics and its capacity to express oneself, an agenda or a message, as was the case of their British Heart campaign, this exceptional book demonstrates that to a large extent the appeal of make-up per se is in its affordability, accessibility and availability, no one is excluded from playing with eye pencils and powders! This title also includes a conversation between Rankin and Antonio, discussing not only their careers together but where make-up and beauty sits in today's visual culture.
Marco Antonio x Rankin is published in October, 2019 by Rankin
PRADA MODE LONDON:
During Frieze, Prada presents the third iteration of Prada Mode; a travelling social club with a focus on contemporary culture that provides members a unique art experience along with music, dining, and conversations. The club is organized to augment and extend significant cultural events in various cities worldwide. The inaugural iteration coincided with Art Basel: Miami Beach in December of 2018 followed by a second at Art Basel: Hong Kong in March 2019.
Prada Mode London occupies 180 The Strand, the iconic Brutalist building in the heart of the city, on October 2nd and 3rd, with a dynamic programme of exhibitions and events including an installation by Theaster Gates featuring Collective Intimacy. Here, American artist Theaster Gates presents a new chapter of Black Image Corporation, a project that explores the visual and cultural representation of contemporary Black identity and material culture, from the legacy of Ebony and Jet magazines in the Johnson Publishing Company's iconic archives, old record stores from the artist's hometown in the South Side of Chicago, and the powerful creative energy currently pulsing through London.
In addition, Prada Mode launches Collective Intimacy, a live programme of performances and talks created in collaboration with The Vinyl Factory and The Showroom, London. Inspired by Gates's ethos of collaboration and togetherness, Collective Intimacy takes on multiple trans-located narratives of the current Black experience as a point of departure for a cosmopolitan worldview. Distinct spaces designed by Gates's will create a myriad of possibilities for collective engagements to which Prada Mode members may enjoy over the course of the two-day period: a screening room featuring the artist's new films amongst a selection of videos by emerging artists as well as the Black Cinema House Film Programme, curated by filmmaker Ava DuVerney; a DJ Plinth where The Vinyl Factory Radio and London-based creative Collectives will host radio sessions and activate records from the artist's Dr Wax collection.
Prada Mode London
2 – 3 October 2019
180 The Strand, London, WC2R 1EA
Black Image Corporation
4 – 27 October 2019
Collective Intimacy
October 4, 5, 12, 19 & 26
Photographs by Max McClure
Theaster Gates, detail of Sanctum, Temple Church, Bristol (2015)
ZANDRA RHODES: 50 YEARS OF FABULOUS:
In celebration of British-owned and -made brand the house of Zandra Rhodes, The Fashion and Textile Museum presents Zandra Rhodes: 50 Years of Fabulous, the largest ever exhibition dedicated to the work of museum founder (est. 2003) and design legend Dame Zandra Rhodes DBE.
As expected, fashion's doyenne of colour chronicles five decades of a remarkable career in textile design and garment construction with a retrospective that showcases her consummate craftsmanship, exquisite prints, feminine glamour and antidote to the fashion media's fixation with black. Rhodes' signature style is testimony to an illustrious trajectory that has sealed her place in design history and continues to be ground-breaking, diverse and internationally popular. Having worked closely on the development of the exhibition, it is noticeable that rather than using representations of her work such as photographic stills or press coverage, visitors are able to see close up 100 key looks, 50 original textiles, era-defining pieces many worn by a celebrity fanbase comprised of Debbie Harry, Kylie Minogue, Kate Moss, Naomi Campbell, Elizabeth Taylor and Diana, Princess of Wales, archive material, original drawings and rare examples displayed for the first time.
Set on two floors, the ground floor is devoted to statement pieces such as romantic day dresses, dramatic evening robes, jumpsuits and jackets. Highlights include the now-iconic quilted 'calico coat' from 1969's 'Ukraine and Chevron Shawl' collection; a 1969 ankle length kaftan screen-printed in silk chiffon; a silk chiffon gown, still produced today for Matches. from A/W 1972's 'Shell Collection'; pieces from the 1977 punk inspired 'Conceptual Chic' collection, iconic lamé gowns and A/W 1981's 'Gold Renaissance' collection.
The upper floor is experienced as three distinct areas, two of which focus on Rhodes' preliminary stages. Over thirty hand-designed, screen-printed chiffon textiles cascade from the ceiling as one arrives at the mezzanine, while The Fashion Studio has its walls lined with larger than life reproductions of her illustrations and an engaging film offers visitors a moment of repose. The exhibition concludes with a display of costumes from The English National Opera's production of Aida, famously designed by Rhodes in 2007.
Zandra Rhodes: 50 Years of Fabulous offers insight into a design process that has remained largely unchanged across the last fifty years. Throughout the exhibition the centrality of textile design in Rhodes' work is emphasized. The designer felt that there was inherent structure within the pattern that could work with and enhance the shape and construction of a dress. Using her sketches of daily life to create her prints, which in turn inform her garments, Rhodes pioneered the use of printed textiles as an intrinsic part of the garments she created. Additionally, her unorthodox approach to cut and form, can be seen in her use of reversed exposed seams and jewelled safety pins and tears during the punk era.
Born in Chatham in Kent in 1940, Zandra's first taste of fashion was introduced by her mother, a fitter for the Parisian fashion atelier House of Worth and later lecturer at Medway College of Art. In 1966 after studying printed textile design at The Royal College of Art, Rhodes opened a boutique called The Fulham Road Clothes Shop with fellow student Sylvia Ayton in which both designed the clothing and Rhodes supplied the textile designs from which they were made. In 1969 Rhodes and Ayton went their separate ways and Rhodes founded her eponymous fashion house with a small collection. In 2018 Dame Zandra Rhodes made a triumphant return to the catwalks of London Fashion Week and has since presented three collections to considerable critical acclaim.
The exhibition is accompanied by the book Zandra Rhodes: 50 Fabulous Years in Fashion, published by Yale University Press in association with The Fashion and Textile Museum.
Zandra Rhodes: 50 Years of Fabulous
27 September 2019 – 26 January 2020
The Fashion and Textile Museum is at 83 Bermondsey Street, London SE1 3XF
Photographs by Bridie O'Sullivan
About Stephanie Talbot