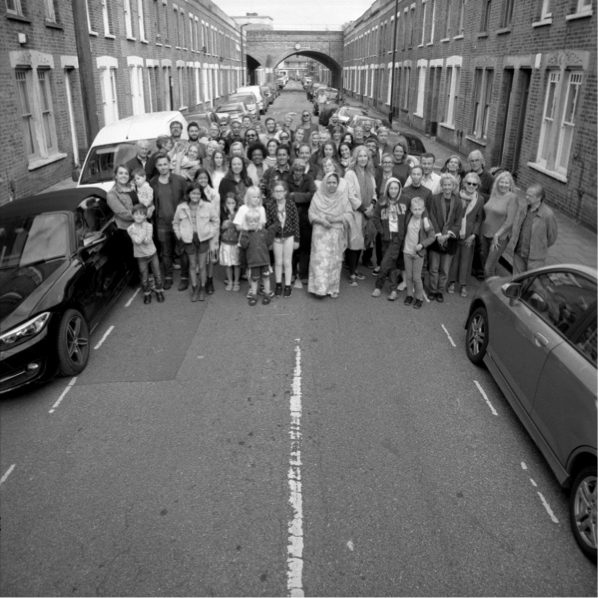 Residents and By Beck Road 19 Artists, September 2019 Photo credit: Edward Woodman, © 2019 Edward Woodman.
You are invited to a unique Hackney street to see architecture since 1890 and art made thereover 45 years. This 19-hour exhibition in homes, studios and the road itself features 42 significant artists from Beck Road, including well-known British photographer Edward Woodman and the late Helen Chadwick among leading voices from today.
The exhibition will occur in 18 residential spaces, a corner bar, a railway arch studio, under a bridge, and on Beck Road's pavements and house facades. Participating artists, cartoonists, and filmmakers are presenting drawings, prints, paintings, sculptures, ceramics, 16mm films, and Virtual Reality in a unique event. Homes will be opened by artists and non-artist neighbours alike in a shared sense of community.
Beck Road's residents were first recorded in 1901. Behind 56 doors, 112 dwellings housed artisan workers and families – carvers, dressmakers, book-keepers, blacksmiths, cabinetmakers, full-time parents and clerks.
In the 1970s artists came to live and work among people born there.In the 1980s theybegan exhibiting individually at home and collaborated several times to present Open Studios with up to 16 artists showing in studios at the same time. An artist-run space has exhibited for the last 6 years.
By Beck Road 19 revives those habitsin Open House London 2019 with its "Social" theme and offers gentle provocations about occupancy and occupations in the 21stcentury. Who makes art? Who values art? What is community? https://openhouselondon.open-city.org.uk/listings/8270.
All original Beck Road residents will be named on exterior walls and artists since 1974 will be exhibited. A free public newspaper, The Providence Post, will feature an exhibition guide, a detailed history of Beck Road, a free artwork and other materials.
Artist Mikey Cuddihy is producing a limited edition artist's sketchbook for sale at 32 Beck Road and art works exhibited by many artists will be for sale.
Curators Alastair Carruthers and Sandhini Poddar have been thunderstruck by the response from artists. Ten artists were included in the initial Open House submission and an open call was not expected to deliver many more. At the time of press, works by 42 artists have been programmed in this genre-breaking exhibition spanning all 167 meters of Beck Road.
Participating artists:
Jenny Baines, Robbie Barnett, Johnny Bunting, Karen Bunting, Lola Bunting, Peter Bunting, Helen Chadwick, Mikey Cuddihy, Bryony Dalefield, Luke Deering, Elizabeth de Monchaux, JAKe Detonator, Dobromir Dimitrov, Deborah Duffin, Dominic Empson-Ridler, Gonkar Gyatso, Anna Howard, Neil Irons, Tiffany Lambert, Anna Linderstam, Kieran Lyons, Emily Masters, David Mccairley, Colin McCallum, Conor McDermottroe, Samuel Mills, Galina Munroe, Sandra Porter, Frances Quesnel, Hannah Schmutterer, Trevor Shearer, Eve Shillingford, Siobhan Sinnerton, Jennie Smith, Pete Smith, Clara Tait, Alison Turnbull, Margaret Walker, Alex Whitbread + Heather Whitbread + 23 Skidoo, Edward Woodman, Adam Wright and the children of Beck Road.
Diddy's Bar is presenting six artists. The BBC, Parable Productions and Richard Saltoun gallery have loaned, respectively, a rarely seen 1988 32min documentary about Beck Road Artists; the groundbreaking 2018 VR Doumentary "Our Grenfell"commissioned by Beck Road resident Siobhan Sinnerton; and 11 major photographic works from the 1977 series "In My Kitchen" by former Beck Road artist Helen Chadwick. We are deeply grateful to all of them. Work by significant artists and friends of Beck Road artists such as Sol LeWitt and Cathy Pilkington will be on exhibition in resident artists' collections.
"Opening your door to the public during the Open House London Weekend is a subversive act. The residents of Beck Road however, have taken this ethos even further. Their By Beck Road 19 event, which showcases art created on the street down the ages (much of it by significant artists), in essence turns their street and homes into public art galleries. This kind of gesture inspires a kind of 'sociality' – where people, no matter how well known to each other, do things together, willingly. Given the ugly politics that form the backdrop to our lives today, this endeavour feels vital. Kind. The opposite of 'NO'…."
Rory Olcayto Director, Open House London
Saturday 21 September, 10am – 6pm (last entry 5pm) Sunday 22 September, 10am – 6pm (last entry 5pm)
@bybeckroad19
Curators
Alastair Carruthers, Commissioning Curator
Beck Road resident, businessman, company director and new Londoner, Alastair led much of the public investment in the arts of NZ before moving here. He chaired the New Zealand Arts Council Toi Aotearoa and its primary grants board for about 12 years and was Commissioner of the New Zealand Exhibition at the 2017 Venice Biennale. http://www.creativenz.govt.nz/news/lisa-reihana-emissaries-leaves-venice-biennale-2017
Sandhini Poddar, Project Curator
Raised in Mumbai, India, Sandhini is a new Londoner with an esteemed international exhibition record. She has visited Beck Road many times and considers its artists and houses to be so rare and important they deserve wider recognition. Sandhini believes art is by and for anyone. She served as a curator at the Solomon R. Guggenheim Museum for ten years from 2007 until 2016. She curated ground-breaking exhibitions on modern and contemporary Asian art receiving extensive press coverage including in The New York Times.
Categories
Tags