Lightbulb (on the ceiling)
In true Antoni & Alison 'playful 'n' pithy' style, the twosome give FAD an exclusive sneak peek into their universe.
Ahead of next week's *must-read* interview with fashion designers Antoni Burakowski and Alison Roberts, Antoni & Alison, the duo took time out of their hectic post-fashion week schedule, having just shown their SS20 collection in Paris, and together took ten photos of inspired moments in their Bermondsey studio and each answered ten quickfire questions.
"What have all these images in common? Nothing really, but that's quite good as that's how we work…"
Beautiful pink thing (on the wall)
First thing you do when you wake up?
Antoni: Open my eyes.
Alison: Look at Eric, the dog.
Last thing you do before you got to sleep?
Antoni: Can't remember but seem to always wake up with the window open – so open the window.
Alison:  I can't remember? I fall asleep easily.
Do you remember your dreams? Any memorable ones?
Antoni: Sometimes. At the moment I'm dreaming of my Dad… He's running along with me chucking me up in the air and we are really laughing. I'm about 4.
Alison: That all my possessions are in a plane which has the rear hatch open and it's swerving around. Everything is falling out and I am trying to keep hold of everything.
What career did you dream of doing when you were younger?
Antoni: Originally I wanted to be a clown, then when I was 14 wanted to be a fashion designer.
Alison: Being really shy and also lacking self esteem when I was young, all I knew was I wanted to 'show' but I didn't know what that meant.
What dreams do you have for yourself now?
Antoni: I want to carry on working with the lovely Alison, just making interesting work… Have a photography show… Write a book of our work (no photos) and make a film… Be the toast of Paris…
Alison: None.
What's next?
Antoni: Concentrating on our photography work.
Alison: Art based projects and one day, a retrospective of some kind? Most likely in 100 years time (planet allowing).
Favourite time of day? 
Antoni: Best time is when it works, when you think YES… Got It…
Alison: I like mornings especially getting up early and maximising the day, it feels like a gift of more time.
Favourite space in your studio?
Antoni: The stairs (there are lots of them and I love each one as much as the next).
Alison: There's a small nook where I keep my favourite thing in the studio (see next Q&A).
Favourite object/objects in your studio?
Antoni: The beautiful pink thing (on the wall) – it's beautiful and it's pink. The computer – it's helpful.
Alison: Mr Blobby ceramic – he found me.
Any guilty pleasures?
Antoni: Cake (any).
Alison: Chocolate – even through I'm a vegan (I'm not keen on vegan chocolate).
Five dream dinner guests?
Antoni: I would have to have a bigger table if it really is a dream dinner. Then I would have Jackson Pollock, Kenneth Williams, Marie Antoinette, Tony Hancock, My Dad and sitting between each of them would be a set of my grandparents going back over 5 generations.
Alison: Ekhart Tolle, Hilde Larsen, Jackson Pollock, Kate Bush, Tony Hancock (and Ricky Gervais if there's an extra chair).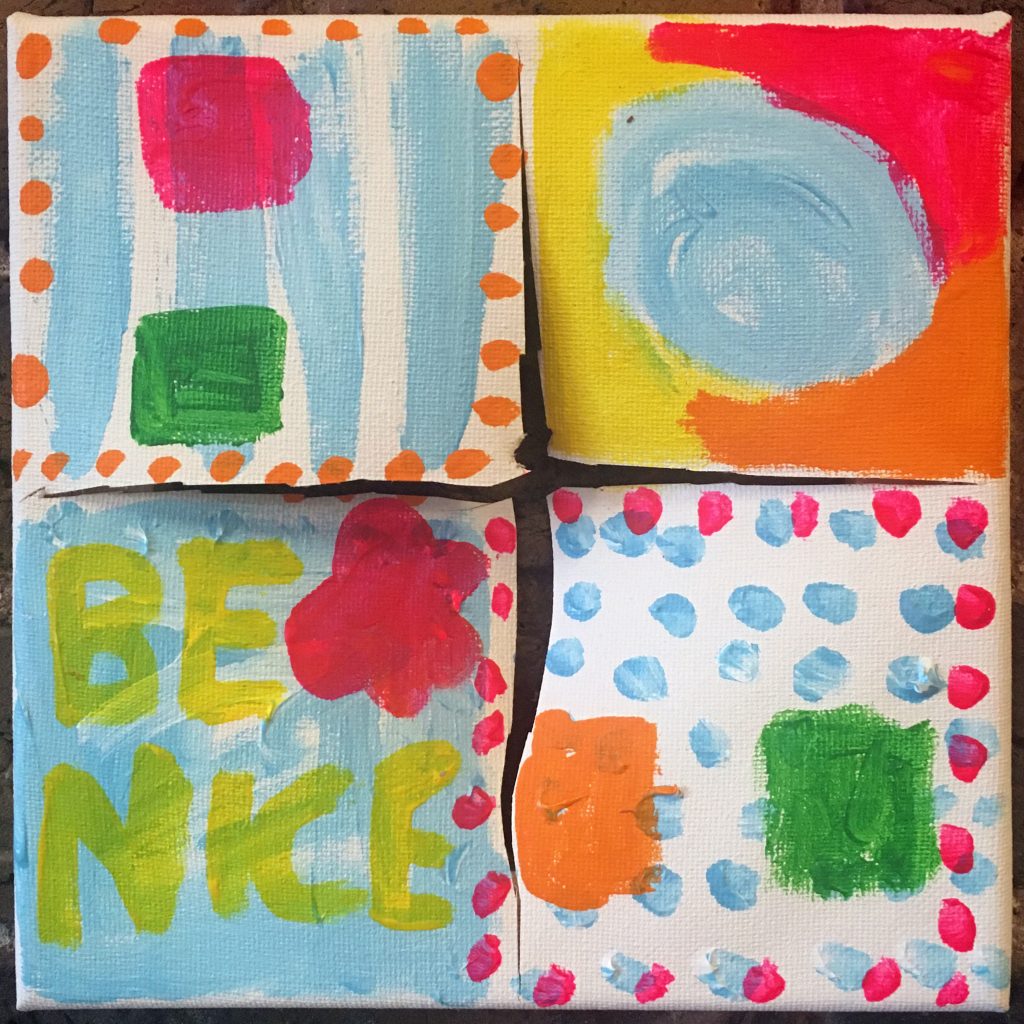 Painting (BE NICE)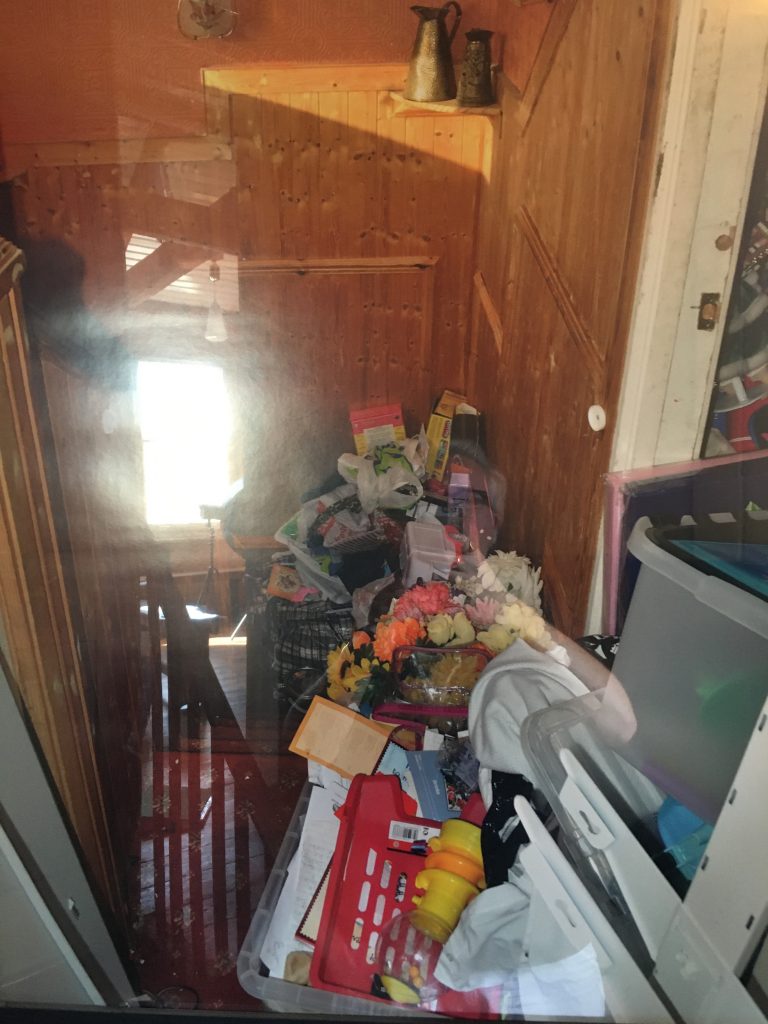 Stuff (on the stairs)
Paint box (on the floor)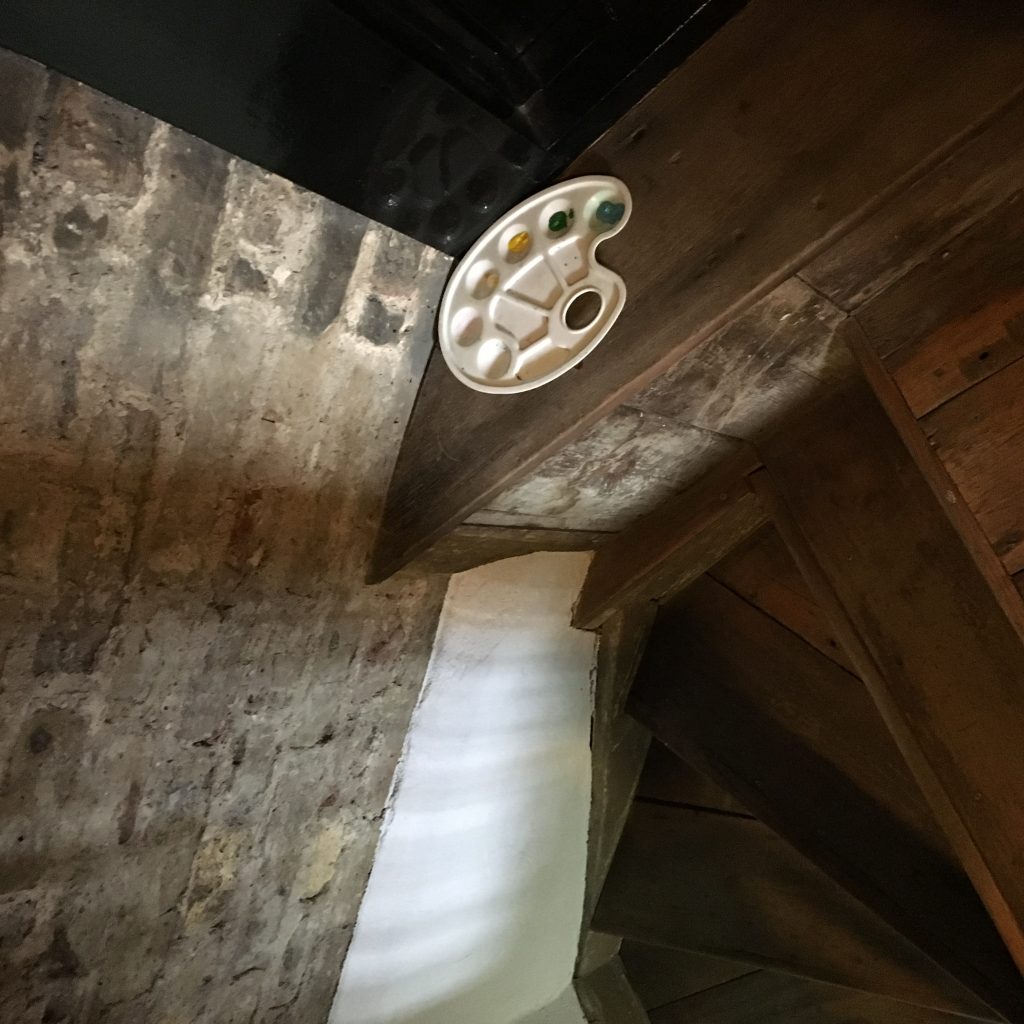 Palette (by the stairs)
I'm reading a book (and more)
Girl (being careful on the stairs)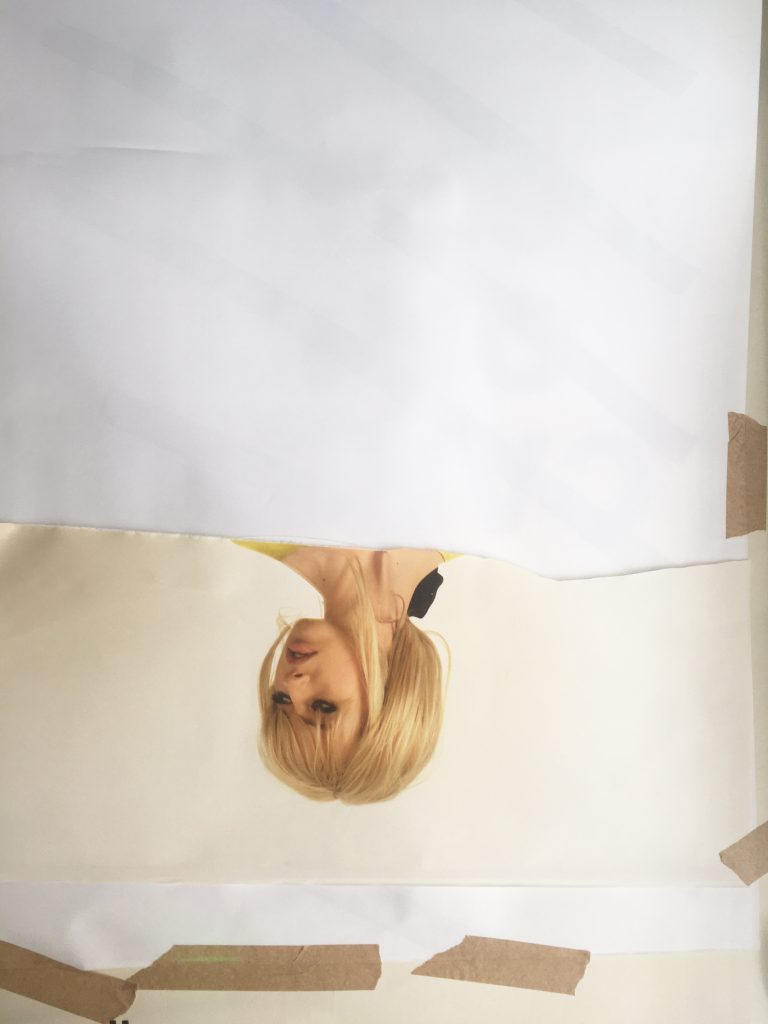 Girl (upside down)
About Stephanie Talbot