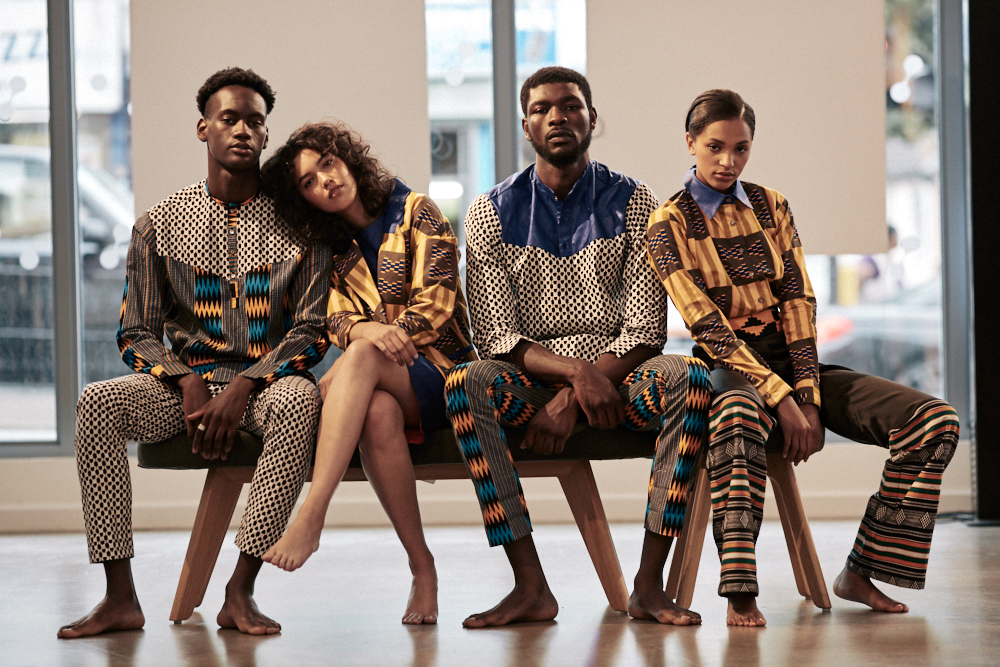 AFRO LUXE:
As part of London Fashion Week, founder of eponymous label SOBOYE Samson Soboye presented his SS20 womenswear and menswear collection. Named Ashanti after the region in south Ghana, which not only was the inspiration but the origin of the silk and cotton fabric made of interwoven cloth strips known as Kente, it was a display of contemporary elegance and a celebration of craftsmanship, texture, dazzling colours and exquisite patterns and prints. Kente print Afrikomo dresses and duchess satin coats with matching bracelets were amongst the pieces that prompted gasps from guests.
As with Soboye's personal style, his clothing, accessories and home furnishings designs, and African fashion & lifestyle brand and boutique in London's Shoreditch, Soboye's finesse and attention to detail is exceptional. In 1999 Soboye developed his love of soft furnishings and interiors by starting his own label: Samson Soboye Home Couture which comprised of cushions, throws and *must-have* bags using highly tactile textiles such as faux furs, Mongolian Lamb, butter-soft suedes and leathers. Since 2002 Soboye has occupied a retail outlet on Calvert Avenue. At the time it was a rather lacklustre street, but being the trailblazer he is Soboye saw its potential and in the last few years it's become a *go-to* destination populated by coveted brands and cool cafes. From the very beginning the emporium stocked craft-based products and supported both emerging and established African and Afro-Caribbean design talent and African luxury from the African Diaspora perspective. In 2015 Samson was appointed head stylist for African Fashion Week London (AFWL) and has been an established editorial stylist since his collegiate days at Central St. Martin's School of Art in the early nineties.To wear SOBOYE is to wear resplendence with the knowledge in years to come it will still be gloriously modern.
Photographs by Matt Lain
Styling for Samson Soboye by Paula O'Connor
AGNES B. and ASSOULINE:
Fashion designer and lifestyle brand Agnès b., synonymous with effortless cool and carefree insouciance, celebrates forty years of her classic snap cardigan, while luxury book publisher Maison Assouline marks twenty-five years at the vanguard of tomes dedicated to visual culture, travel and gastronomy. So when Assouline and Agnès b. collaborate – Agnès b. The Snap Cardigan, published by Assouline – the result is literati, glitterati géniale!
Editorials, campaigns, sketches, private photos and photography by Jean-Baptiste Mondino, Walter Chin, Giles Bensimon, amongst others, add to the richness of this coffee table staple. As much as the book is a beautiful tribute to a cardigan that has seen over forty versions produced worn by women, men, children and babies, the cardigan, although the subject, is equally a mouthpiece for French style captured through the 'lens' of Agnès b.
Select pages courtesy of Agnès b.
BOHINC STUDIO:
In conjunction with this year's London Design Festival and part of the LDF 2019 King's Cross Design trail, Bohinc Studio founder Lara Bohinc welcomed guests at a private view of the Lunar House; a pop up exhibition, and also Bohinc Studio's first solo exhibition in London, to commemorate the Moon landing's 50th anniversary. Since 2016 Bohinc has brought her angular yet feminine design principles and her knowledge of industrial techniques to furniture and object design.
Within the setting of a listed Victorian townhouse Bohinc's signature aesthetic of clean lines and sharp curves to the interior was further dramatized by petrol blue flooring, ceiling and walls that undulated in the same manner as the chaise longues, armchairs and plinths. Against a cocoon of rich blue that suggested the cosmos, objects such as statement boxes and vases – aptly named the Juno box and the Jupiter vase, respectively – and bold pieces of furniture strategically adorned the space in which to suggest a constellation. The pieces in cream, dusty red, and powder blue, highlighted by brass frames, handmade metalwork and 3-D milled marble parts, complemented and contrasted the dark space. Bohinc also presented the freshly launched Planetaria collection and a selection from the studio's collaboration with Kasthall.
Portrait of Lara Bohinc by Rebecca Reid
Photographs by Philippe Fragniere
PREEN by THORNTON BREGAZZI:
Sourcing inspiration from Japanese culture; citing cult films Kill Bill and Lost in Translation and Manga series The Promised Neverland s well as the book Japonisme 'a Japanese-inspired guide to living a happier, more fulfilled life' it was with thrills, chills, spills and layers of frills that Preen's punkish sensibilities partnered with their distinctive masculine with feminine juxtapositions took their cues from a country renowned for its alternative style. Certainly one can imagine Preen's SS20 womenswear collection making an appearance on the cool gals hanging out in Harajuku.
Founded in 1996 by business and real life partners Justin Thornton and Thea Bregazzi, Preen by Thornton Bregazzi has evolved from a small boutique in London's Notting Hill to a globally loved brand stocked across five continents, producing six ready-to-wear collections a year together with seasonal offerings of accessories and footwear, Preen Mini; a children's wear line  and Preen Home; a soft furnishings range. It is a label built on an aesthetic of dark romanticism hardened with tomboy touches. For Spring 2020 Preen presented a coherent series of looks that comprised of loose silhouettes, balloon sleeves and asymmetrical flounces. Ruffled skirts, voluminous dresses, spliced frocks, sequin-covered robes, ruched semi-sheer gowns, padded trench coats were worn with oversized hoodies and grunge-style T-shirts illustrated with anime motifs. Flat buckled leather boots and flat metallic leather shoes that wrapped around the ankle lent a further rebellious touch. Given Preen's commitment to sustainability, the collection was constructed from a combination of previous seasons' leftover fabric, sustainably sourced viscose and georgette made from recycled plastic bottles and textile waste, demonstrating that sustainable alternatives needn't compromise innovation and style.
Photographs by First View
About Stephanie Talbot