"In all the spaces we've occupied you enter a world of Fredrikson Stallard, everything is made or acquired by us, it's one of those basic things and that's what gives our studio a unique feeling that you are somewhere very special… "
To experience the universe of artists and furniture designers Fredrikson Stallard begins the moment one turns a cobbled, street corner into another unexpected backstreet cocooned by a stillness and a Dickensian stirring. It is this mise-en-scène tucked behind the urban crease that draws together London's upwardly mobile Clerkenwell district and nearby historic Bloomsbury that leads to the street level entrance to Fredrikson Stallard's Holborn studio. Unassuming and discrete, it's a neighbourhood renowned for its blend of postwar council blocks, warehouse conversions, contemporary industrial buildings, Victorian and Georgian houses, the odd takeaway and car repair business and the vertiginous, heavy cast iron gates that serve as a portal to studio founders Patrik Fredrikson and Ian Stallard's work space. However, it is the drama of a drafty, dark walk through a 2,000 sq ft exposed brick tunnel towards an 8 ft steel front door that suggests the bold contrasts of Fredrikson Stallard's innovative outlook.
Formerly a 19th century, brass foundry that made carriage wheels, Fredrikson and Stallard were involved in all stages of the studio's transformation, often physically hands-on in remodeling the dilapidated 3,000 sq ft space. Their extensive tectonic knowledge enabled the pair to play with the visually uncomplicated, design principles that have been consistent since the studio's nascence. Each element from spatial layout to the architectural details, furnishings, accessories such as light fittings, kitchen accoutrements, everyday paraphernalia et al. were concocted by Fredrikson Stallard, thus representing their cohesive signature aesthetic of stealth luxe. Using materials of superlative quality including patinated steel, COR-TEN (a steel that rusts, stabilizing after a couple of years) and polished concrete, the brutality of their chosen materials juxtapose effortlessly with the lightness of the open space. The result is a minimalist and engaging open plan dual-level loft, with their studio and gallery on the ground floor and a domestic setting to view their pieces in-situ on the upper floor. Acknowledged as one of the design world's foremost creative mavericks, it is a noteworthy interplay that their designated site was once inhabited by the underworld, lending a mischievous take on a historical past that has been gentrified over the years.

Gloves Armless Venus, Exhibition Layout (top); Gloves Armless Venus, Candle Display #1
Apt that Holborn is the setting of their atelier, having met at Central Saint Martins College of Art in 1995, where Fredrikson specialized in product design, after a stint studying architecture in Copenhagen, and Stallard in ceramic design. Holborn also holds importance having been the locality of their first studio and first home. Although Fredrikson and Stallard began working together during their collegiate years, their design practice was officially inaugurated a decade later with their debut show 'Gloves for an Armless Venus' in New York, which introduced their conceptual thinking, sculptural understanding and exploration into industrial processes and craftsmanship establishing them as coveted exponents of British avant-garde design.
Despite being London-based Fredrikson Stallard's continent-hopping sees them ricocheting between copious time zones, yet it is New York that is not only a particularly receptive and favoured market but considered their spiritual home. Fredrikson and Stallard both agree, "We have a lot to thank that city, I think because of our history with New York and having launched there, much of our work probably ends up there, especially the quieter pieces in the Upper East Side and the more flamboyant pieces in The Hamptons." Stallard elaborates, "At the very beginning of our careers London closed the doors on us in front of us, whereas New York were completely the opposite and opened the doors. One story in particular is of an international design brand who had a showroom is all the major cities. In London they'd have events and turn their noses up at us because we weren't known or important, they actually told us we couldn't come in. But in New York, during design week, we went to that same brand's showroom and there was no question of anyone just walking in, there was nobody there to stop you, and there we met with the marketing people who took an interest in us and said 'tell us more about what you do.' In fact one of them is now a really close friend of ours. Anyway, we explained that we were just starting out and they were like 'great, do you want to come up and see our private archives.' And even if New York's openness and friendliness was superficial it still existed, and we believe it's up to you as the newcomer to take that and run with it, and we did…"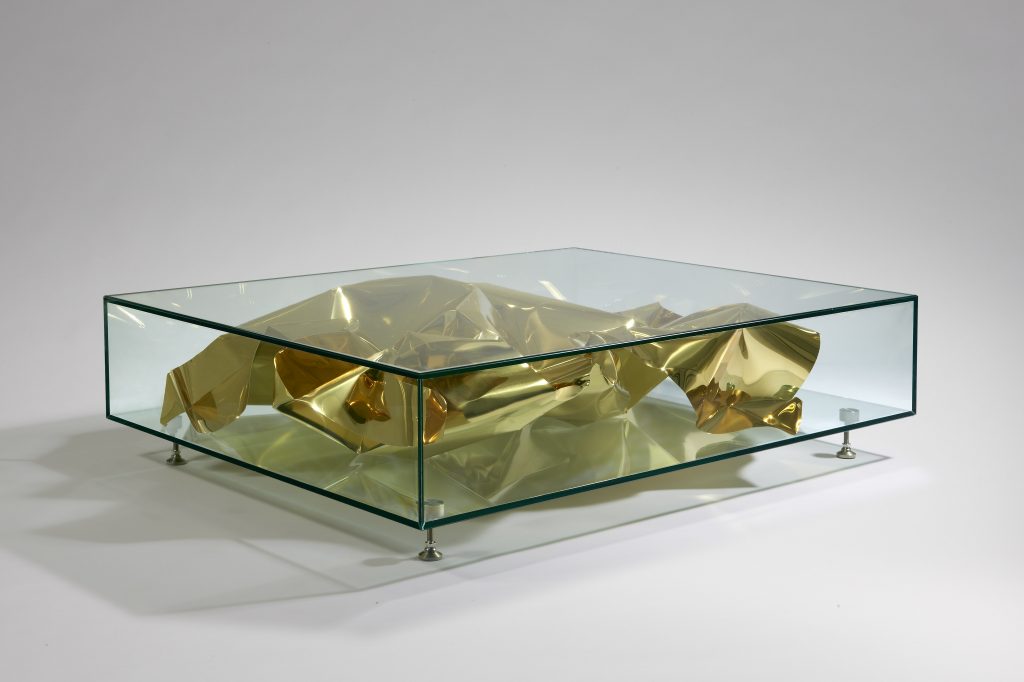 Gold Crush (top); Silver Crush Desk
"If it's a battle between sculpture and function, and it always is, sculpture wins every time."
There's a performative quality that characterises the essence of Fredrikson and Stallard. Charismatic and expressive, not only is this quality evident in interviews, in their appearance or their presence vis-à-vis, but also in their output as personified by their monolithic pieces of work that freeze frames a temporal moment of movement. Recognisable by the richness of a colour palette, greatly enhanced by their choice of materials, only ever using the premier variety available, the integrity of the material is central to their design philosophy. "We strive to be completely honest to the way the material naturally behaves but always under our strict consideration." Paramount to every design decision is the dynamic between the natural and the synthetic, the inimitable and the mass-produced; the texture is sensual, the volume seductive. Precise lines and clean edges are a distinctive feature of Fredrikson Stallard's designs alongside their propensity to experiment with form often playing with folds, undulations, ripples, creases, crumples and compression, the works are almost always conceived as collections. "For example the 'Crush' pieces have taken on so many different constellations since the beginning when we placed them in glass boxes," notes Fredrikson, "the last few years we've displayed them on walls and also because we now work with stainless steel they can be used as functional items of furniture because the material is so hardwearing."
Reformation, Justification by Grace (top); Reformation, Imperator; Reformation, Sometime Someday
The nuances that mark out Fredrikson Stallard's projects as artworks as opposed to design pieces are imperceptible; whilst brief may drive intention, perception underscores reception. Indeed, theirs is a margin that they not only straddle but rethink its distinctions. "It's something we constantly fight with because say we are making a piece of furniture, rather than a sculpture or canvas which has other values, there are technical issues we have to deal with. So in the instance of a cabinet if you put books inside, then the books cannot damage the surface and the surface of the cabinet cannot stain the books etc. As artists what we contribute to the world needs to be particular to us, often we say no to big furniture producers because there needs to be a reason why we are putting these things out into the wider world. Everything we make, we do for us. We do it because it's something we want to have, primarily something that makes us feel good about it being made. We never produce work we don't believe in and we never approach anything with the point of view of what other people might want or what might be the best solution for somebody else. It's always the best solution for us, which may sound selfish but we don't think it is because what we end up with is the best possible work; what we believe in," Fredrikson points out.
"We consider ourselves more artists than designers on the foundation of how the studio works. At the end of the day though most of the work becomes furniture or design-related in one way or another, but our thinking and methodology and how we work in the studio is like a fine art based platform. What we mean by that is a traditional design studio may get a brief, evaluate it and start from zero; brainstorming around it and choosing the strongest idea, but that's not our method of working. Of course in the beginning we had to work like that because we didn't have a back catalogue, but now that we have quite a bit of history behind us we take references from ourselves. For us work leads to more work; for instance 'Study of Armour' is from our sculptural works titled 'Reformation' and the 'Pyrenee's sofa informed the 'Species' seating series. A lot of creatives give the design much thought prior to starting the process but we'd rather just start producing work. Obviously in the early stages our response to a brief is in development but occasionally you reach a point where you think 'damn, this is something really special.' Our analogy is it's not just another chapter, it's another book that can start writing more chapters around that body of work."
While Fredrikson Stallard's tenth anniversary was commemorated with Momentum both a hand-bound book in a limited edition of 350 and an exhibition comprising of ten new sculptural pieces showcased at their headquarters during the London Design Festival, 2020 heralds fifteen years in practice. Another collectible book, simply titled WORKS (published by Skira), details their oeuvre to date lending a permanence to their evolving opus, including previously unseen prototypes and works from their early days. All 1000 copies sold out within days of publication. As Fredrikson shares, "My professor at Saint Martins used to say 'always take good documentation of your work because if it's mass produced at some point production will cease but the images will survive. So although we have kept some pieces, others get sold or are one offs or they just don't exist any more,." Stallard confides with levity, "Photography wasn't my forte, which is why my student archive is rather scant plus many of my paintings were eaten by my mother's dogs and my ceramics were thrown away by my mother's husband… So there are lots of Patrik's things in the book but not so much of mine, just a few that I'd gifted to family members."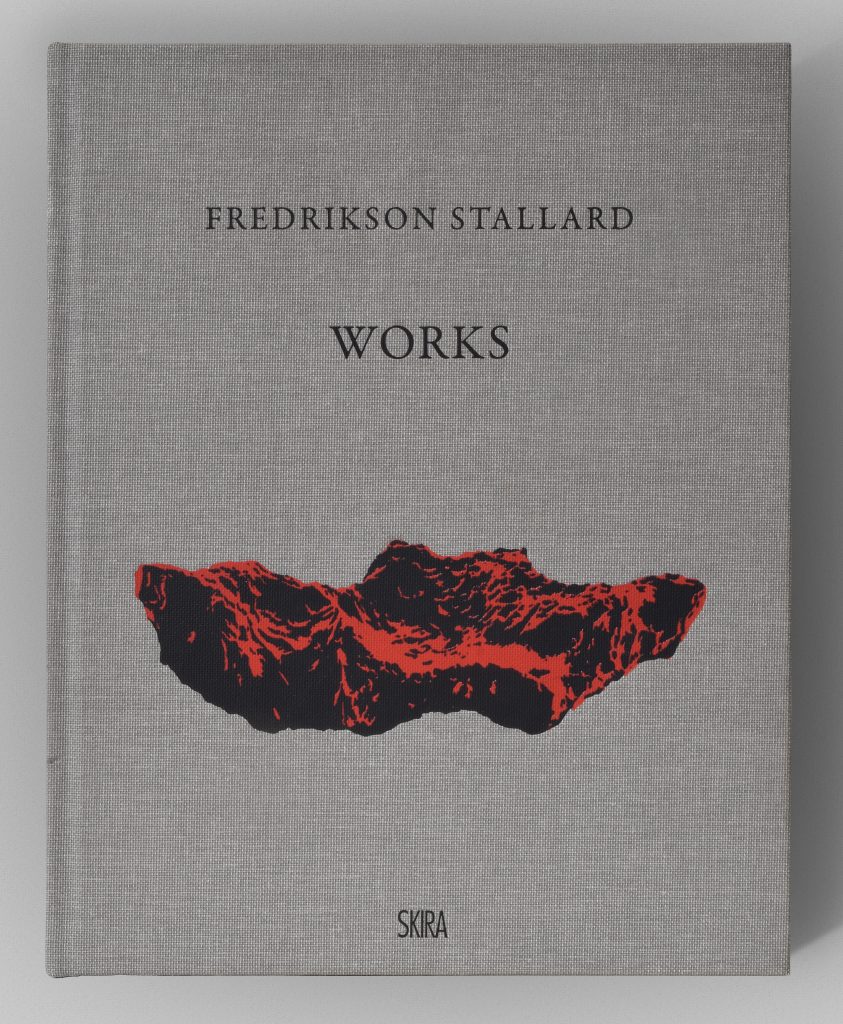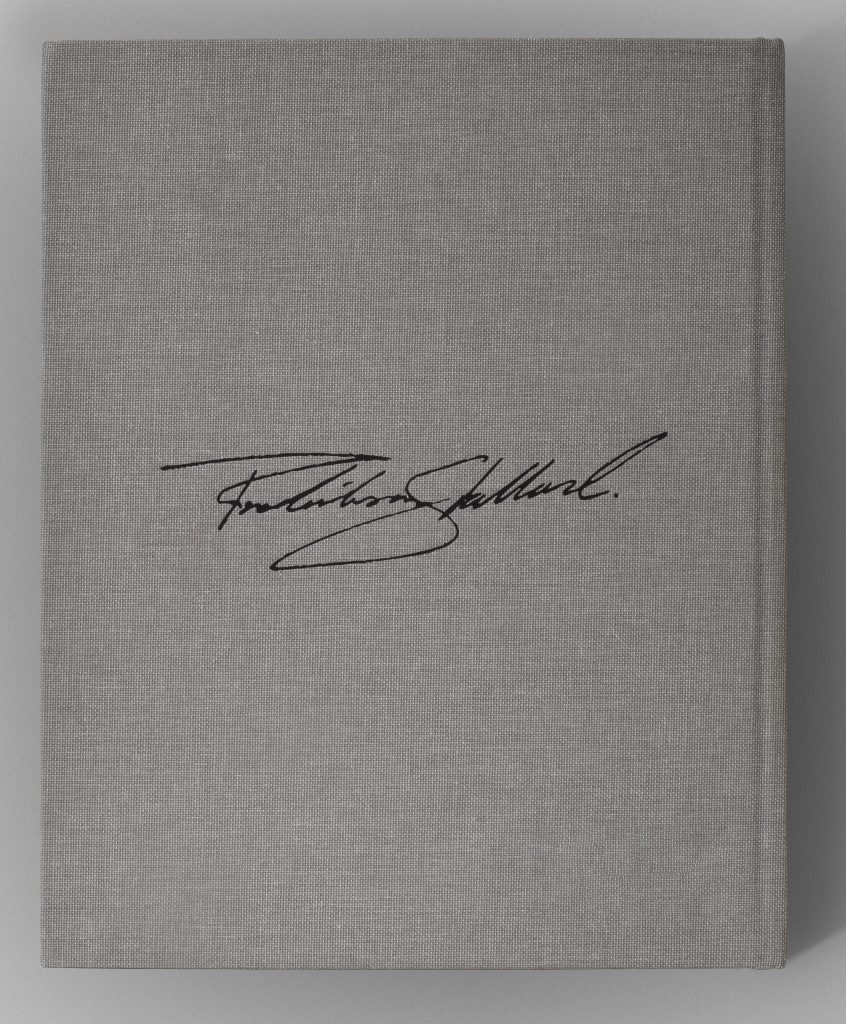 Momentum, Book (top); WORKS, Book  
"We can take our way of working and apply that to a perfume bottle or jewellery or lighting or fine art sculpture or public sculpture and it is that variety of crossing the boundaries that is the most important thing when collaborating."
Luxury fashion houses have been enamoured with Fredrikson Stallard's design prowess and sculptural qualities since the studio's infancy as demonstrated by ongoing commissions and collaborations with Atelier Swarovski, feted for their high-quality crystal product collections, and Italian menswear brand Brioni, whose focus is in tailoring. Other notable brands they have created limited editions for include leading Italian furniture outlet Driade, Jaguar, Dunhill and Gieves & Hawkes. In the mid 1990s when Comme des Garçons were organising a winter launch in London for their fragrance White the fashion label approached Fredrikson Stallard to design an accompanying gift. Taking inspiration from Comme des Garçons' classic, flat bottle, they hand crafted white porcelains keyrings, each individually smoothed to lie on its side as if it were a pebble; a completely organic shape in which no keyring was the same, "that was our first venture with a fashion brand," reflects Fredrikson.
Brioni, Fragrance Bottle (top); Comme des Garçons, Keyring #1
"At the beginning we started off thinking that our studio would be modelled on the classic fashion brand, not a specific one but the classic meaning that you have your couture line and then you have your prêt-a porter, and so our main income of the studio would be staples and the couture, which for us was our sculptural work, was where our hearts were truly invested. The ready-to-wear was inspired by the couture but we had to make lots of compromises as it had to be mass produced and therefore more cost effective for the customer and it lost a bit of its soul, so there was no point in continuing with that. Anyway, whatever we did people copied us, they made it in the far east in quantities we couldn't afford to do, so really it was impossible for us to do anything other than the couture, and as it happened life just took us the opposite way as people wanted our couture pieces!" enthuse Fredrikson and Stallard in unison.
Stallard continues, "Brioni is a good example of how we feel we fit in the fashion world. We've done a lot of work with them in many ways, from designing objects to modelling in their shows. We also united with Brioni to produce an exclusive collection of men's accessories comprising of a collar pin, tie clip and cufflinks, all made in solid gold. It has never involved clothes as we understand that tailoring is a skill and the best fashion designers, in our opinion, are the ones that excel in tailoring, but we do understand an ethos behind a fashion brand and the stories they are telling. Brioni came to us because they were launching a perfume for men and this time they were producing it independently, which is rare for a fashion brand to do. They approached us to design a fragrance bottle because they didn't want what everyone else had, but the CEO only agreed to it if the number one perfume bottle designer in the fragrance industry also submitted a design. The brief was to create a bottle that was iconic and recognisably Italian, particularly Roman. Immediately we thought of Futurist architecture and also the masculine strong image of Renaissance sculptures and their use of bronze which was really, very powerful and that to us was a perfect fit. So we prepared a presentation plus an animation and showed examples of works of art and sculptures that captured our vision and developed it into a fragrance bottle, explaining a whole back story. As is usual we designed for us and what would look great on our dressing table, whereas the other person had done a quick little sketch on a piece of paper proposing a bottle shaped like a Roman column.
Brioni were blown away by our concept because we'd told a story and we won the commission. Of course there were a lot of problems along the way; the people who make the perfume bottles were like 'oh no, here we go, you can't use this metal because of the alcohol content and you can't do that with the glass,' but we didn't back down, we stuck to our guns as much as possible. We ended up creating a product that did express what the brand was and actually won an award because ours was a different perspective, we came to it not as a product designers but as artists. Often product designers are too quick to discount so many ideas because there are always constraints, and therefore overlook finding a solution through the constraints or around them as a means to achieve what they really want to do."
"Our approach is always about bringing in the sculptural to the brand and bringing together two stories; theirs and ours. It's not just that we are being brought in to design jewellery. For instance, when we design jewellery we design mini sculptures which you wear, as was the case with both the fine jewellery of Brioni and also with the costume jewellery of Swarovski. We've had a longstanding relationship with Swarovski, it started at Crystal Palace with lighting and public sculpture and in recent years our larger than life Prologue sculpture, which combines a circular steel frame with 8000 topaz Swarovski crystal droplets creating a large optical lens, has been displayed on the red carpet outside the entrance of the Royal Albert Hall at the British Fashion Council's annual Fashion Awards. Eventually our rapport with Swarovski moved into jewellery which was quite natural for us. Our 'Space Flower' collaboration with Atelier Swarovski was our first bespoke collection for the brand which included neckpieces, bracelets, earrings and rings, we designed it with a 21st century femininity in mind.
The season we designed our 'Armory' collection, what we called 'hero pieces' consisting of a crown, mask and shoulder pads, it was us and Jean Paul Gaultier as featured collaborators. We also designed a large neck piece; a necklace; two pendant necklaces; three different sized cuffs; two pairs of earrings and two rings. It began with a set a price point, but ours was twice it was meant to be. Swarovski asked us to design the range for the given price point, but we said no. Because Swarovski is a family business we were actually able to go directly to the family and say 'please trust us it would be a mistake to change our designs to fit the price point' and eventually they gave us the green light. The pieces sold out within three weeks and outsold Gaultier's, because what we offered was something unique. I think it was one of the most popular collections that Swarovski produced, they've indicated that they would like to reissue it in the foreseeable future and for us also to create a clutch bag.
Designing women's jewellery was one of those rare occasions when we had to think not just what we want, because obviously it's not something we are going to wear, but what the customer would gravitate towards. So the nearest thing we've ever done to a focus group was asking women what would work for them and it was really interesting that women wanted something that they could wear during the day and into the evening, so it had to work on two levels, for instance jeans and a T-shirt and also an evening gown. At once we thought of armour, as in the workplace what you want is a little piece of armour. It was a seasonal collection and part of our vision for it was that instead of revealing it at the fashion week trade fair in an anonymous little booth, we presented it here in our studio in the tunnel to coincide with both fashion and design week and Frieze… Bringing different worlds and disciplines together in one space underscores what we've always been about, " Fredrikson and Stallard conclude. Fait accompli.
Atelier Swarovski Collection, 'Space Flower' Neckpiece Golden (top); Atelier Swarovski Collection, 'Armory' Gold Neck Piece; Atelier Swarovski Collection, 'Armory' Large Gold Cuff
Photographs courtesy of Fredrikson Stallard
Portrait of Fredrikson Stallard by Roger Deckker
About Stephanie Talbot