Sunglasses have replaced the hat as the essential outdoors accessory. We wear them for two main reasons. The first is because we understand that exposing our eyes to UV rays can permanently damage our sight, and the second is because they're a top fashion accessory, which can transform your style at a stroke. If you have been in the habit of buying sunglasses in the way that you might buy a T-shirt then perhaps it's time that you gave a little more thought to your next purchase.
Context
You've decided that you need a new pair of sunglasses. What do you want them for? Are you taking them on holiday? Do you want to look stylish at outdoor summer parties? Do you need them for driving or cycling? Do you need them for formal occasions? You get my point. Yes, you can probably get away with your trusty wayfarers in most situations but your brilliant red micro cat eyes, definitely not.
Frame style
Certain frame styles are going to look better on you than others. Round frames on a round face make you look, well, round. You will also need to consider the material from which your frame is made: acetate, plastic, metal or, increasingly popular, wood.
Frame size
Having decided on a style you need to make a decision about size. Generally speaking, short hair and small faces need small frames and big hair and larger faces suit outsize frames. It's worth remembering that the bigger the lens, the more protection you are giving your eyes too.
Weight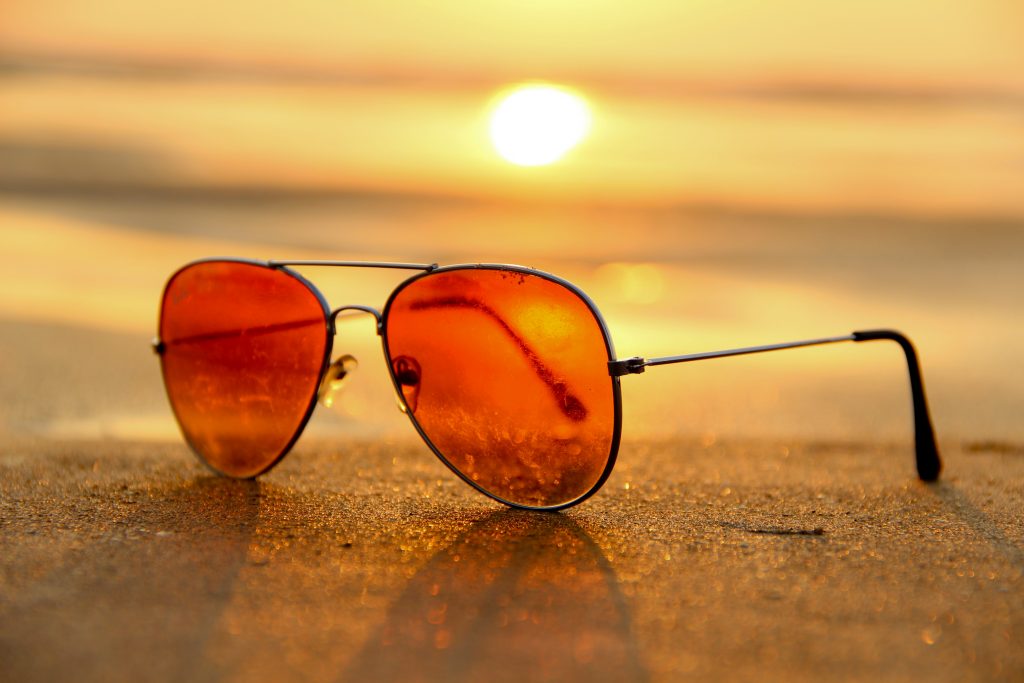 The heavier the frame, the more you are going to notice the fact that you are wearing sunglasses. If you've chosen your sunglasses to wear at parties, this is probably not a problem, but if you are intending to wear them on long drives then you are going to find it a lot more comfortable if you go for a lightweight frame.
The lens
The lens is the most important part of your sunglasses and probably the part to which we pay the least attention. You need 100% UV protection for starters, but you also need to consider the material from which the lens is made, such as optical glass, plastic, polycarbonate or one of a range of the new materials that are being developed for greater optical clarity. The lens coating is another consideration: polarized, photochromatic, gradient or mirrored are the usual choices. Brands like Ray-Ban allow you to modify elements of your favoured pair to suit you. You can even use prescription lenses with a coating of your choice.
Colour
Before you decide on a frame colour and lens colour, you should give some thought to the colour of your hair. For example, if you are blonde, vibrant yellow sunglasses will clash, whereas if your hair is grey, strong bright colours, though probably not yellow, will look great.
Fit
You wouldn't buy clothing that doesn't fit, would you? The same should apply to your sunglasses. Ensure that the frame is wide enough, the temples are long enough and that the lenses sit as close to your face as possible.
About Mark Westall