Nancy Fouts was born in Seattle, USA, in 1945. She moved to London at the tender age of 16 when her parents had enrolled her in a finishing school, which was bizarrely called 'The Monkey Club' because the girls were taught to "Hear no evil, see no evil and speak no evil." However, Nancy was never one to tow the line or follow the rules, and her free spirit led to her being expelled. Unperturbed, Nancy with her irrepressible enthusiasm decided to embrace the free spirit of the Swinging Sixties, and set out on her path in the art world with a place at Chelsea School of Art to study Graphic Design in 1963, before enrolling at the Royal College of Art in 1967.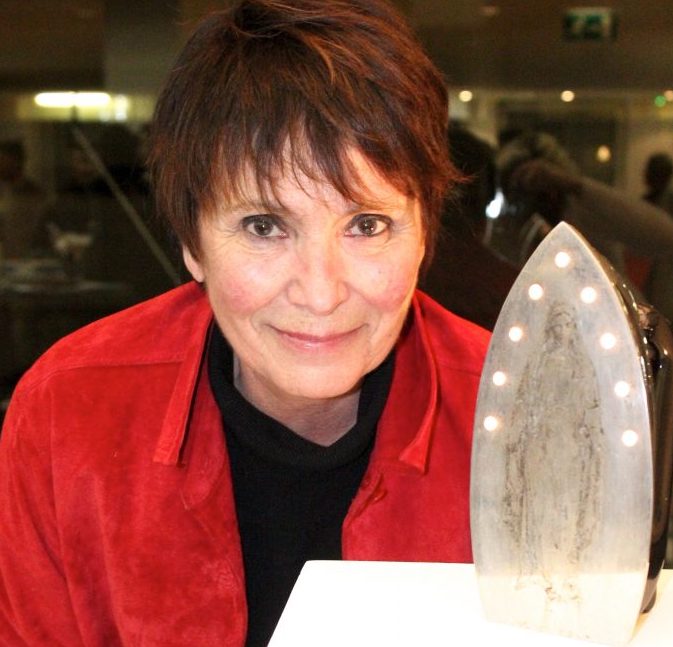 In the 1970s Nancy and her then-husband Malcolm Fowler set up 'Shirt Sleeve Studio' as a model-making and illustration workshop. They also designed posters and album covers for musicians of the era including Manfred Mann and Jethro Tull. Together they were the creative force behind some of the most iconic advertising campaigns of the 1970s and 1980s, including British Airways, Benson & Hedges, and the legendary Saatchi & Saatchi Silk Cut ads subverting purple silk with surreal imagery.
In 1973 Nancy was awarded a coveted DandAD Gold award for 'Most Outstanding Artwork', and Silver for 'Most Outstanding Use of Photography for a Poster'. The 1970s were a productive decade during which Nancy had a solo exhibition at the inaugural gallery of Angela Flowers in 1970, and worked on posters for Tate Gallery, the BFI and Ken Russell's 'Mahler' (1974), at the same time as raising a family. No small feat for a woman who was simultaneously making her voice heard in the cutthroat advertising world of the1970s whilst breaking into the male-dominated world of fine art.
In 1989 Nancy co-founded Fouts and Fowler Gallery with Malcolm, and they mounted an exhibition of her work in 1990 titled 'Nancy Fouts: Crosses + Crucifixes'. In 1994 Nancy had her first solo exhibition at Flowers Gallery, and continued to exhibit with the gallery until her final exhibition at the gallery in 2018 titled 'Down the Rabbit Hole'.
Matthew Flowers gave this tribute: "I have followed Nancy's extraordinary career as an artist since my mother Angela Flowers first exhibited her work in December 1970 in the gallery's inaugural space on Lisle Street in Soho, London. Being lucky enough to call her a friend, I will greatly miss her playful and subversive interpretations of our world, which will not be nearly as much fun without her."
Nancy achieved international success with several exhibitions curated by James Putnam with the Gervasuti Foundation during the Venice Biennale (in 2009, 2011 and 2017), as well as exhibitions at Flowers Gallery in New York, Aeroplastics in Brussels, and the Esbjerg Kunstmuseum in Denmark.
James Putnam said of Nancy: "Nancy had a great creative spirit and lived life to the full right to the end – she had an acute sense of observation spotting surreal and humorous links between everyday objects and art history – she could make fine art out of basic materials and found objects with great technical skill and amazing attention to detail".
Nancy's art first made an impression on me personally when I first came across her 'Purse with Teeth' sculpture at a Pertwee Anderson Gold exhibition in 2011, and I was absorbed by her contemporary take on Surrealism, which was infused with a macabre Baroque sensibility. Her work was a combination of the Duchampian readymade, mixed with a surrealist aesthetic and the inimitable Fouts dark sense of humour.
Nancy was infinitely talented, endlessly reinventing religious artefacts and everyday objects or subverting motifs from different periods of art history in her practice, whether it was a reworking of Boticelli's early Renaissance 'The Birth of Venus' without Venus, or witty same-sex versions of Lucas Cranach the Elder's 1528 'Adam and Eve' diptych. Her deliciously infectious smile and dry wit made her a magnet for artists and curators of all ages, coupled with her talent for throwing unforgettable parties at her art-filled Camden house.
Because of her background as an award-winning art director and model-maker in advertising, Nancy was a perfect fit for an exhibition I co-curated in December 2014 at Saatchi & Saatchi titled 'There's a Good Girl – Advertising's Most Audacious Women Artists'. The exhibition featured a group of women of varying ages and backgrounds, with a common theme of crossing the boundary between fine art and advertising. Nancy was the pioneer of crossing that divide, as a kickass woman making her presence felt in the Mad Men style ad industry of the 1970s and 1980s, before successfully crossing over into the art world.
For 'There's a Good Girl', Nancy made a physical link between her commercial work as a model maker and concept designer during the 1970s and 1980s, and her ensuing fine art practice of the 2000s. Her iconic 1988 Silk Cut campaign featured an iron with spikes protruding from its base, poised to tear through the purple silk. For the Saatchi & Saatchi exhibition in 2014, Nancy loaned her 'Madonna Iron', with fairy lights replacing the spikes and bordering an image of the Virgin Mary that had been burned into the base – an ironic take on the domestic goddess. The Madonna Iron was a star attraction, perfectly encapsulating the theme of female creativity breaking out of domesticity. At the private view of 'There's a Good Girl', Nancy regaled the younger generation of women artists with her anecdotes, and inspiring them with her ideas.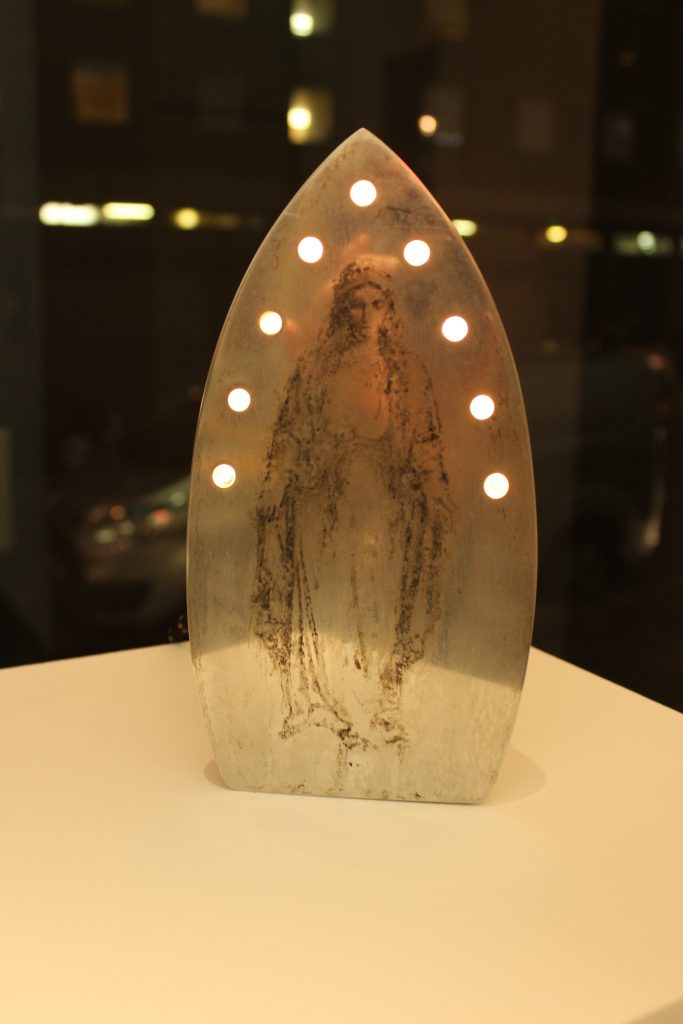 Saatchi & Saatchi exhibition: Installation photo
Later on in 2016, Nancy exhibited in a group show I curated with Hamish Jenkinson at Lights of Soho with the theme of 'Contemporary Vanitas'. The exhibition featured modern-day artistic musings on death and mortality. Nancy's practice explored the transience of life with a witty edge, and featured her 'Fire Bucket' sculpture and an ironic 'Exit Jesus' neon, depicting Jesus carrying the heavy burden of his cross. Nancy befriended many of the younger artists in the Contemporary Vanitas exhibition, and was always supportive of the next generation, attending their exhibitions and offering advice.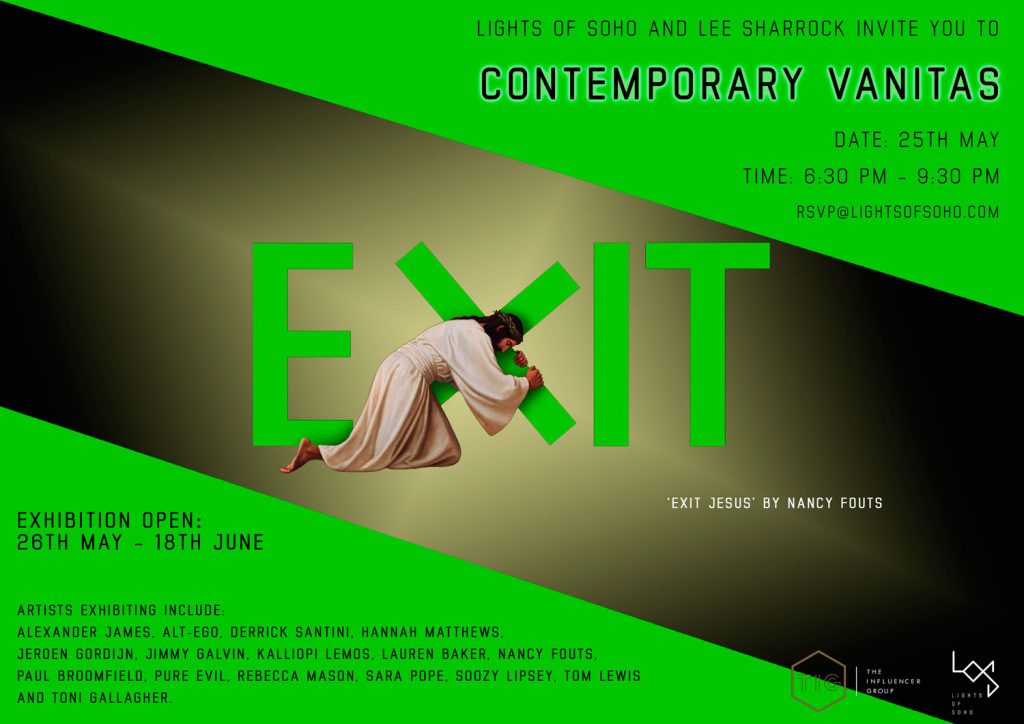 Contemporary Vanitas Exhibition Poster
She was selfless and generous with her time, even in ill health: the last time I saw her she told me about her upcoming exhibition in New York, and with a wry smile recounted the time when US customs had refused entry of her thorn-covered gun (a piece she had created for a 'Peace One Day' charity exhibition). Nancy was supportive of many charitable causes, donating her work to charity exhibitions for organisations including Macmillan, Centre Point, Arms Around the Child and Peace One Day.
Nancy was a key figure in the London contemporary art world, loved and respected by artists, gallerists and curators of all generations. Here are some tributes from friends and colleagues of Nancy:
Gavin Turk
Dear Nancy
One of the things about being a great artist, in this case, is that I might be able to see you and think about you easily, even though you're gone. Your direct and yet playful musing on matters matters and somehow seems to matter even more now.
Love
Gavin
Rob and Nick Carter
"Nancy Fouts was a force of energy, a brilliant artist and the best friend you could wish for. We were incredibly lucky to know her and have her unending support and kindness in our lives. She was inimitable. We will miss her everyday."
James Golding
"Before we knew each other very well Nancy asked me if we could rent a hearse and drive it around London with a coffin inside that had flowers on it spelling out the word Bastard. 'Some people are pricks', she said. 'You gotta tell it how you see it'. Nancy had a knack for seeing the everyday in a completely different way to the rest of us. We all need reminding that the world is not just as we see it."
Hayden Kays
"People were always surprised that Nancy didn't have mainstream recognition, I wasn't. Nancy wasn't mainstream. She wasn't Fish 'n' chips. She was a class act. Nancy was caviar and dauphinoise. I will forever miss her quality and enviable wit."
Vassiliki Tzanakou
"In her marvellous and adventurous journey to Ithaca, Nancy made fun of all the Laistrygonians, Cyclops and the angry Poseidon, while smoking relaxed her cigarettes. Her art will always remind me this playful and fearless approach in life."
Categories
Tags