The National Portrait Gallery, London has unveiled a major new commission of portrait drawings of some of the UK's leading film directors by British artist Nina Mae Fowler who is represented by Cob Gallery, London. The portraits are being shown to the public for the first time in a new display titled, Luminary Drawings: Portraits of Film Directors by Nina Mae Fowler, at the National Portrait Gallery from 12 April – 1 October 2019.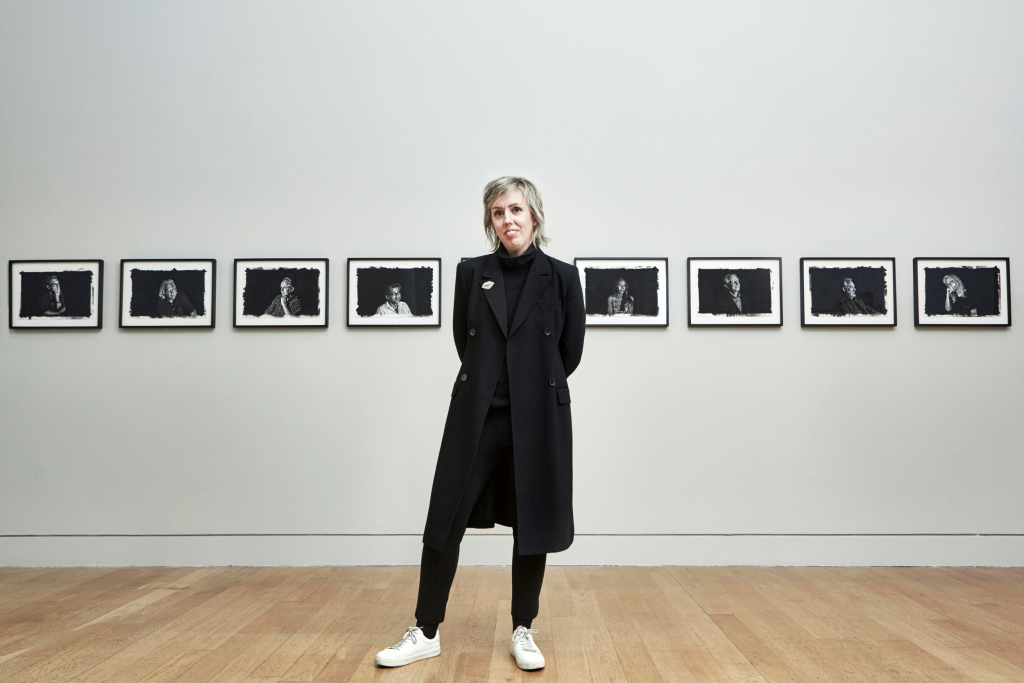 Nina Mae Fowler Photographed by Dan Glasser
Fowler's work investigates fame, desire and our relationship with cinema. For the commission, she invited directors Amma Asante, Paul Greengrass, Asif Kapadia, Ken Loach, Sam Mendes, Nick Park, Sally Potter, Sir Ridley Scott and Joe Wright to choose a film of particular significance to them. During the sittings, Fowler travelled to locations such as the directors' homes or offices. She then proceeded to project the film of their choice, and record their reactions on camera and through loose sketches, with their faces lit only by the light of the screen in an otherwise darkened space.

29:04:37 Sir Ridley Scott Charcoal on paper 29 x 44 cm By Nina Mae Fowler, 2019 photo Douglas Atfield
Fowler watched the films of the sittings frame by frame to extract stills that would form the basis of the final charcoal drawings. Intriguingly the artist has chosen not to reveal the directors' film choices. The only clues the viewer has are their reactions and the exact frame they were watching at the time of the portrait which is documented in the titles of the drawings. The intimate scale of the works draws the viewer into the minds of the people behind the lens, conveying the inspiration felt by the directors when watching great cinema.
Nina Mae Fowler, artist, said:
"The beauty of these sittings was twofold; firstly, the Directors lost any sense of being watched or portrayed as they were too engrossed in the film, secondly, we experienced the film together, which created conversation, laughter and an immediate bond between strangers. I want the viewer to wonder what film the directors are watching and to seek the answers in their faces."
01:40:25 Amma Asante Charcoal on paper 29 x 44 cm By Nina Mae Fowler, 2019 photo Douglas Atfield
Amma Asante, (A Way of Life, A United Kingdom, Where Hands Touch), said:
"It has been both a privilege and a fascinating experience to sit for Nina. Her work somehow captures what a photograph cannot. There is a mystique that I find utterly compelling and beautiful. "
Ken Loach, (Cathy Come Home, Kes, I, Daniel Blake), said:
"This was a delightful project but also an original one. It was easy to be drawn into a film that I know well, but was pleased to enjoy again. What a treat!"
Sir Ridley Scott (Alien franchise, Gladiator, Blade Runner), said:
"I was not keen on sitting for a portrait because I dislike being photographed intensely. But Nina persevered and is a hard one to turn down. She sent me a book on her work, and I was blown away. She explained her technique and how she worked to enable people to sit still for the session. In my case, she wanted me to watch the first film I ever saw. I think it worked out."
Joe Wright (Pride and Prejudice, Atonement, Darkest Hour), said:
"I thoroughly enjoyed Nina's process. Having me watch one of my favourite movies whilst I sat for her meant that I wasn't too self-conscious. The relationship between viewer and movie is strangely intimate, and I think Nina's portrait captures that intimacy."

01:44:48 Sally Potter Charcoal on paper 29 x 44 cm By Nina Mae Fowler, 2019 photo Douglas Atfield
Dr Nicholas Cullinan, Director, National Portrait Gallery said:
"We are delighted to have unveiled this unique commission, which has been a long-term ambition for the Gallery to help strengthen our representation of the talent and diversity within the film industry in the UK today."
Luminary Drawings: Portraits of Film Directors by Nina Mae Fowler 12 April – 1 October 2019, National Portrait Gallery London, npg.org.uk
About The Artist
Nina Mae Fowler (b.1981) is best known for her sumptuously detailed large-scale drawings and installations. Her work interrogates themes of celebrity, beauty, power and sexuality and is preoccupied with Hollywood's 'Golden Age'. Fowler has been shortlisted for numerous prestigious prizes and awards, including the Jerwood Drawing Prize (2015 & 2010), Aesthetica Art Prize (2014), Drawing Now Award (2014), Young Masters Prize (2012) and the BP Portrait Award (2008). Past commissions have included portraits of evolutionary biologist Professor Richard Dawkins and biographer Dame Hermione Lee. Her works have been exhibited internationally, including frequent solo exhibitions in London, Paris and Leipzig, and are held in private and public collections including New College, Oxford, UK and the 'Try-me' collection, a public foundation in Richmond, Virginia. In 2018 David Lynch's establishment Silencio in Paris held a retrospective of Fowler's work.

39:44:02 Sam Mendes Charcoal on paper 29 x 44 cm By Nina Mae Fowler, 2019
Categories
Tags