As the UK counts down to 'B-Day', artist Joe Sweeney invites the public to become part of +44, a new two-part, interactive public artwork.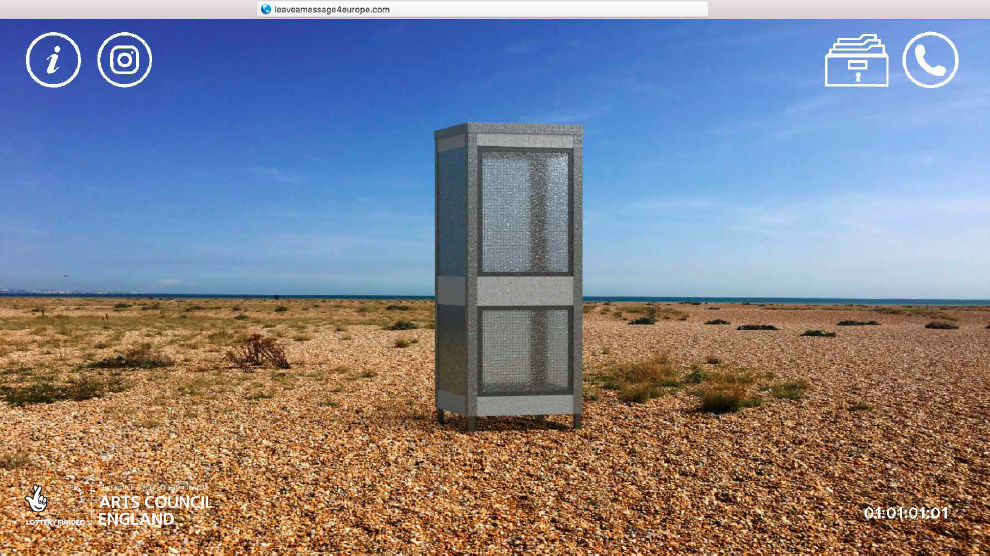 Over 28 days, from March 1st to 29th, people from the UK, Europe and beyond will be invited to contribute to a permanent digital archive of individual voices, creating a unique representation of public opinion at this critical moment in history. Calling into the +44 platform, they will be asked to leave "a message for Europe" and share their feelings about Brexit, without interruption or judgment.
In an environment of, predominantly, online debate that has become increasingly polarised and aggressive, manipulative and unhealthy, and in which nuances of the voice are drowned out by a throng of divisive and partisan 'posts', Sweeney aims to create a neutral forum, where the individual can once again feel confident they can speak openly and will be heard.
"The human voice is the most powerful form of communication, in which tonality is key. By recording participants' messages for Europe, I want to capture the humanity of the general public, and the voices that I feel have been lost to the debate surrounding Brexit. I think it is essential we archive as many personal 'testimonials' as possible, at this pivotal time for Britain and Europe. I believe this archive has an important role to play in our understanding of this moment as we experience it now, and when looking back in the future."
says Sweeney.
Alongside the digital archive, a public sculpture will be installed at the Pilot Inn on Dungeness beach, described by its most famous resident, the late Derek Jarman, as, "… a landscape of past endeavours". Inspired by a 1990s phone box, the sculpture will act as a beacon – a nostalgic call to action, encouraging public participation in a project that addresses an event largely fuelled itself by nostalgia.
The site Sweeney has chosen to place the installation is significant, as the UK's most south-easterly point, and Britain's only desert. On the edge of the island, the location highlights the contrary motivations and ambitions of the UK's inhabitants in voting for Brexit (as many local residents did), and the fine line between freedom and isolation that is the reality of apparent reclamation of independence.
"I wanted to create something that spoke about connection and isolationism. The concept for the +44 sculpture was born out of a visual language I've developed in my work around British iconography. By installing a familiar object – a phone box – and displacing at the 'end of the world', I hope to create a physical and poetic metaphor for the current, confused and uncertain, climate. Dungeness itself is a place in fragile equilibrium – industrial and wild creating an oxymoronic harmony that, in many ways, stands as the perfect prism through which to view the modern ages."
While it is installed, exposed to the elements, the sculpture's untreated metallic structure will gradually degrade, causing it to emerge over time, as a physical record of the challenging environment it inhabits. In this way, the sculpture will stand as a symbolic, monolithic embodiment of the UK, as it faces an unpredictable future.
+44 – LEAVE A MESSAGE FOR EUROPE WILL BE LIVE FROM MARCH 1ST -29TH 2019
During this period the public are invited to visit the sculpture in Dungeness, and/or to call into www.leaveamessage4europe.com to leave their own message, and to listen to the messages of others. A live stream of the sculpture will also be broadcast during this period.
The archive will remain online permanently and will be integrated into a time-based media piece, documenting the 28 day- long project, to be exhibited with Cob Gallery, London, in 2019.
"Become part of a permanent vocal archive of public opinion in the run-up to Brexit"
www.leaveamessage4europe.com
Categories
Tags