In the second of Free Word's topically themed Seasons that explore the power and politics of words, All The Ways We Could Grow offers vital perspectives on a topic often repositioned as 'new' in current conversations, but which has existed throughout history.
Bringing together, artists, writers, poets, performers and activists who have responded to the theme with creative fearlessness, Free Word presents a spectacular programme of thought-provoking installations, commissions, and performances that celebrate the variety of human experience and challenge how restrictive notions of genders might open up possibilities for us all.

Travis-Alabanza by Eivind Hansen Photography
As part of the season, visitors will be invited to enter into the playful world of writer and performance artist Travis Alabanza and visual artist Denny Kaulbach through a major new installation commissioned by Free Word. All The Ways We Could Grow sees the building transformed into a mirror-balled bedroom refuge that speaks of a time of playful experimentation, so often lost in adolescence. Complete with bed, lipstick scrawled mirrors, bedtime diaries and private recordings heard through Walkman headphones, visitors are
invited to take a nap or try on different clothes in this part-exhibition, part-sleepover that explores how we hide, perform, celebrate, shame and look at genders; it ponders the question "what does your gender (if any) look like if no one is watching?". As part of the programme, Travis Alabanza will also give a talk on the fight for freedom for those on the margins, linking explorations within the season to trans liberation.

Dean Atta – by Christian Sinibaldi
In new work developed by Free Word in collaboration with Spread The Word the inaugural The Black Flamingo Cabaret will be hosted by performance poet Dean Atta, former poetry slam champion Keith Jarrett and international performance artist Lasana Shabazz, featuring black and queer artists who use words in their work moving into the realm of cabaret performance (including drag, lip sync and burlesque). The event follows on from The Black Flamingo Salon, a space at Free Word for eight queer black artists working with
words and cabaret to learn from each other and create new work. The cabaret takes its name from Dean Atta's forthcoming anthology to be published in Autumn 2019 and will mark the start of a national movement first developed with the support of Free Word and Spread the Word.
Open throughout the Season, The Apocalypse Reading Room is a pop-up library curated by Ama Josephine Budge in collaboration with Free Word's Season partners and artists, featuring all the books you wish you'd read while figuring out who you are. The on-site library will include novels, non-fiction, poetry, academic texts, children's books, YA and zines, alongside in-conversation events exploring alternatively gendered and ungendered world.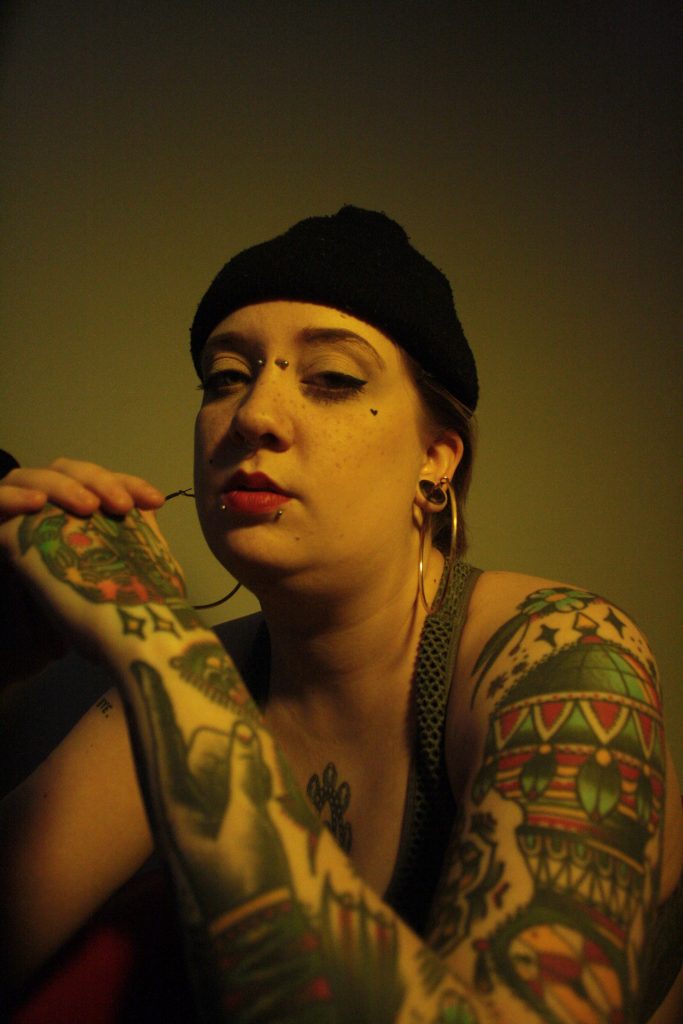 Liv Wynter- Holly Whitaker
For two nights only Emma Dennis-Edwards takes over the entire Free Word space for special performances of the Fringe First-winning play Funeral Flowers, presented by Harts Theatre Company and Power Play. With details still to announce, there will be a new Free Word Commission by artist and activist Liv Wynter, who will also lead a direct action workshop on the unrecognised labour of womxn and non-binary people.
In response to the question, "how often do you hear the Qur'an recited in public by someone who isn't a man?" The Inclusive Mosque Initiative marks International Women's Day with Juz Amma: The Qur'an in Public, an event inviting female and non-binary Muslims to recite the final chapters of the Qur'an in Arabic and English. The recorded recitations will form a digital installation for all to access, with commentary on interpretations that are meaningful to the reciters.
Following the Soof In Private commission for This Is Private, visual artist Soofiya returns to Free Word with a unique interactive workshop in their inimitable style. (A) Wake for Gender takes the form of an imaginary funeral for 'Gender'. Exploring feelings from grief to relief at Gender's passing, audiences will be invited to mourn, celebrate, observe and – together – write a legacy for what 'Gender' leaves behind.
21 Feb – 10 May 2019 Season launch Party: Thursday 21 February 2019, 6:30 – 9pm, RSVP essential
freeword.org
Categories
Tags