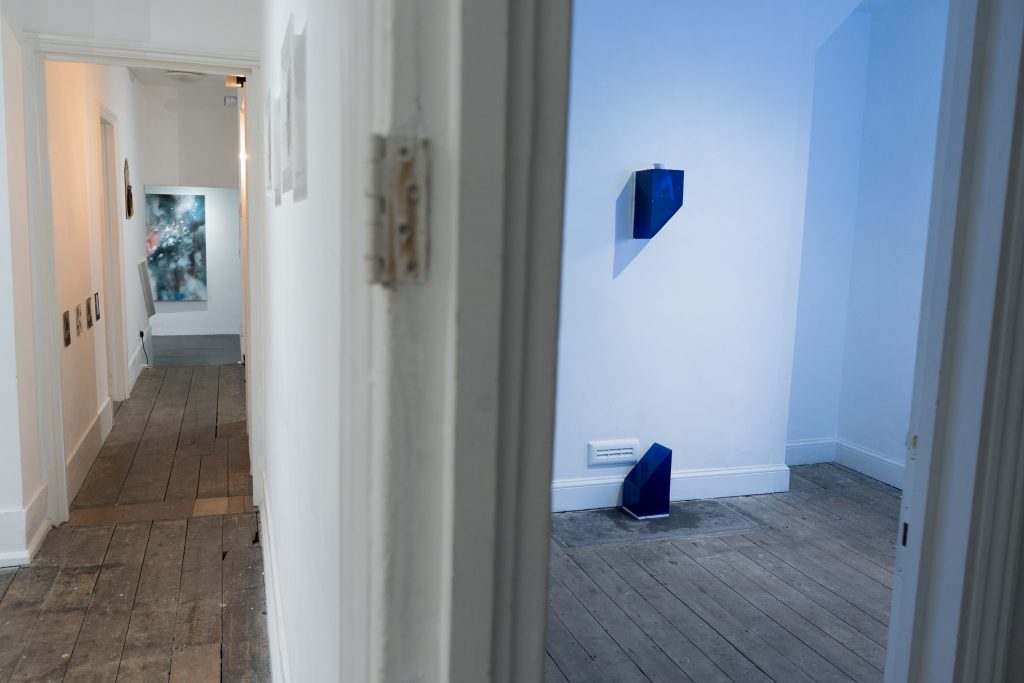 Installation view The Salamander Devours its Tail Twice, 2018, at Gallery 46. Photo by Ashley
Middleton
American curator Ashley Middleton questions how cultural values shape collective behaviour and individuals' identity-formation in East London show.
How do sociocultural expectations and political pressures affect individuals' behaviour and understanding of oneself? This is the urgent but immense topic that New York curator Ashley Middleton attempts to grapple in her group show The Salamander Devours its Tail Twice, taking place at Gallery 46 in East London. Middleton was inspired to do this show through her own journey of leaving New York City and settling in London. She experienced directly what it means when conflicting pressures of different cultures influence who you are as a person. The show includes 26 visual artists who approach the topic with curiosity and self-criticism. These are the crucial factors that make the vast thematic of the show feel satisfyingly unpacked into tangible examples.
I am initially drawn to the show for its intriguing title that cleverly encompasses the show´s main premise. The title is inspired by Ray Bradbury's dystopian novel Fahrenheit 451 (1953) in which
firemen are ordered to burn all books – the complete annihilation of cultural heritage. The firemen are compared to salamanders, as these amphibians are believed to be capable of surviving fires. The swallowing of tails is based on the ancient symbol of the Ouroboros in which a snake eats its own tail. These metaphors combined, the 'salamanders' or firemen in Fahrenheit 451 thus manage to 'eat' themselves. They deconstruct their own identity that was originally grounded in the politically enforced habit of destroying all cultural history. Middleton's significant addition of 'twice' adds a scepticism to the optimistic idea that we can indeed escape systems of cultural and political pressure. Are we not in a vicious circle that ultimately and always brings us back to behaving as expected from us, bound by the accepted rules and norms?
The first room of the exhibition includes a sculpture by Saskia Fischer and video works by Kawita Vatanajyankur and Brett Wallace, all looking at neoliberal ideas of progress and labour, how the long for more and better shapes us collectively, and how fragile this really makes us as individuals. Vatanajyankur specifically recalls the idea of the vicious circle in Spinning Wheel (2018). Her two- screen film work shows a woman spinning her body around a wheel thereby rolling up a cloth of textile. The video has a hypnotizing effect as the spinning – the woman's intense labour – seems never-ending. Fischer's état (2018), a delicate glass jar balancing on top of an upright escalator step on a wheel, makes me anxious. One wrong movement and the jar will drop – just as humans might face repercussions if we fall out of pattern.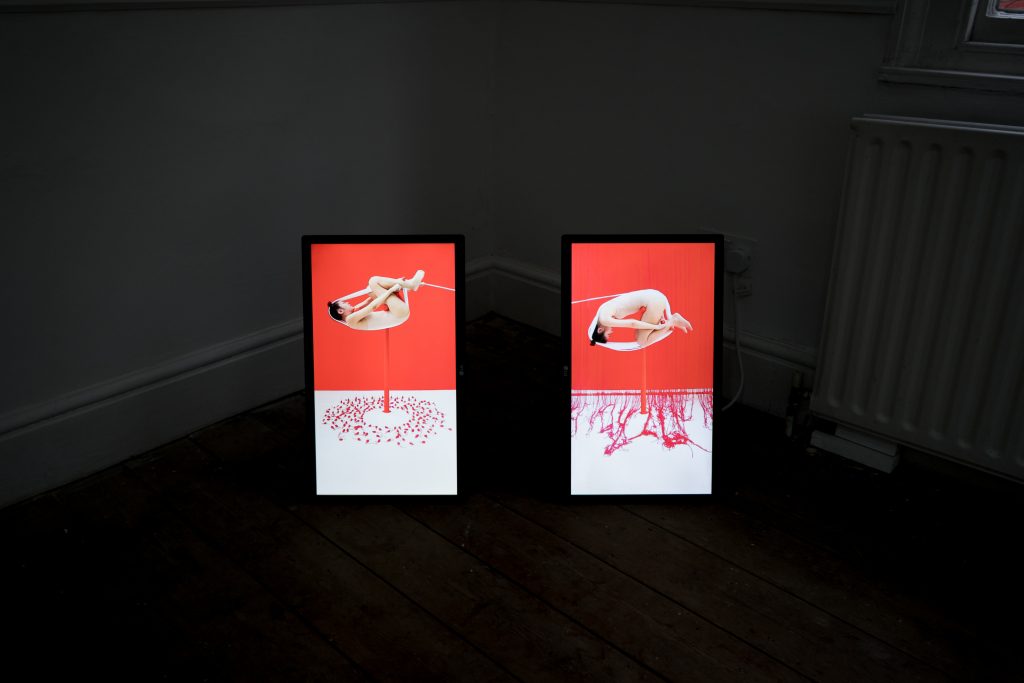 Kawita Vatanajyankur, Spinning Wheel, 2018. Performance video. Photo by Ashley Middleton
The show continues up the staircase and flows from a sound piece by Dominic Till into the first section upstairs, including works by Till, Alexander Glass, Andrew Hart, Chris Klapper & Patrick Gallagher and Stewart Hardie. The works have strong references to natural elements such as water, cells and molecular-level structures. I am fascinated by Klapper + Gallagher's drawings framed by resin and plexiglass, part of their series Dataatadata (2016). For this project the artists have looked into the natural systems of logic that hide behind large sets of numbers, which resulted in extremely fine lined and detailed drawings that visualise complex, esoteric data flows into geometric graphics.
It is an abstracted way of thinking about the naturalised presence of the digital in our daily lives, and
how this creates an ever-present undercurrent of behavioural manipulation.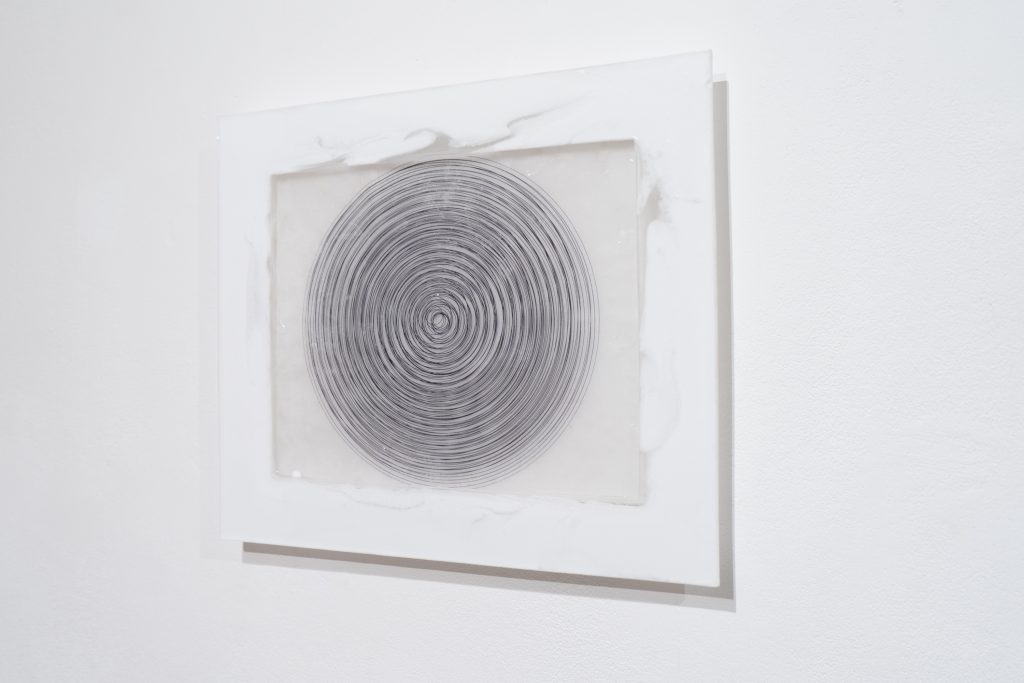 Chris Klapper and Patrick Gallagher, detail from the series Dataatadata, 2016. Resin, plexiglass,
vellum ink jet. 11.2 x 13.3 inches. Photo by Ashley Middleton
Moving through the space, it makes me realise how well this building suits the exhibition. Gallery 46
is situated in a small, inconspicuous terraced house and has a quirky maze-like structure. To continue
the reference to ancient metaphors, the word labyrinth stems from Greek mythology, carrying a connotation of something extremely difficult to get out of. It endlessly makes the visitor walk in loops, establishing a feeling of being entrapped – like we are also entrapped in cyclic movements of revolution, then back into acceptance of the norm.
Through a tiny corridor with wall works by Alice Irwin and Jan Dams, I arrive in the next section of the
exhibition that mainly deals with memory, loss and the passing of time, and how this inevitably leads
us into a certain pattern of behaviour. Artists included are: Sarah Howe, Adeline de Monseignat,
Seungwon Jung, Aaron Hegert, Chantal Powell, Stuart Jones, Yambe Tam, Ashley Middleton, Ella Belenky, Thomas Adam and Victor Seaward. Jung's Time Grid (2018) is a poetic wall installation consisting of digital prints on see-through fabrics, subtle woollen threads and bended wood. It is a mapping of time in space, which Jung accomplishes by filling a pencilled grid with her selected materials and leaving spaces blank in between. The spaces in between are intangible and highlight the gaps in our memory and knowledge that "can unconsciously influence how we shape the past", and subsequently the presence.
The show ends in the attic of the gallery, with a screening of videos by Michelle Gevint and Thomas Kuijpers and documentation of Luca Bosani's live performance staged at the opening night. Gevint's film The Sweet Stench of Sulfur (2017) is a moving depiction of sinkholes near the Dead Sea. Pleasant to watch for its warm colour scheme and calm voice-over, yet these sinkholes are caused by climate change and have destroyed build environments in the area. Apparently our long for bigger and better products leads to these natural disasters. Current neoliberal and capitalist cultural norms encourage us to continue to be materialistic – should we instead be concerned with preserving the natural planet?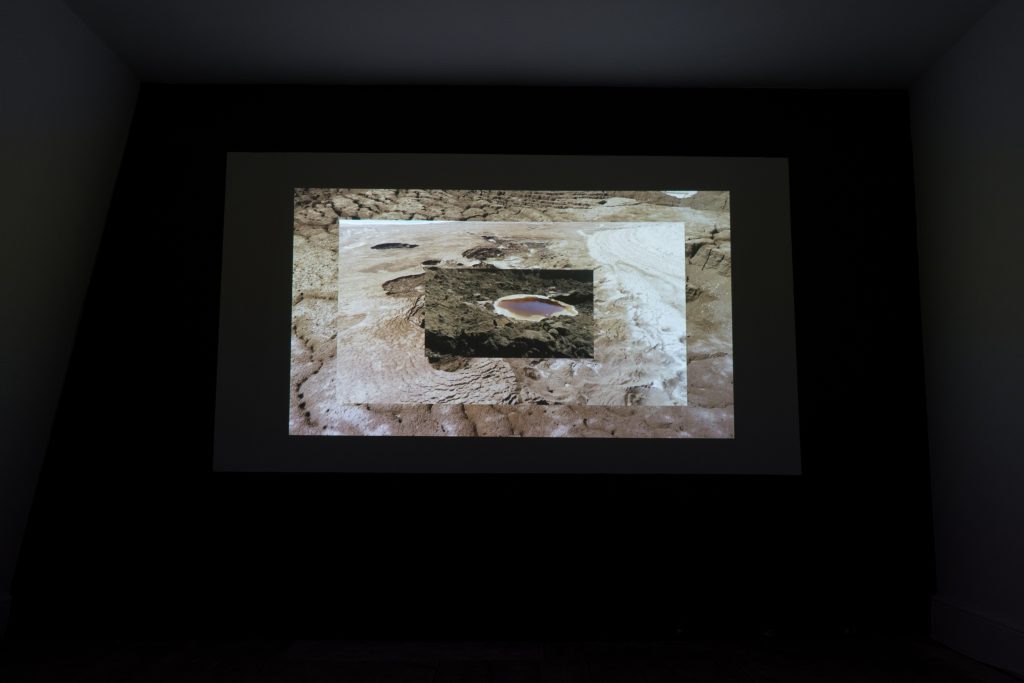 Michelle Gevint, The Sweet Stench of Sulfur, 2017. Single channel video. Photo by Ashley Middleton
What stands out to me in this show is that the artists' works consciously or unconsciously refer to
natural or biological structures underpinning sociocultural behaviour. This as well as the visuals of
some of the works described bring an almost scientific aspect to the exhibition that reminds me of the notion of paradigm as coined by Thomas Kuhn. Originally used to describe the unfolding of scientific revolutions, this concept explains that we always live under a set of ideas that explain the world and shape our behaviour until something so significantly challenges the accepted theories that a paradigm shift takes place. Seemingly, we then break free from rules and norms, but only to obey again under a new set that takes the old system's place. The artists in The Salamander Devours its Tail Twice have encouraged me to accept that reality is constructed and that I can't escape that.
What I can do however, is take reflective distance from it – try to put down my smartphone, be economical with what I possess, say something even if it wouldn't be 'accepted', and move forward from there.
Text by Marlies Augustijn 
The Salamander Devours its Tail Twice continues at Gallery 46 (46 Ashfield St, London E1 2AJ) through
5th December. gallery46.co.uk
Katie Ellen Fields will host a participatory event as part of the project on 1 December
from 2-4pm.
Categories
Tags