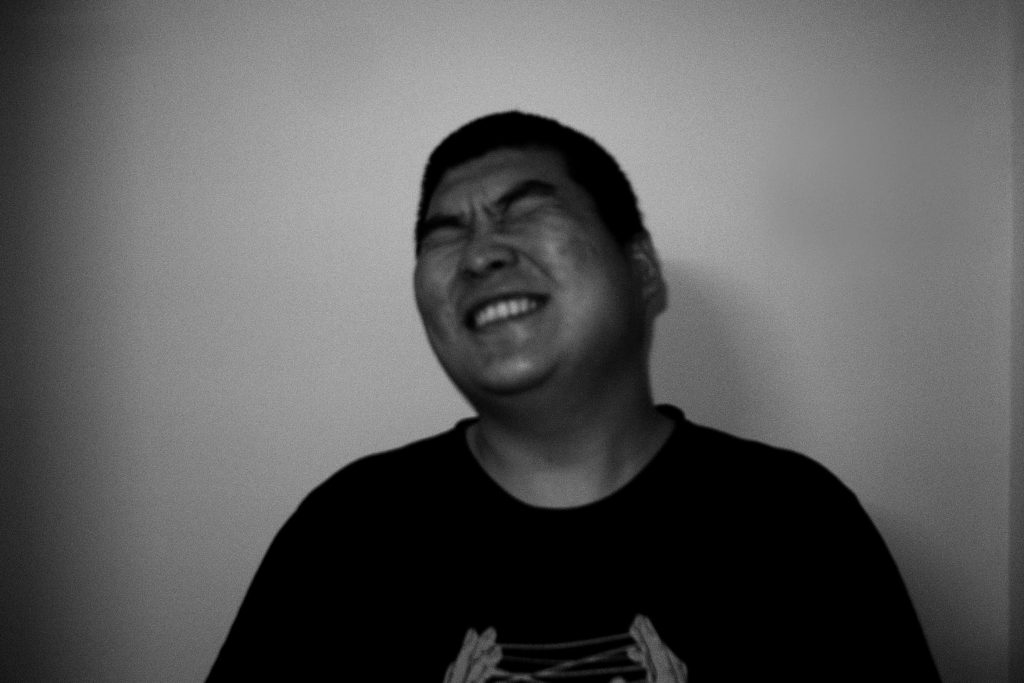 Aaajiao is the virtual persona of Xu Wenkai, media artist, blogger, activist and programmer. The Shanghai- and Berlin-based artist presents his first gallery solo exhibition in Europe at House of Egorn, with a video piece and a series of sculptural works specially created for the occasion. A range of his works are on show at booth 2.b. 7Art Berlin, the fair for modern and contemporary art at the former airport Tempelhof.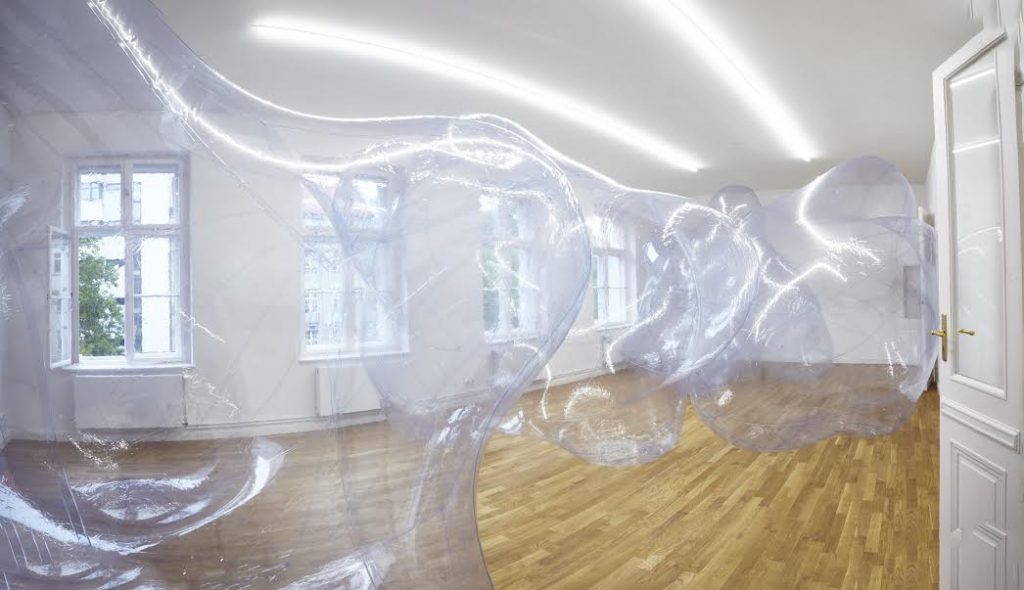 The large-scale installation 'bots,' at House of Egorn is a reflection on the general consumption of molecules, particles and other minutiae in the artist's private and public life, blown up to surreal dimensions. Based on journeys across the city, aaajiao's video 'bot,' displays an environment deeply intertwined with a digital past as well as its present counterpart. Local and global networks, social media, gardening structures, parks, and nature itself all become amalgamated into a digital hyper-representation.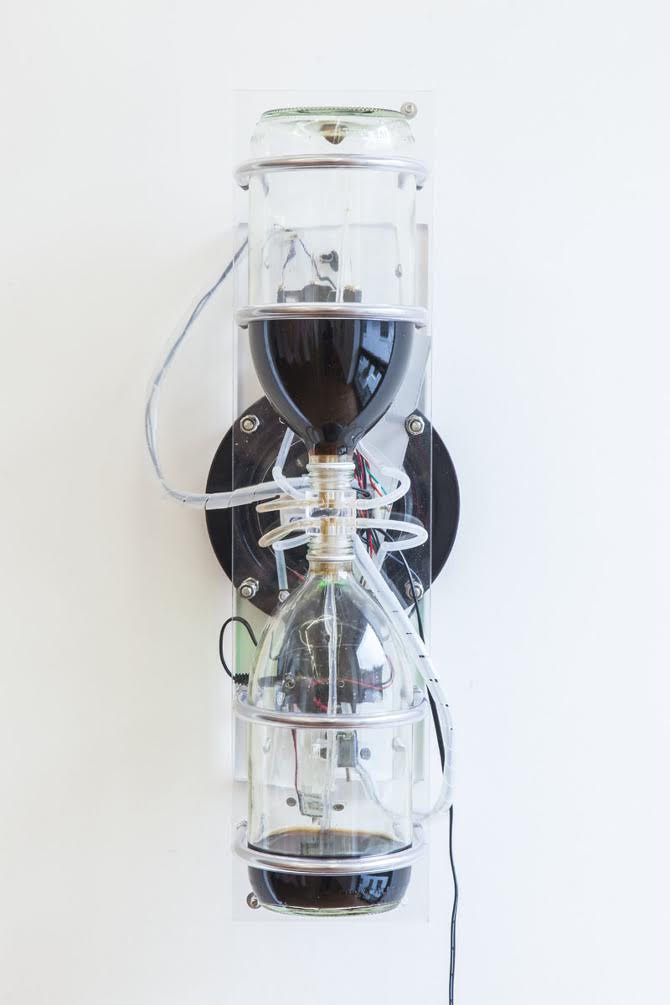 Water Measure – Petroleum, installation, Antipodes glass bottles, BLK water, peristaltic pump structure, metal and acrylic accessories, 20 x 12 x 50 cm, 2017
Aaajiao's work tackles game culture and social media platforms, sampled from his own account of China's most popular social media platform wechat. Recordings made with his self phone are combined with references to open online media sources. Bots, (name giving to his new work) is a videogame published by Acclaim Games Incorporated in 2006, which includes a function to submit video games created by members. In this multi-player online fighting game players choose from one of three basic avatars and upgrade their characters entering multi-player story modes. In combination with the artist's social media surrounding and mobile recordings of his way from and to his studio in Shanghai the viewer enters a digital zone which looks more familiar than we are ready to admit and where the personal view is directed through the mobile phone. What is real, in a societies which are increasingly perceived through the membranes of digital tools? Which protagonists are real to us? Who is using which platforms in order to win which kind of game? How does this affect the art scene? With Bots, aaajiao questions the way "users" loose control of reality as participants of a total environmental digitalisation.
While public and private media in China are being increasingly observed and restricted, within his work aaajiao frequently uses Chinese social media platforms to show on a local base how users from his personal surrounding behave within them. Rather than focussing on political issues in his home country he brings his discomfort about the usage of media into an international discourse, mixing references from the world wide web in and outside of the firewall. The video is uploaded into open source and directly streamed from the Internet at House of Egorn.
The video work is shown together with a large scale installation made with nine unique inflatable objects. The shapes of the objects appear as the abstracts of molecules. They are blown up to surreal versions of single biological elements serving as identity-carriers of lifeforms. For the exhibition, aaajiao has created a role play on his personal lap top screen in which he shows his own reception of his environment. The visitor is treated as the voyeur who gets limited access to the artists view. The message is a dystopian critic on a development the artist is observing since he was a child, not playing but watching other people play games.
An introductory text to the exhibition has been written by Defne Ayas, museum executive, curator and publisher working with contemporary art, media, and politics. Ayas has worked at and with many institutions across the world, including in the Netherlands, China, United States, Italy, and Russia. Until recently, she was the director of the Witte de With Center for Contemporary Art in Rotterdam (2012-2017)
bot, aaajiao – 3 November 2018 House of Egorn, Berlin Potsdamer Strasse 96 houseofegorn.com/
About The Artist
Active online as a media artist, blogger, activist and programmer, aaajiao is the virtual persona of Xu Wenkai. The artist lives and works in Shanghai and Berlin. Born in 1984 in one of China's oldest cities, Xi'an, aaajiao's art and works are marked by a strong dystopian Orwellian awareness and modern, urban literati spirits. Many of his works speak to new thinkings, controversies and phenomenon around the Internet, with specific projects focusing on the processing of data, the blogsphere and China's Great Fire Wall. His most recent projects have extended his practice to wider disciplines – including architecture, topography, and design – capturing the reality of the younger generations inhabiting a parallel reality on social media.
aaajiao's work has been featured in numerous exhibitions around the world, upcoming and recent shows include "Art in the Age of the Internet, 1989 to Today", The Institute of Contemporary Art Boston, Boston (2018); "unREAL", Haus der elektronischen Ku?nste, Basel (2017); "Shanghai Project Part II", Shanghai (2017); "Temporal Turn: Art and Speculation in Contemporary Asia", Spencer Museum of Art, Kansas (2016); "Take Me (I'm Yours)" (curated by Hans Ulrich Obrist, Jens Hoffmann and Kelly Taxter), Jewish Museum, New York (2016); "Overpop", Yuz Museum, Shanghai (2016); "Hack Space" (curated by Hans Ulrich Obrist and Amira Gad), K11 Art Foundation Pop-up Space, Hong Kong and chi K11 art museum, Shanghai (2016); "Globale: Global Control and Censorship", ZKM | Centre for Art and Media, Karlsruhe (2015); "Thingworld International Triennial of New Media Art", The National Art Museum of China, Beijing (2014); and Transmediale, Berlin (2010). His solo exhibition includes: "Remnants of an Electronic Past", Centre for Chinese Contemporary Art, Manchester (2016); OCAT Contemporary Art Terminal Xi'an, Xi'an (2016), among others. He was awarded the Art Sanya Awards in 2014 Jury Prize and was nominated for the first edition of OCAT-Pierre Huber Art Prize in 2014.
Categories
Tags