During the Rencontres d'Arles from July 2 to September 23 2018, a monumental, 1,000 m2 creation, designed by architects Simón Vélez and Stefana Simic and made entirely from bamboo, will play host to 40 exclusive
photos taken by Buddhist monk Matthieu Ricard.

Matthieu Ricard © Raphaele Demandre
A monumental structure on the banks of the Rhône. This installation has taken root facing Arles' old town in the rapidly developing district of Trinquetaille. Simón Vélez, the famous Columbian architect who specialises in natural architecture, had already devised a similar 5,000 m2 construction to house an exhibition by photographer Gregory Colbert in Mexico.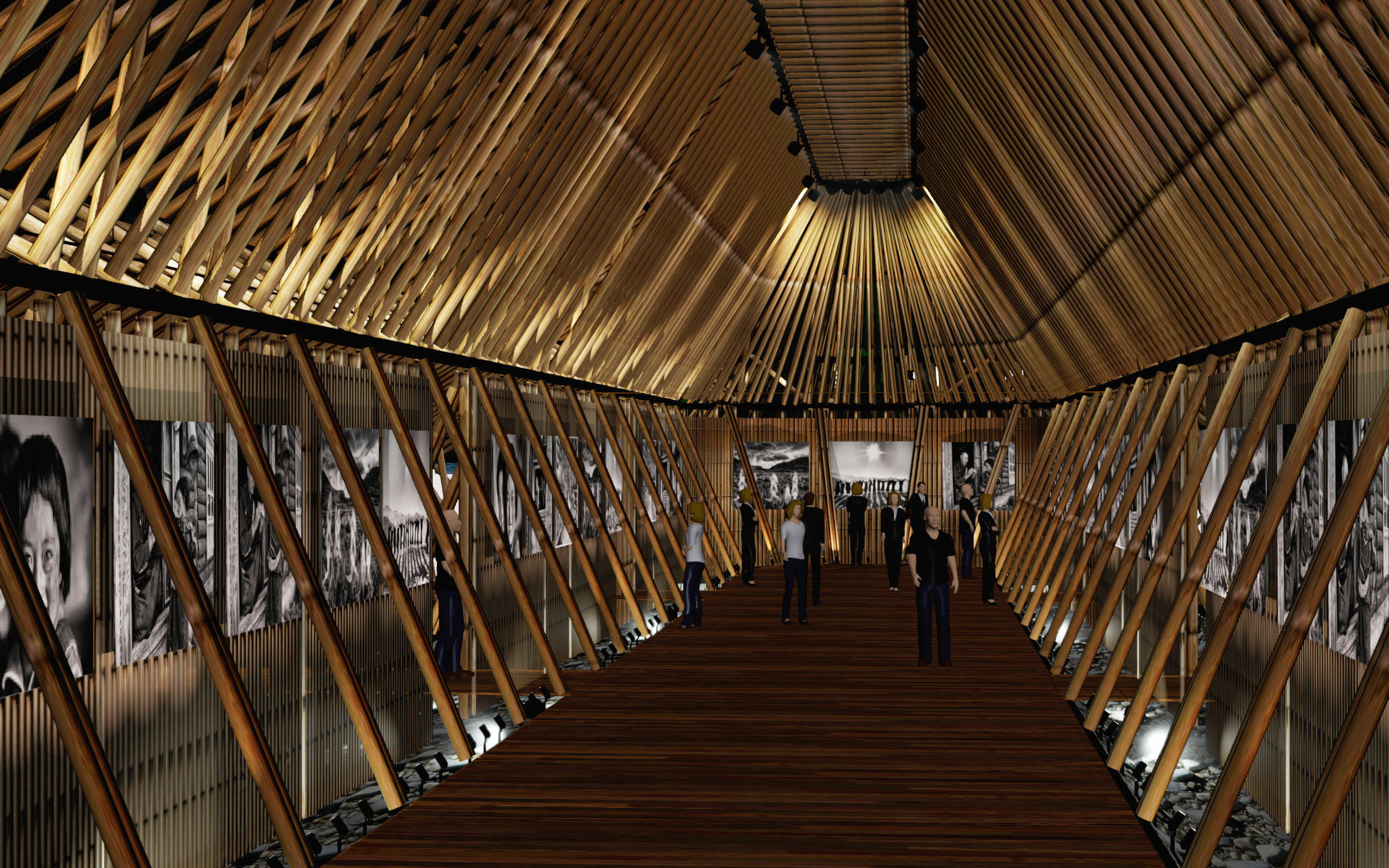 For the 2018 edition of the Arles festival and in partnership with Stefana Simic, he has imagined and designed this unique 1,000 m2 pavilion for Matthieu Ricard. The bamboo structure can welcome 500 visitors at once and has been designed as a "place of serenity" propitious to discovery and contemplation, thereby bridging the gap between the arts and Matthieu Ricard's spiritual commitment.

Traversée à la nage de la rivière Dzatchou (Mekong), près du monastère de Guémang, Dzatchoukha, Tibet oriental, Juillet 2016. Chaque été, dans la province de Dzachouka, à 4 000 m d'altitude au Tibet oriental, sont organisés des jeux et des courses de chevaux. Cette année, un groupe de cavaliers a décidé de traverser le fleuve Dzatchou, qui devient le Mekong lorsqu'il sort du Tibet, à cheval et à la nage. Après avoir pris les photos, je me suis moi-même baigné avec eux. L'eau était bien froide !
Swiming with horses accross the Dzachu river (Mekong) with horses. Dzachukha, Eastern Tibet, July 2016.
The forty black and white photos by photographer and Buddhist monk Matthieu Ricard will take their place at the heart of this pavilion in a central hall designed for the exhibition. The photos are printed on traditional Japanese Awagami paper, which is a part of the country's heritage and whose production dates back some 1,400 years. These photos, taken between 1983 and 2017, bear witness to a lifetime devoted entirely to spiritual questions. The forty, 2 m x 1.5 m prints will occupy the entire space, immersing the spectator in a world that encourages reflection. Each photo will be accompanied by a phrase that provides food for thought and which was handwritten by Matthieu Ricard himself. From Nepal to India, from Argentina to Tibet and from Chilli to Bhutan, light emerges from the plenitude of immense landscapes inducing in visitors a mood of contemplation.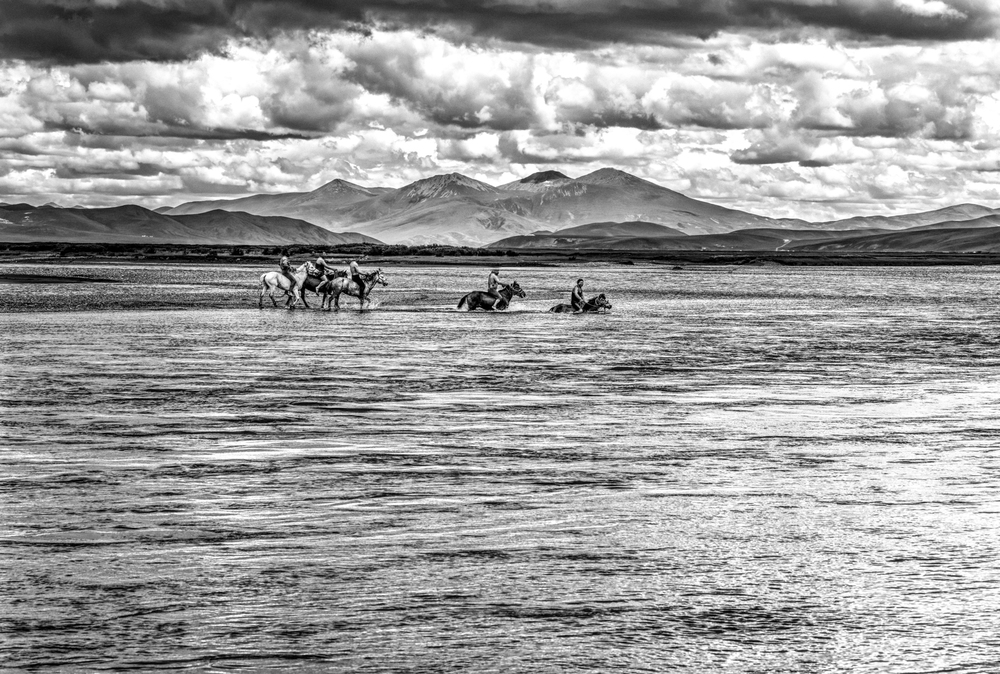 CONTEMPLATION, photography and architecture is brought into communion: the bamboo structure and natural materials used by Simon Velez and Stefana Simic echo back the commitment and values of the photographer. The play on light and shape of the pavilion underline and sublimate the light-dark of the photographs, thus creating a true place of serenity. In this unique collaboration between Matthieu Ricard and Simon Velez – the former having devoted his whole life to spirituality and the latter particularly focussed on ethical issues – CONTEMPLATION reminds us of the importance of universal and essential values: altruism, benevolence, responsibility for life…
Designed to be a travelling project, after this first stage in Arles CONTEMPLATION is set to encounter new places and new audiences, and to pursue ever further its artistic and spiritual adventure.
To accompany this invitation to a spiritual journey, CONTEMPLATION will also act as a meeting between classical music and meditation in the Arles Roman Theatre.
On the evenings of 28th and 29th July, the celebrated pianist MariaJoão Pires will play Prelude de Fugues by Johann Sebastian Bach, in a dialogue with Matthieu Ricard, to create an intense, intimate
experience. These evening performances are produced in partnership with the La Roque d'Anthéron Festival.
THE CONTEMPLATION EXHIBITION 1, Quai de la Gare maritime, 13200 Arles 2nd July to 23rd September 2018
Opening Week of the Rencontres d'Arles 2nd to 8th July 2018 Monday to Sunday – 10am to 7.30pm €10
CONTEMPLATION MUSICAL EVENINGs Arles Roman Theatre – 8, rue du Cloître, 13200 Arles Saturday 28th and Sunday 29th July 2018 | 20h30 PRICE – €55 full price / €44 reduced rate, through he La Roque d'Anthéron International Piano Festival – €55 through the Rencontres d'Arles
More information: www.rencontres-arles.com/matthieu-ricard-simon-velez
Matthieu Ricard, Buddhist monk and photographer Born in 1946 in Aix-les-Bains, France Lives in the Shechen Monastery, Nepal. For over 40 years he has dedicated his life to the study and practice of Buddhism alongside the greatest Tibetan masters in the heart of the Himalayas, which he is constantly photographing.
"Matthieu's camera and his spiritual life make one, and from this spring these images, fleeting and eternal"
Henri Cartier-Bresson
Simon Velez, architect Born in 1949, in Manizales, Colombia Lives in Bogota, Colombia. Internationally famous for his ranges of complex bamboo structures and his architecture based on the use of indigenous materials, taken from nature with very little processing. Simon Velez puts a respect for work and workers at the heart of his creations, highlighting the exchange of knowledge and the circulation of skills. Simon Velez came to prominence at the Venice Biennale in 2016.
About Mark Westall