Cosmoscow International Contemporary Art Fair and Qatar Airways have announced the start of a 5- year partnership within the Qatar-Russia Year of Culture. As the General Partner of Cosmoscow, Qatar Airways will be represented at the main venue of the Fair at Gostiny Dvor from 6 to 9 September, 2018 and will have an opportunity to participate in a number of Cosmoscow projects and programmes. The Memorandum of Understanding between Cosmoscow and Qatar Airways was signed in the presence of His Excellency Mr. Salah bin Ghanem Al Ali, Minister of Culture and Sport of the State of Qatar at the St. Regis Moscow Nikolskaya on March 26, 2018.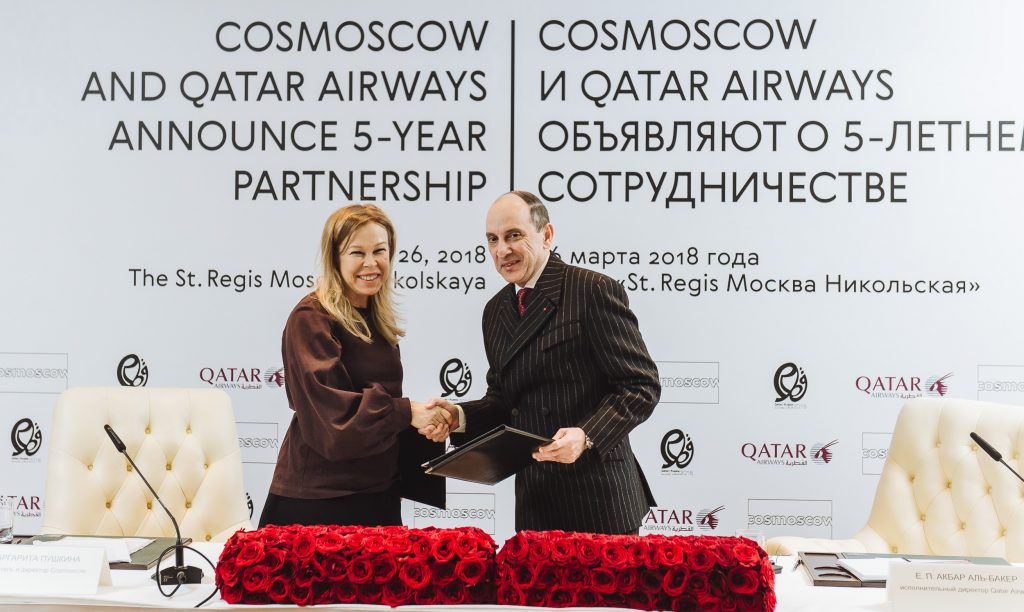 "We are honored to become the first art fair supported by Qatar Airways and grateful to the new General Partner of Cosmoscow for long-term cooperation. Our partnership will contribute to the establishment of cultural dialogue between Qatar and Russia, as well as to the development of the Fair and its numerous initiatives. It will further strengthen the integration of Russian contemporary art into the international context. We want to thanks the Ambassador of the State of Qatar for his involvement in the process and we hope that Cosmoscow will become one of the brightest events within the framework of the Qatar-Russia Year of Culture,"
Margarita Pushkina, Founding Director of Cosmoscow International Contemporary Art Fair and Founder of Cosmoscow Foundation for Contemporary Art.
Cosmoscow
Cosmoscow International Contemporary Art Fair was launched by Russian collector and philanthropist Margarita Pushkina in 2010 and aims to bring together both Russian and international collectors, galleries and artists. Cosmoscow is Russia's only international art fair taking place every September with its own spot in an international art calendar. The 5th anniversary edition of the fair took place at the Gostiny Dvor on September 8-10, 2017 representing a record number of 54 Russian and international galleries and welcoming 19,200 guests. Over 2,000 visited Cosmoscow Collectors' Preview.
About Mark Westall