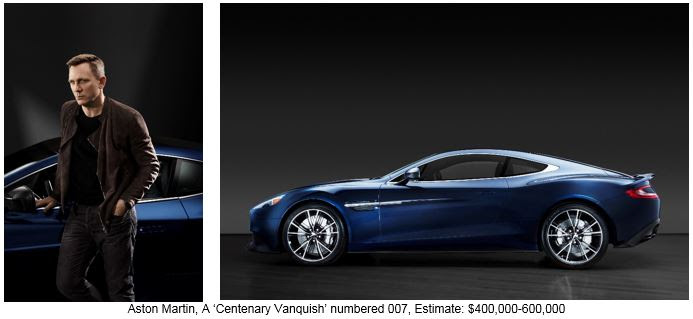 Christie's just announced that Daniel Craig's personal Aston Martin, a 2014 'Centenary Vanquish' numbered 007, will be auctioned in New York on April 20 in The Exceptional Sale. All sale proceeds will benefit The Opportunity Network, a nonprofit organisation of which Mr. Craig is on the board. Daniel Craig worked with the Chief Creative Director of Aston Martin to customise his limited-edition car. Estimated at $400,000- $600,000, the car is left-hand (U.S.) drive and street ready. The Aston Martin will first be on public view at Christie's Los Angeles gallery from February 27 – March 3, before the preview and auction in New York.
The winning bidder will also receive the unique opportunity to visit the Aston Martin Headquarters in Gaydon, Warwickshire and meet with Marek Reichman, Aston Martin's Chief Creative Director for a behind-the-scenes tour of the production facilities.
Daniel Craig remarks:
"This Aston Martin Vanquish is a tour-de-force of automobile engineering and a distinct pleasure to drive. While I will miss it, I am keen to further the very important work of The Opportunity Network with its sale."
ABOUT THE 2014 CENTENARY EDITION VANQUISH, 007:
In 2014, Aston Martin created just 100 examples worldwide of the 'Centenary Vanquish' to celebrate the firm's 100th anniversary. Designed and hand-built at Aston Martin's global headquarters in Warwickshire, England, the Vanquish features a 6.0-litre V12 petrol engine and an automatic gearbox and has a top speed of 183 mph. The car has a lightweight bonded aluminium structure combined with a motorsport inspired carbon fibre exterior, while the handcrafted interior has been made using fine luxury leathers, carbon fibre and aluminium. The car features a bespoke exterior and interior directed by Marek Reichman, Aston Martin's Chief Creative Officer, after discussion with Daniel Craig in the design studio at Aston Martin headquarters. Daniel's preference of denim and dark colors led to the unique midnight blue exterior and deep blue, hand-stitched, luxury leather interior.
www.christies.com/los-angeles/
Categories
Tags