The Sydney Festival returns from 6-28 January 2018. Festival Director Wesley Enoch follows his inaugural year with a continued strong commitment to International, Australian and Indigenous work in a programme spanning theatre, dance, circus, film, digital and visual art and music, including unique premieres and new commissions.

Jurassic Plastic Exhibition Photographer Keizo Kioku
The visual arts highlights include a new commission for Carriageworks from Katharina Grosse, who has created a new immersive, spray-painted work for the gallery that one can climb into. The Australian Centre for Photography meanwhile presents work on the theme of homelessness, poverty and displacement ( sounds fun !!). Venice Biennialle 2017 artist for New Zealand, Lisa Reihana, will have her first Australian solo presentation, Cinemania, at Campbelltown Arts Centre.

Katharina Grosse Sydney Festival 2018
PLUS an expansive plastic toy landscape with towering toy dinosaurs, including those given by members of the public in the city, Jurassic Plastic by Japanese artist Hiroshi Fuji (6-28 January) will grow an exhibition will grow to be made up of over 100,000 toys.
Anyway all sounds great and wouldn't it be the best tonic to escape, Brexit, Theresa May, Boris,Trump and all and head to Sydney? Average temperature 23 degrees+. So we caught up with Festival director Wesley Enoch to get the lowdown. You can get a BA/China Airways return for only £580! Shall we go? Lets find out …
Is this the 'difficult second year' after the success of your inaugural year in 2017?
I KNOW – 2017 was such a huge success I have the 'difficult second album' jitters. The audience increased by 150,000 people last festival and we had over 22 million shares and likes on social media. Will we do it again? Who can tell….over to the people of Sydney I reckon.
You have three themes this year that all sound like they could have carried the festival on their own. Why three themes? And do you see cross over?
Weirdly, I don't set out with themes I mostly respond to what artists are wanting to talk about. Artists are wanting to talk about women's rights and the feminist narratives; the environmental concerns especially around over consumption; Indigenous issues and cultural continuity; and a sneaky 4th theme around the analogue body in the digital world. Really they are all related to our connection to each other and the world and sense that we need to remember and explore these shared stories.
You seem worried not only about our planet but about people themselves – do we all need saving through art?
I admit art doesn't change the world but the people who do engage in art. I'm not worried about our planet I am a little bit terrified that I can't do anything about it alone. Art is a great way to come together and exchange thoughts and ideas about what we need to do. Art is a great way of contributing to community building. Getting into art is better than sitting alone and feeling worried about something – not as a distraction but just to feel like you aren't alone.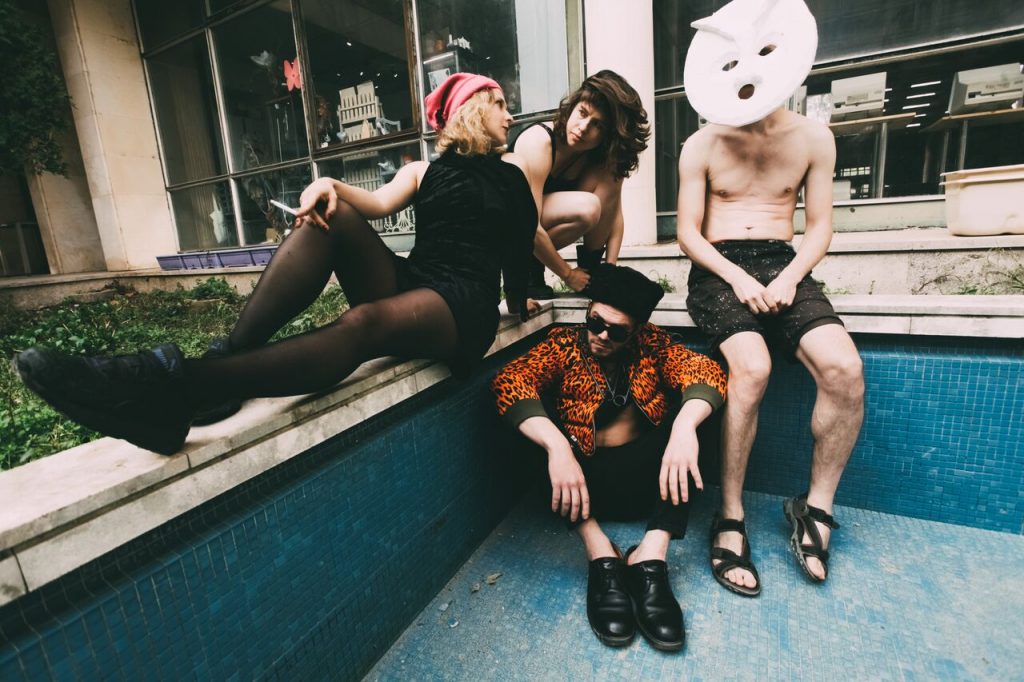 There's so much and it all sounds so good – how should people approach the festival?
OK – people ask me this all the time. My advice……choose a set of dates, choose the friends and/or family you want to hang out with during those dates, then mix and match – what do you want to do with your Mum who likes dance and classical music? (Maybe Tree of Codes, Barber Shop Chronicles, Seidler Salon Series) What do you want to do with your friends to have a good time? (Pussy Riot, Fleabag, Aquasonic, Model Citizens) Or an outrageous time? (Riot, Briefs, Karaoke Carousel at the Meriton Festival Village). You get what I mean….choose shows and things to do around the people you want to share memories with.
If I only had a weekend what should I really not miss?
This is like asking me which one of my kids I love the most…..ok….I reckon Tree of Codes especially to hear the Jamie XX soundtrack or brilliant, Aquasonic and the underwater music making will get you going, Barber Shop Chronicles with the fab dance and song – are all great shows, if you call yourself adventurous try a selection from our About An Hour program.
Is the festival for anyone? Will everybody enjoy it?
God…if you are the kind of person who never takes a risk I reckon you will be paralysed during January. I say that 2 people can see 10 shows at the festival and 3 you'll LOVE 3 you'll HATE and 4 you think are ok but the 2 people won't agree on which is which. The best thing to do is take a risk and then have a good conversation about it with friends, family, strangers. There is something for everyone but you have to go looking.
Do you document the festival, does each festival leave any kind of legacy?
I grew up in Brisbane and in the 80's there was a demolition company whose motto was "All we leave is the memories". The festival documents everything but really the best documentation is held in the memories and online record of what people thought. We are in the business of making memories and the legacy is about what people do with the ideas we raise in January.
Finally do you get to enjoy Christmas/New year when you have all this to manage?
You want me to be honest….in many ways my job is done. The 2018 festival is run by a huge team of capable talented people. I'm busy thinking about 2019 already…I KNOW….so I get to eat, sleep and prep cause when January rolls around I am literally on my bike 24/7.
www.sydneyfestival.org.au/2018/
About Mark Westall