Times Square Arts has just announced that collaborators Aranda\Lasch + Marcelo Coelho are the winners of this year's annual Times Square Valentine Heart Design curated by the Design Trust for Public Space. This year's winning design, Window to the Heart, will be unveiled on February 1 at 11am at Father Duffy Square, between 46th and 47th Streets. The installation will remain on view for the month of February.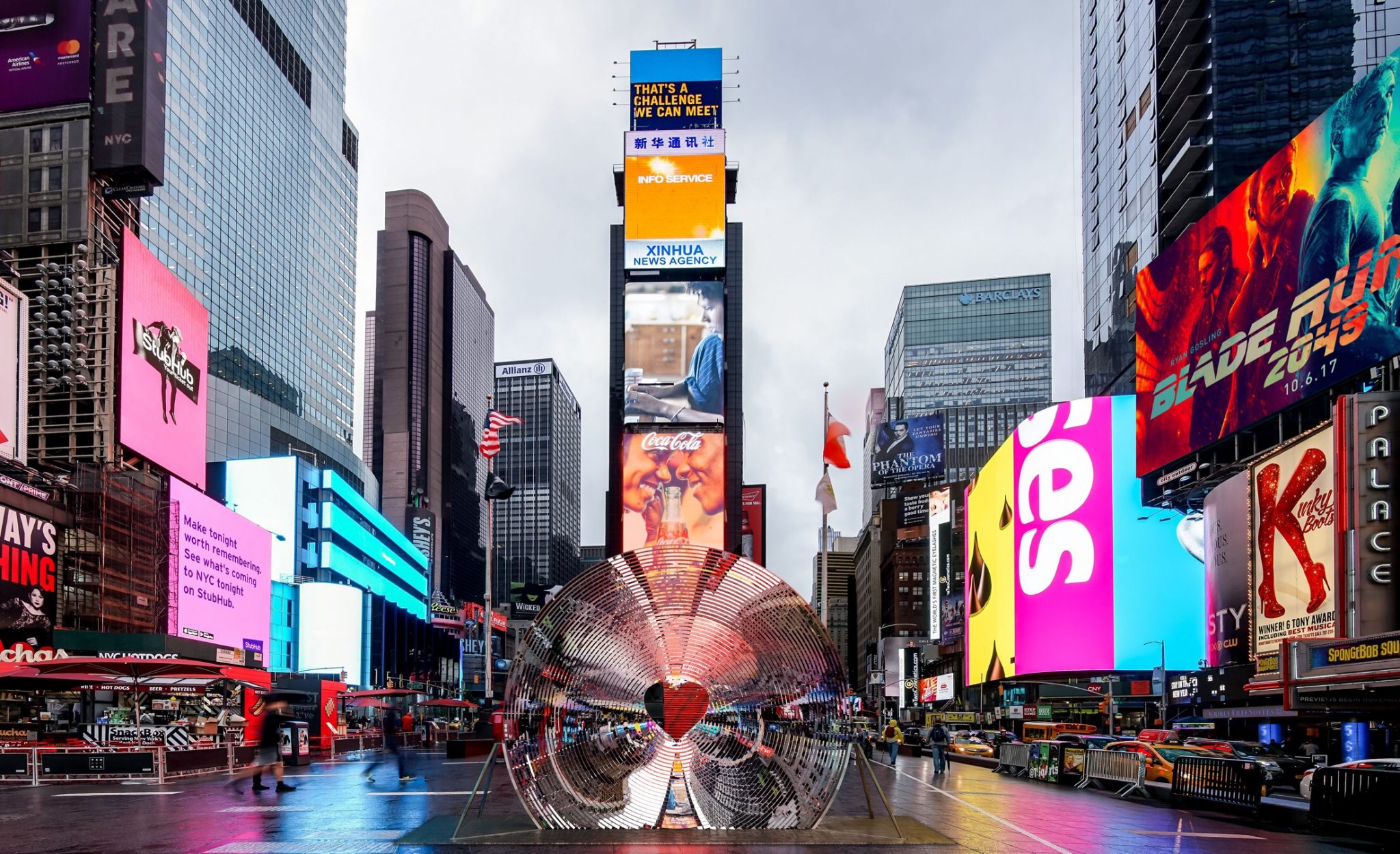 Renderings courtesy of Aranda\Lasch + Marcelo Coelho with Formlabs
This marks the 10th anniversary of the Times Square Valentine Heart Design Competition, an annual event where Times Square Arts invites architecture and design firms to submit proposals for a public art installation celebrating Love in Times Square in February.
In one of the world's most Instagrammed places, filled with cameras of all shapes and sizes, Window to the Heart places the world's largest lens in the center of Times Square. The 12 foot in diameter Fresnel lens was designed with 3D-printing manufacturer Formlabs to distort and capture the image of Times Square, optically bending light – and attention – to the heart-shaped window at its center. Visitors can look through the window or photograph themselves within it, completing the loop between the lens of the eye and the lens of the camera.
Rather than using the traditional lens-making methods of casting, cutting, and repeatedly polishing glass, Window to the Heart will leverage the latest advances in design, materials, and fabrication to craft something that was previously unattainable. Each lens segment is 3D-printed at a high resolution by Formlabs using clear resin, a material capable of the unique surface quality and clarity required by optical elements. With the lens made entirely from a 3D-printed material instead of glass, Window to the Heart upends the centuries-old methods of lens-making to invite individuals to reimagine how they see and photograph the world. The structural engineering of the piece has been provided by Laufs Engineering Design – LED.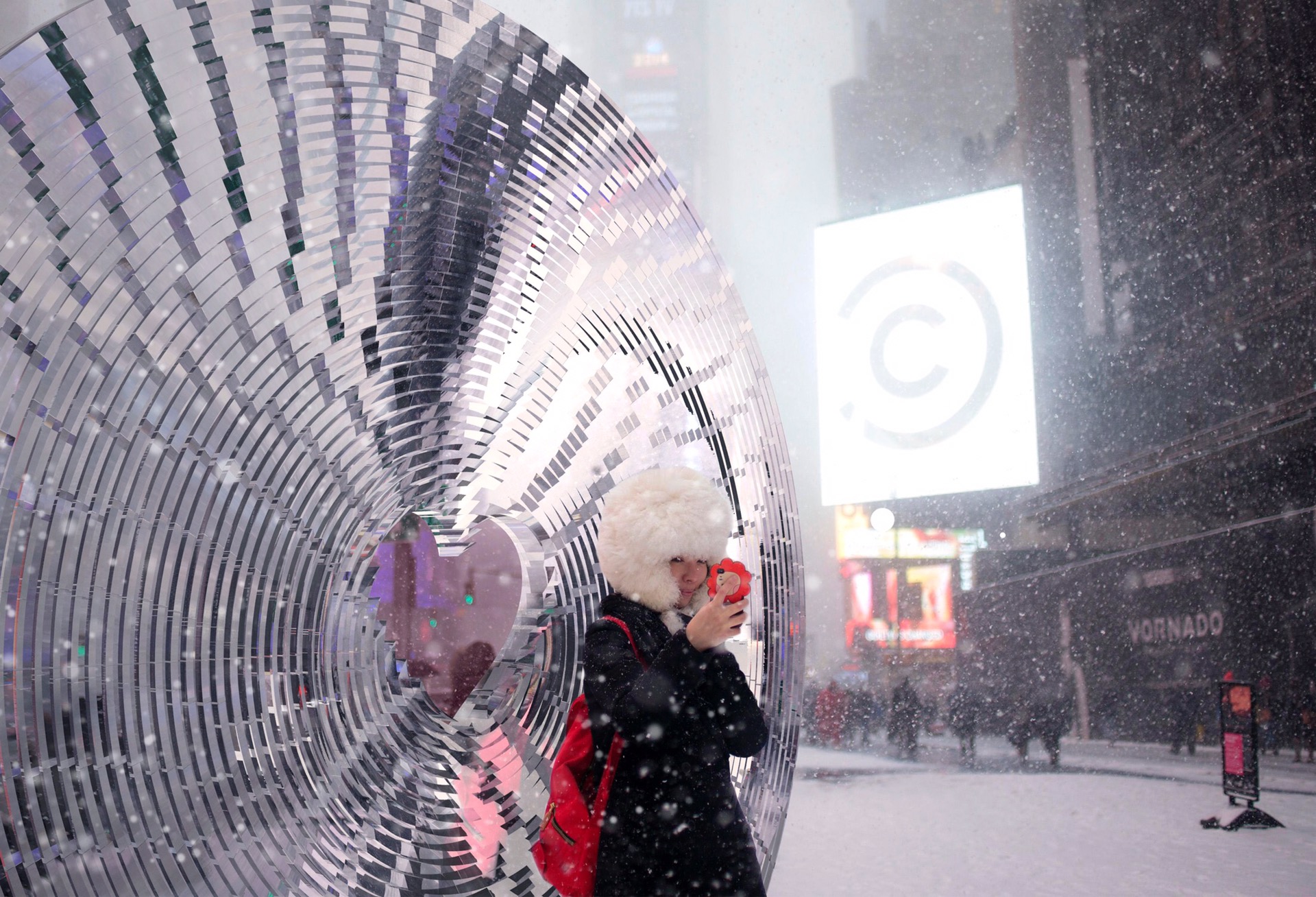 Aranda\Lasch + Marcelo Coelho said,
"Times Square is a symbol for how we experience our world. It is a physical manifestation of our culture, one dispersed and absorbed through cameras and screens. And in this culture, to fall in love you must first fall through a lens."
Window to the Heart Aranda\Lasch + Marcelo Coelho February 1 – February 28, 2018
timessquarenyc.org/WindowtotheHeart
The proposals for the 2018 Valentine Heart Design Competition were reviewed by representatives from the Valentine Heart Selection Committee and Sean Anderson, Associate Curator in the Department of Architecture and Design, MoMA; Susan Chin, Executive Director, Design Trust for Public Space; Emily Colasacco, Director of Urban Art / Summer Streets, DOT Art; Michelle Delk, Partner / Discipline Director, Snohetta; Jennifer Lantzas, Deputy Director of Public Art, NYC Parks; Mary Miss, Artist and Designer; Bradley Samuels, SITU Studio; Reina Shibata, Deputy Director, Percent for Art; Debra Simon, Director of Public Art, Times Square Alliance; Tim Tompkins, President of the Times Square Alliance; Barbara Wilks, Founding Principal, Architect/Landscape Artchitect, W Architecture and Landscape Architecture; and Bryan Young, Young Projects.
About The Winners
Aranda\Lasch is a New York and Tucson-based studio designing buildings, installations and furniture directed by Benjamin Aranda, Chris Lasch and Joaquin Bonifaz. Recognition includes the United States Artists Award, Young Architects Award, Design Vanguard Award, AD Innovators, the Architectural League Emerging Voices Award, Graham Foundation Grants, and the J. Irwin and Xenia S. Miller Prize. Their projects and research are subjects of the books Tooling and more recently, Trace Elements. Aranda\Lasch has exhibited internationally in galleries, museums, design fairs and biennials. Their work is part of the permanent collection of the MoMA in New York and is currently on view at the Chicago Architecture Biennial, Exhibit Columbus, Museum Angewante Kunst, The Queens Museum and the Museum of the City of New York. Benjamin Aranda teaches at the Cooper Union and Chris Lasch at the School of Architecture at Taliesin. www.arandalasch.com
Marcelo Coelho is a Brazilian/American computation designer working on products, installations, and crowd experiences. Spanning a wide range of media, processes, and scales, his work explores the boundaries between matter and information, fundamentally expanding and enhancing the ways in which we interact and communicate. Marcelo's creative work has been exhibited internationally, including places such as the Rio 2016 Paralympics Ceremonies, Ars Electronica, The Corcoran Gallery of Art, Tel Aviv Museum of Art, and Design Miami/, and can be found in private collections including the Maxine and Stuart Frankel Foundation for Art and The Rothschild Collection. Recognition for his work include two Prix Ars Electronica awards, VIDA 16.0 Award, and the W Hotels Designer of the Future Award. In addition to his practice, Marcelo is also a Lecturer at the MIT Department of Architecture and Head of Design at Formlabs. Prior to his practice, Marcelo Coelho received a Doctorate in Media Arts and Sciences from the MIT Media Lab. www.cmarcelo.com
Categories
Tags