Magnus Resch and Thomas Girst's book 100 Secrets of the Art World (Koenig Catalog) courted attention recently with some revelations about Picasso's shitty art practices. Skip to page 106, you'll find the Spaniard's grand-daughter Diana Widmeier Picasso's family secret. The big hombre had used his three-year old daughter Maya's excrement in a 1938 Still Life to realize an especially textural ochre-coloured apple. Yup. Secrets always seem more compelling while they're still secret, don't they?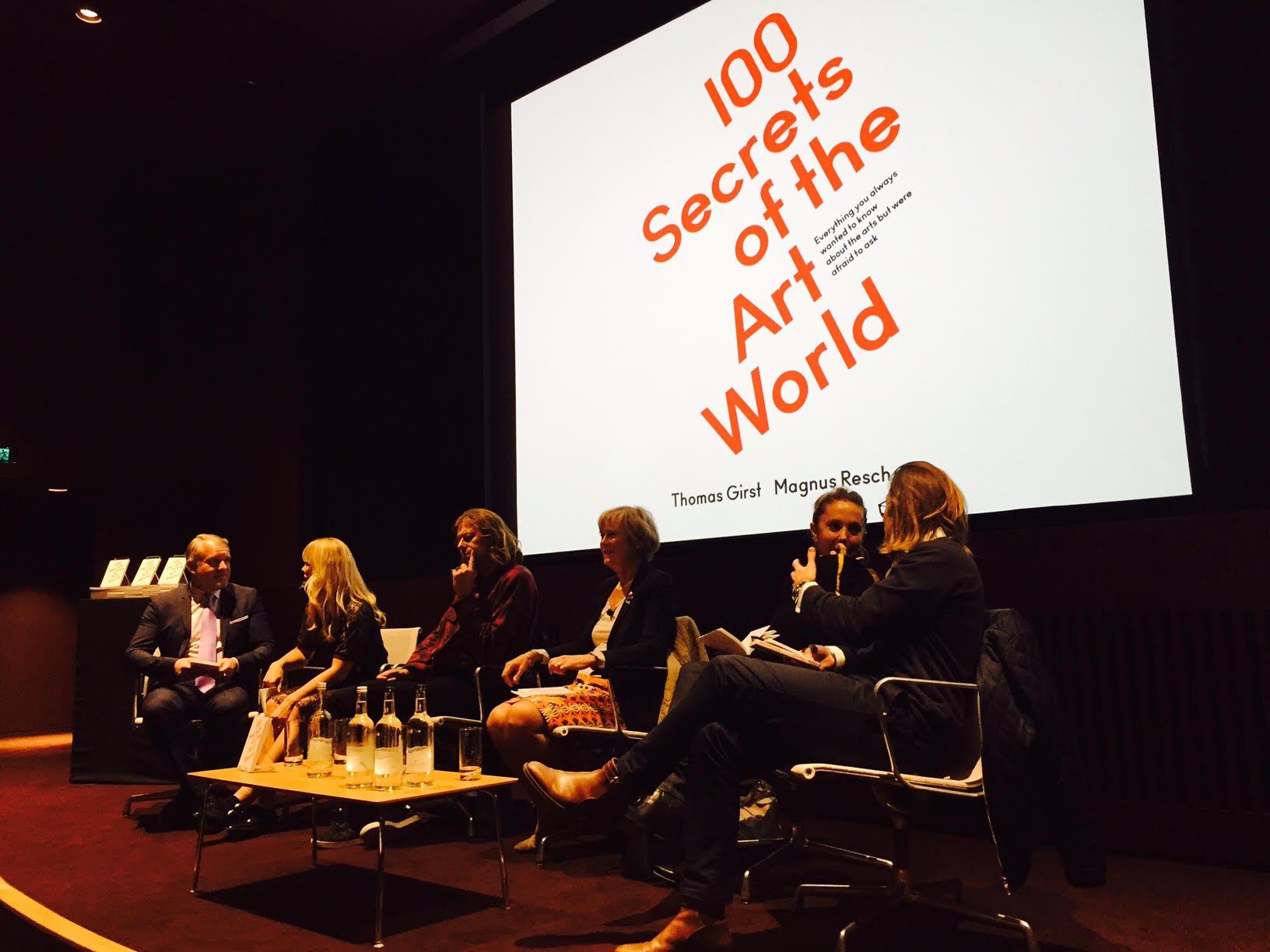 The book is an entertaining collection of bespoke secrets shared by assorted notables and quotables of the art world, with creative typography by Studio Umlaut. Its secrets are great fun but probably won't help you conquer the art market. Marina Abramovic says "When you say no to me, it's just the beginning." Director of Moderna Museet Stockholm Daniel Birnbaum's opening salvo is perhaps the key to the book: "THE BEST KEPT SECRET IS THIS: NOTHING IS HIDDEN."
The editors, art historian and entrepreneur Thomas Girst, and Magnus Resch, inventor of the "Shazam for art" app Magnus, aim to bring transparency and democracy to a shadowy and plutocratic art market. Supporting their book at the weary end of this year's Frieze Art Fair they hosted a panel discussion at Tate Modern where invited guests revealed their art world secrets.
Lisa Schiff (President of Schiff Fine Art), citing the Magnus app, postulated a future in which galleries won't be necessary because technology will provide a radical alternative for artists and audiences. Kate Bryan (presenter of the Art Show) was more pessimistic about the familiar but still surprising fact that many in the art world know nothing and don't seem to care about art
Artist and character Martin Eder's contention is "You have to think big. If you don't have it, you invent it." He performed a succession of magic tricks, pulling a ten foot straw out of an empty bag followed by three gift boxes, illustrating the contention that you have to "fake it 'til you make it"— a known truism echoed in the book by Olaf Nicolai: "More live off allure than off success."
The panel discussion raised some sharp points. The art world, it turns out, is in "terrible condition". Art sales have doubled since 1990 but the network of individuals buying has only grown by 5%. The rich just aren't buying art like they bally well ought to. It's almost like the eighties are over! There is a fascinating Utopianism about the Magnus app's aim to "decode the opaque parts of the art market" and its laudable aim to rescue art by addressing dealers' and auction houses' lack of transparency about the financial value of art, so as to enable prospective buyers get a better deal.
It's a nice thought. Before Frieze, the Grosvenor Antiques Fair used to be where the money went. Now we live in an unprecedented "tsunami" of contemporary and post-war art. Everything is available. You can even meet the living artists! But what does this mean to living artists? A show of hands revealed that half of the audience had been at Frieze… and no one had bought any art.
Artsy founder Carter Cleveland's contribution (on page 21) is "The biggest kept secret is ironically something Joseph Beuys said in plain sight: >>Everyone is an artist.<<
Thing is, most artists don't have any money 
Categories
Tags