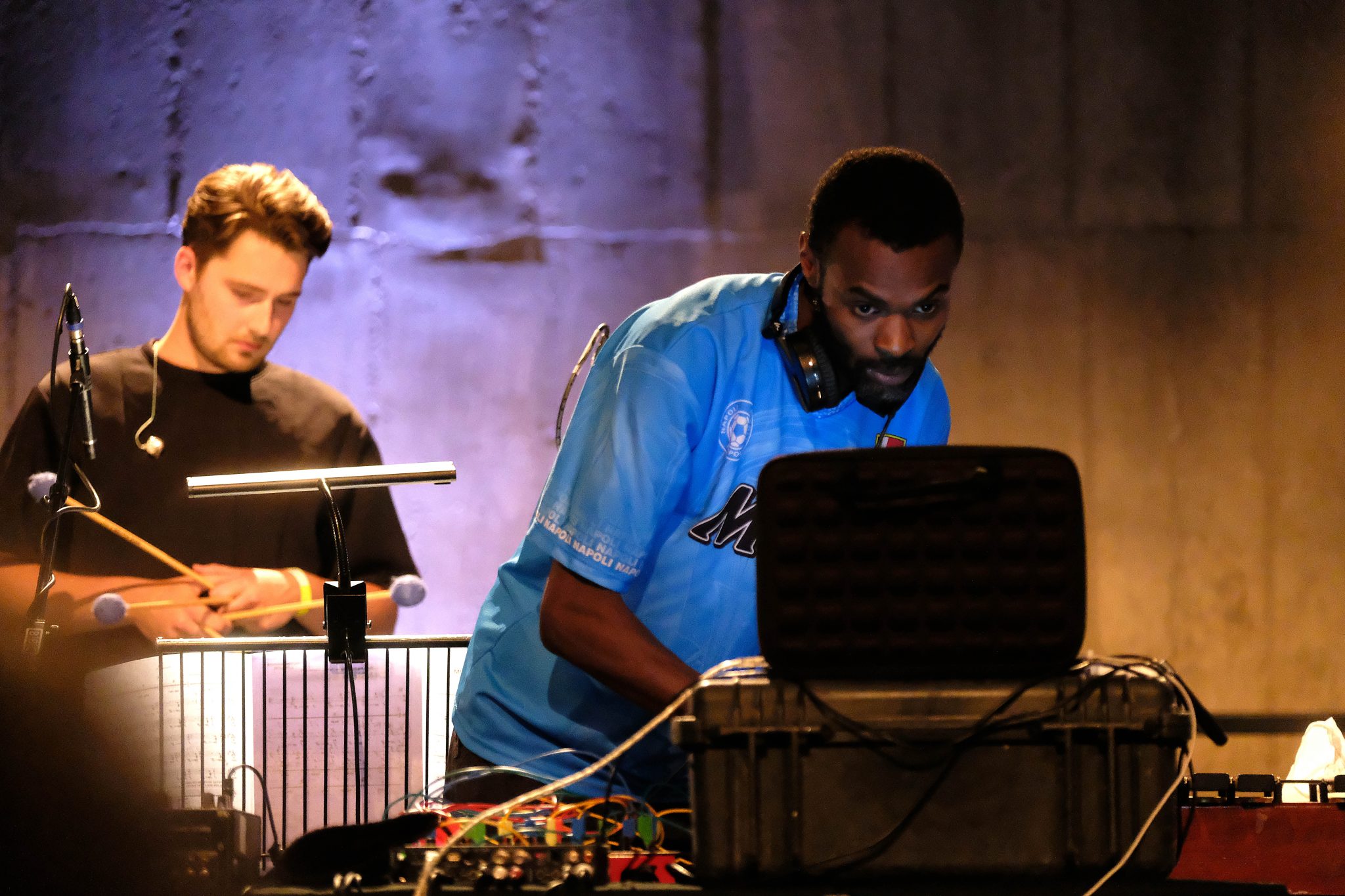 Actress. Photo by Mark Allan
The Late Proms have a special atmosphere, more open-minded than the main concerts, with expectations of mixing and mashing up music from all over the map. Tonight, six stages are set up around the amazing and atmospheric circular space of The Tanks in the bowels of Tate Modern for a late evening concert of experimental music and collaboration co-curated by BBC Radio 3's Open Ear radio programme and the boundary-pushing London Contemporary Orchestra.
Emilie Levienaise-Farrouch was selected by the LCO from an open call for scores. Her world premiere commission "The Minutes" (pronounced like 'my newts') is an unsettling threnody to the minutiae of sound, the string players scratching across the strings, the notes searing and fizzing dissonantly with a feel of deconstructed chamber music.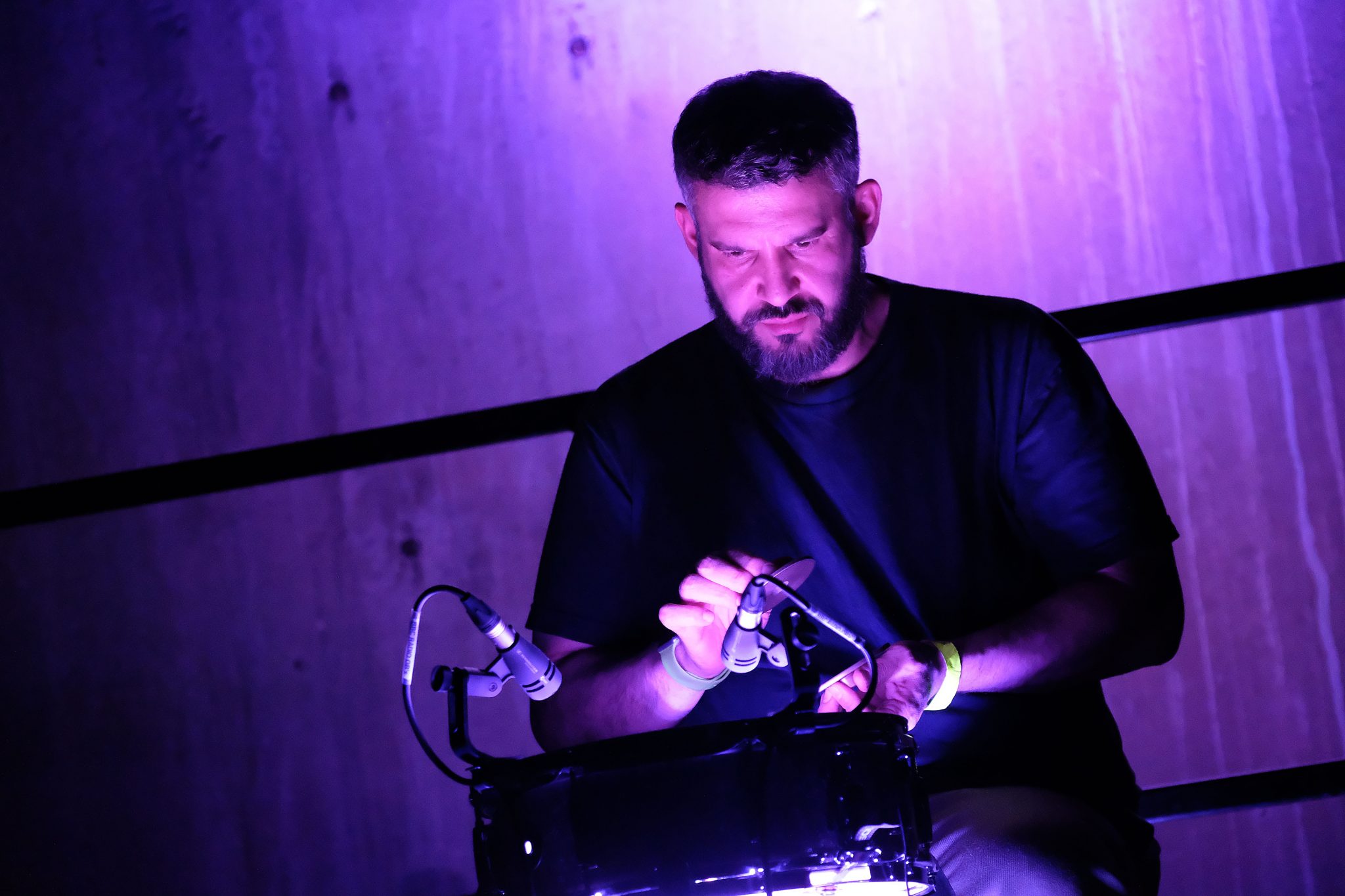 Rodrigo Constanzo. Photo by Mark Allan
Rodrigo Constanzo improvises on a prepared snare drum augmented with three beautiful metal bells, a T-shirt, electronics and reactive lights. Intense electronic sounds are generated by moving a $40 lapel mike across the skin of the snare, positioned against the distressed concrete wall with the light illuminating it in upward waterfalls of colour that flash and flare with each attack.
Canadian artist Catherine Lamb's BBC commission "Prisma interius V" uses three sets of musicians: strings in the centre; another stage with a synth processing and filtering microphones set up on the fifth floor balcony of the Tate Member's Room and pointed across the river; and finally a harp, a bass clarinet and a table of shimmering wine glasses pitched so their spooky tones when rubbed interact with the resonances of the tank space. A fine mist of sound shimmers around the central ritual phrases created by the strings, with a meditative effect.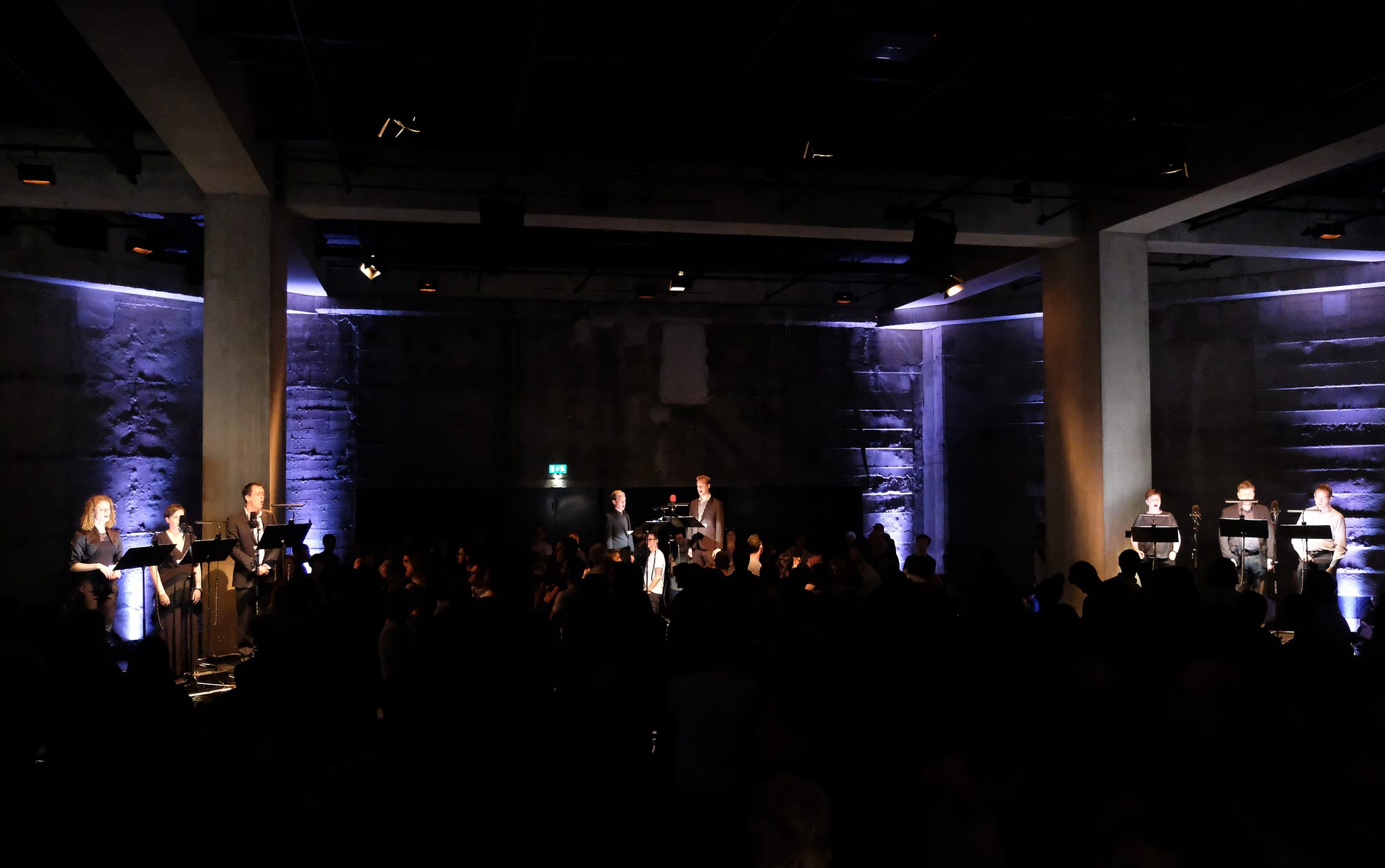 Exaudi: vocal ensemble. Photo by Mark Allan
Cassandra Miller's "Guide" is performed by eight singers of the Exaudi vocal ensemble split across three stages. Phrases overlap and loop and bounce between them. The music is drawn from a Southern Baptist hymn recorded in 1968 by Maria Muldow, the singers replicating her nuances but also generating their own. We are encouraged to explore the space and "curate your own listening experience", a good chance to walk round in circles avoiding eye contact with other hipsters.
DJ/producer/electronic artist Actress with the LCO strings performs a sequence of extracts from "Momentum", a longer collaboration they performed at the Barbican last year. Sounds are extrapolated from an electronic score and emulated acoustically. The piano's bass strings are weighed down with heavy books, there's blu-tack on the upper strings. Sam Williams crunches a plastic bag when he's not playing a marimba damped with blankets or a selection of glass bottles and metal poles. The string players use aggressive tremolo techniques, and try to keep pace with the beats and indeterminate sounds generated by Actress. It's a shame not to hear the whole work, a true synergy of electronic dance music and avant-garde classical techniques that sounds like now.
Proms at… The Tanks At Tate Modern: Open Ear was broadcast on BBC Radio 3. Listen again on the BBC iPlayer.


Categories
Tags