Imagined as a future-artefact of a time before the blockchain changed the world, and a protocol by which a community of thinkers can transform what that future might be, Artists Re:thinking The Blockchain
acts as a gathering and focusing of contemporary ideas surrounding this still largely mythical technology.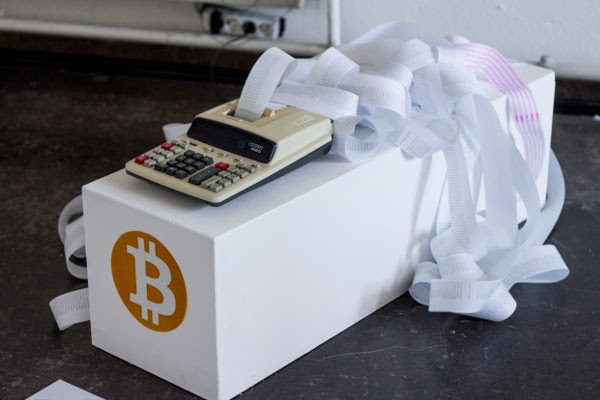 image: Bittercoin, the worst miner ever by Martín Nadal & César Escudero Andaluz
The full colour printed first edition includes DOCUMENTATION of artistic projects engaged in the blockchain, including key works Plantoid, Terra0 and Bittercoin, THEORISATION of key areas in the global blockchain conversation by writers such as Hito Steyerl, Rachel O'Dwyer, Rob Myers, Ben Vickers and Holly Herndon, and NEW POETRY, ILLUSTRATION and SPECULATIVE FICTION by Theodorios Chiotis, Cecilia Wee, Juhee Hahm and many more. It is edited by Ruth Catlow, Marc Garrett, Nathan Jones and Sam Skinner.




Along with a print edition, Artists Re:thinking the Blockchain includes a web-based project in partnership with Design Informatics at University of Edinburgh: Finbook is an interface where readers and bots can trade on the value of chapters included in the book. As such it imagines a new regime for cultural value under blockchain conditions.
This book and surrounding events is produced in collaboration between Torque and Furtherfield, connecting Furtherfield's Art Data Money project with Torque's experimental publishing programme. It is supported by an Arts Council England Grants for the Arts, Foundation for Art and Creative Technology and through the State Machines project by the Creative Europe Programme of the European Union.
Launch and discussion for new art and theory publication ARTISTS RE:THINKING THE BLOCKCHAIN
5th September 2017, 7 – 9pm ArtReview Bar, 1 Honduras Street, London, EC1Y 0TH
including talks, conversation and wine reception with book contributors
Jaya Klara Brekke "The Satoshi Oath": a code of ethics for coding on the blockchain Max Dovey "Love on the Block": using blockchain for wedding vows plus JJ Charlesworth in conversation with editors
FREE EVENT- BOOKING ESSENTIAL: http://bit.ly/2wMcbFxß



Categories
Tags