This August food practitioners Bompas & Parr present the world's first Sausage Séance, an evening that will explore what happens when the art of sausaging collides with the supernatural.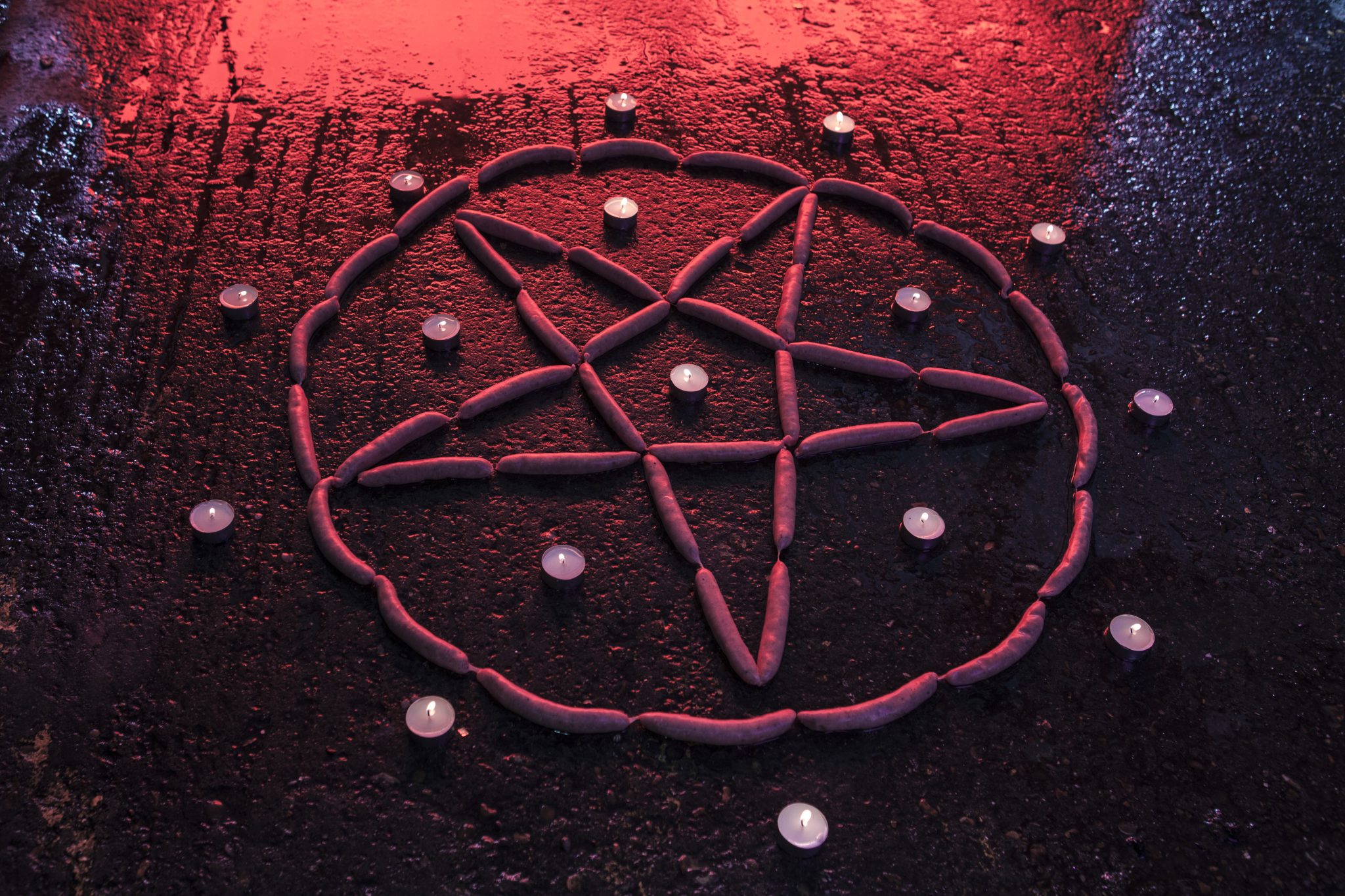 On 15th August guests will experience a sausage-making masterclass followed by a spirit-summoning workshop designed to celebrate the joys of encased meats.
Set in a mysterious temple under The Viktor Wynd Museum of Curiosities in East London, the Sausage Séance is a full frontal sensory experience, steeped in the occult and ending with an elaborate Sausage Feast to honour the spirits.
Guests will be guided through the evening by an enigmatic host who will protect guests against unwanted or negative spirits throughout the night.
It was the best of times, it was the wurst of times…
On arrival, each guest will be provided with a welcome cocktail distilled with herbs known for their clairvoyant-enhancing effects to heighten their supernatural experience.
During the session, each forced-meat aficionado will create four unique sausages in a masterclass using traditional meat grinders and archaic machinery. Donning the mantle of the bretheren of the sausage you can stuff the spiritual powers of earth, water, air and fire into a waiting tube steak.
While the meats are being cooked, the group will be transported into the dark and silent séance chamber underneath the museum. Guests will be seated around a Ouija board which will slowly communicate and uncover strange and mysterious messages about guests' spirit elements. This session will connect all guests together to summon spirits while guests learn about their individual power element.
The meat-based Ouija board has been designed and illustrated specially for the occasion by artist Emma Rios and will be available as a limited edition print to those who wish to take their sausage quest further into the unknown.
The world is your sausage
After the seance guests – and any remaining spirits – will sit down to a sumptuous sausage feast as they to reflect on their experience and enjoy the meats they had prepared earlier.
The wondrous quirkiness of The Viktor Wynd Museum of Curiosities combines dark and occult late 19th century-inspired aesthetics, the golden era of séances. The space is shrouded in shadows to heighten sensory awareness and evoke a hair-raising sense of the occult during the Sausage Séance.
Harry Parr said:
"At Bompas & Parr we have always been fascinated by sausages, and their power to stimulate a powerful response. For one night only we'll be using occult lore to sausage around with the supernatural. Come be the wurst you can be."




Sam Bompas said:
"There is an old Austrian saying: 'Everything in life has an end, except for a sausage which has two.' Though this has been useful in countless scenarios in my life, this is the first time we'll be using sausages to delve into the unknown. Sausages join a magnificent list of foods used to foresee the future since the dawn of time – think of ovomancy, tasseography or haruspicy. At last you will be able to look deep into your sausage and find meaning."
Sausage Séance 15th August 2017 TIME 7pm Tickets and Info:http://www.thelasttuesdaysociety.org/



About Mark Westall