Nestled in Mason's Yard, Mayfair, sits Benjamin Spademan Rare Books, a specialist in first editions and illustrated books, who has opened his charming space across from White Cube to host an exhibition with a literary flair. As May drew to a close, Spademan's exhibition blossomed into life with an intimate exhibition from American artist Robert Perkins entitled The Written Image.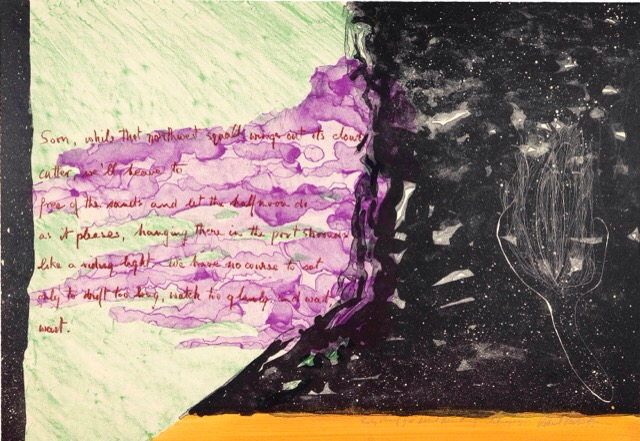 Robert Perkins, Basil Bunting, Fragment, 1980 © Robert Perkins. Courtesy the Artist and Benjamin Spademan Rare Books. Photo by Louie Fasciolo
The premise for Perkins' show is unlike one that I have come across before: as a student at Harvard University in the 1970s in American poet Elizabeth Bishop's creative writing seminar, Perkins' desire to be a visual artist was realised. After learning he wanted to be an artist, Bishop wrote out her most well-know poem, The Fish, and asked him to illustrate it: thus The Written Image project was conceived. Since then, Perkins has collaborated with some of the western world's most famous poets, using their handwritten text and creating a timeless collaboration- what he describes as 'a self-portrait of the poet in the moment'- that has continued through to the present day. From Seamus Heaney to Octavio Paz, and Allen Ginsberg to Basil Bunting, Perkins' work spans across the 20th century and reflects both his personal relationships with the poets and his interpretations of the poems provided.
The modest glass shop-front of Spademan's space gives way to a light space highlighting the gorgeous wooden interiors (much of which is hand crafted by Benjamin's skilful father). Daylight hits the work in its multitude of different sizes, illuminating Perkins' inks and paints. The walls of the single room are packed with Perkins' images, salon-hung and surround the viewer in fragments of poems, offering themselves to us as a tapestry of all of Perkins' collaborators. Seamus Heaney's Haw Lantern (1989) is fragmented into 4 works, hung with my personal favourite, Basil Bunting's Fragment (1980). Perkins' abstract watercolour and ink work complements the scratchy red ink of Bunting's hand. Ginsberg's What's to be done (1998) is one of the series' largest works, the poem is set on dark paint, lightening the otherwise gloomy image – well-suited for a journal entry asking 'What's to be done about death?/Nothing, nothing'. The collaboration is succinct and effortless. In Robert Lowell, Man and Wife (1972) we see two dark figures lying side beside in a dark room, a red window illuminating the scene. The texture of the image is scratchy and harsh and the two 'lover' figures are untouching and anonymous, giving a darker undertone to the work. Perkins' interpretation is truthful and melancholic.
Though Perkins' life has never been short of adventure – he has produced several films and features for television based on his solo journeys in his canoe across wild terrains – it is through his visual artwork that we become most acquainted with him. His willingness to share and experience with other artists is what gives his work the unique angle; The Written Image is an exercise in partnership and trust between artists. Each piece is so different from the next that Perkins' talent is laid bare for us as viewers. As Bishop, a Massachusetts local like Perkins, once said, 'If after I read a poem the world looks like that poem for 24 hours…and the same goes for paintings.': Perkins' contemplative collusion of these two arts makes for a unique and thought-provoking exhibition that will stay with you and in turn, alter the world around you: his display of real feeling is poignant and lasting in these dark times. The exhibition is on view at Benjamin Spademan Rare Books, 14 Mason's yard, London, SW1Y 6BU until 23 June).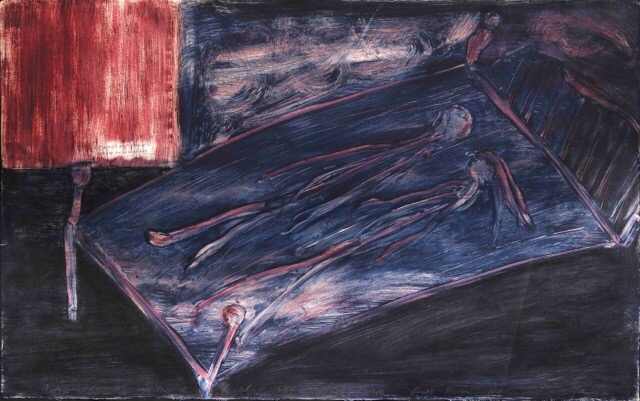 Robert Perkins, Robert Lowell, Man and Wife, 1972 © Robert Perkins. Courtesy the Artist and Benjamin Spademan Rare Books. Photo by Louie Fasciolo
About Staff