It's unpronounceable, its director says it's an alternative to the Tate, and it's just had a makeover by two of Belgium's leading resident designers, one Flemish and the other Japanese. Welcome to M HKA, the institution that is restoring modern art to the list of what makes Antwerp one of Europe's coolest cities.
First, about those initials. The Museum of Modern Art Antwerp had been abbreviated to MuKHA but in 2002 artist Christophe Terlinden proposed dropping the 'u'. It was a repudiation of acronyms like MOMA, MOCA etc. On a drum-shaped corner of the building, once a granary on the Schelde riverside, he painted the letters HK three storeys high.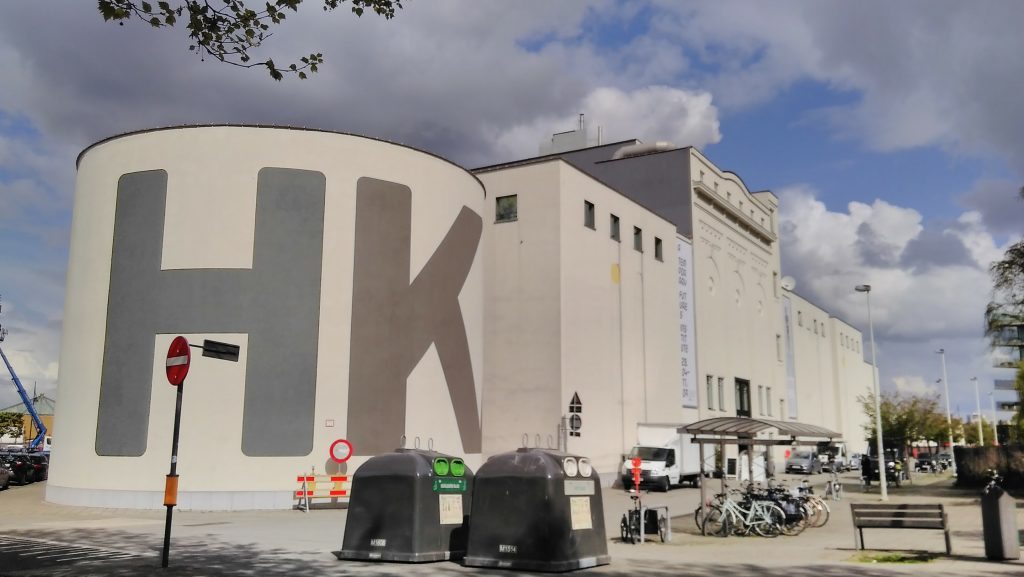 M HKA occupies an ex-granary building and is counter-branded by the big letters of Christophe Terlinden's The Missing U (2002). Photo Herbert Wright
The building may be clearly labelled outside, but the clarity didn't extend inside. Designer Axel Vervoordt said 'it was a little chaotic when we saw the plans of the old buildings, it was quite a mess'. He and Tatsuro Miki, an architect who's been in Belgium 25 years, have tackled the heart of the problem – the ground floor. Now, the reception and ticket desk are in a large central space called the Reading Room. It's lined with shelves not just stacked with books but curiosities including art and maquettes. It's a warm, welcoming environment in which everything, including an eight metre long reading table that stretches through it, is now in wood. 

M HKA's new Reading Room with front desk, in the revamp by Axel Vervoordt and Tatsuro Miki. Photo © M HKA
A triangular space leads off from the Reading Room, bare but for a remarkable commissioned work – Belgian artist David Claerbout's Olympia (the real time disintegration into ruins of the Berlin Olympic Stadium over the course of a thousand years, start 2016) which is real-time colour HD computer simulation that moves slowly through what the title says. This is a meditative work about time, architecture and decay, in execution and ambition comparable to the simulations of John Gerrard (whose X. laevis (Spacelab) you can see in London at the Wellcome's Electricity show until 25 June). 

David Claerbout's simulation Olympia (2016). Photo © M HKA
The triangular space is also the pivot around which Vervoordt and Tatsuro tackled a suite of galleries that are crucial to M HKA's new presentation. 'We saw the hidden proportions' says Vervoordt – the rooms on each side of it are a circle, a golden-section rectangle, and a square. The rectangle hosts a gentle reflection on Russian cultural themes by Evgeny Antufiev, facilitated by the V_A_C Foundation, Moscow. It is the square that showcases the best of M HKA's permanent collection, and the space is black and partitioned. Tatsuro talks about how 'dark is associated with the night, you are alone, you go into yourself. The art comes out of the space'. It's not a huge collection, but there are several must-sees, including Jan Fabre's iconic drawing pin-studded man at a table, Ik, aan het dromen (I'm dreaming) (1979), Jimmie Durham's Jesus, es geht um die Wurst (Jesus, it's about the sausage) (1992) and a beautiful Flemish village painting by local master Luc Tuymans.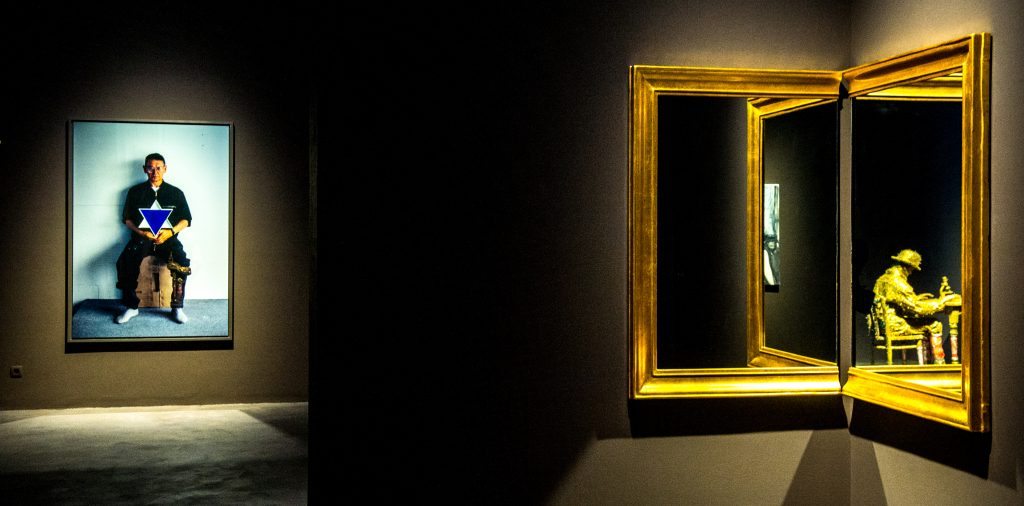 Elsewhere, M HKA's exhibition spaces are as they were, on various floors.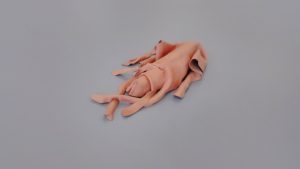 The other wing of the ground floor is an airy double-height wedge called In Situ, hosting (until 3 September) the installation Romulus, a commissioned work by German artist Peter Wächtler who lives in Antwerp. It's an introspective yet expansive work, with clay castles, red paintings, and on the floor, sleeping dogs made of leather that look a bit like flayed penises.
Upstairs, the project A Temporary Futures Institute (until 17 September) has an extensive, wonderfully diverse spread of works. For example, the futurists Agence Future present the names of key names and titles from sci-fi (you'll find George Orwell, Arthur C Clarke and Kubrik, for example) and futurology (including RAND Corporation, Herman Kahn, Frederik Polak etc) on columns across the floor as well as a wall of videos. What a contrast with the stunningly lush and vibrant walls painted by Polynesian artist Lee Alexander, which is called Te fanau'a 'una'una na? te Tumu: The Sentinels.

Walls by Lee Alexander, from Te fanau'a 'una'una na? te Tumu: The Sentinels. Photo Herbert Wright
There is yet more, not least Belgium's only Skyspace by James Turrel (one of his hallmark skylight rooms) up at the top. And on the fourth floor, the M HKAFE (yes, a café) opens onto rooftop terraces either side with wonderful views across the Antwerp roofscape, some framed by empty window frames left from the facades of the original building.
But what about that claim, from M HKA director Bart de Baere, that 'we are the only alternative to The Tate'? He's talking about a model for bringing modern art to a broad audience and he has an alternative to the mega-gallery. M HKA is a member of the EU-supported L'internationale, a constellation of nationally significant galleries such as MG+MSUM in Ljubljana, Slovenia and MNCARS, Madrid, and associate partners. The model, de Baere explains, is 'medium spaces – we exchange the content'. With six core members, it has a base, but there's some way to go before it can have the depth and sheer power of Tate, MoMA or the Pompidou.
Does it matter? M HKA have a unique collection, curatorial programming that has flair, and a great building. Accessing it and the art has now become an experience in itself, thanks to those new, sublime spaces.
Categories
Tags