Genderqueer artist John Moletress takes on the anti-LGBTQ policies of the current administration in 20-hours durational webcam and live performance TRIGGER WARNINGS AND VARIOUS ATTEMPTS.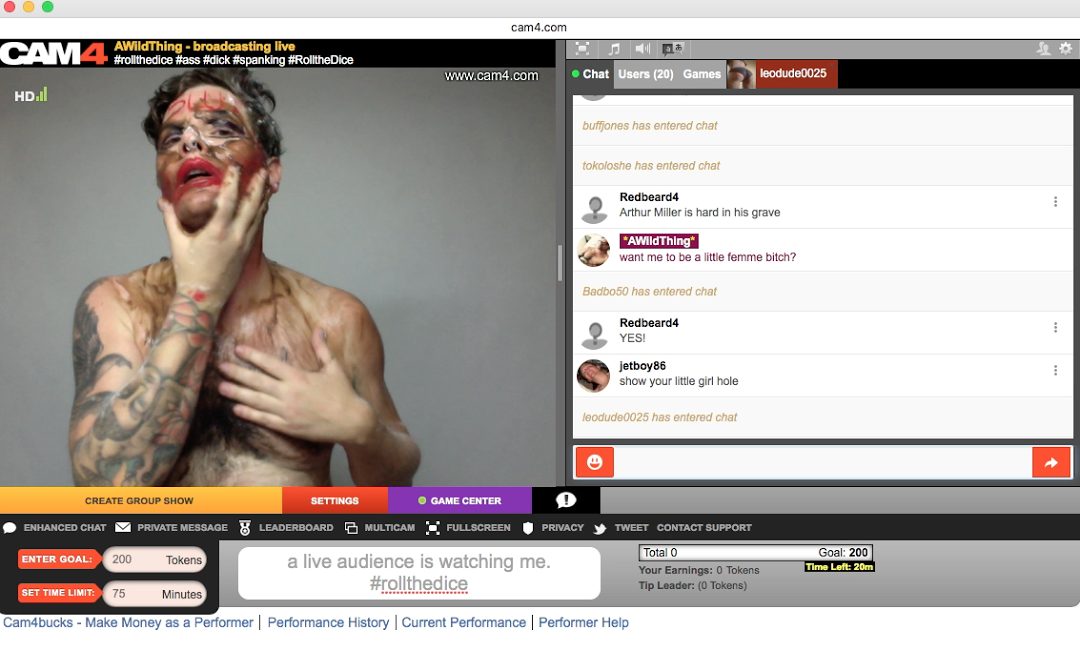 Utilizing amateur webcam site Cam4 as a platform, John engages in online sex work to explore notions of queer pleasure, cyber ethics, dominance/submission, anonymity and artistic commerce while repeatedly reading Arthur Miller's dramatization of the "witch hunts" of the House of Un-American Activities Committee, The Crucible, for the 20-hour duration.
TRIGGER WARNINGS will begin April 14th at 11:00pm and continue until April 15th at 7:00pm. This performance is presented by FUSEBOX FESTIVAL at The Museum of Human Achievement.
TRIGGER WARNINGS AND VARIOUS ATTEMPTS is a solo reading of Arthur Miller's THE CRUCIBLE set inside an amateur sex cam chat room. The performance will occur simultaneously in mediated and physical space to both a live and hidden audience in an attempt to agitate the distance between. TRIGGER WARNINGS utilizes live-streaming video, object manipulation, text, pay-for-play and the body to explore sex work, cyber ethics and pack mentality.
TRIGGER WARNINGS AND VARIOUS ATTEMPTS will be live broadcast in to Chisenhale Dance Space (London) and ]performance space[ (Folkestone) on April 14, 2017. Viewing hours to be announced by respective venues. The performance will run 04:00 GMT to 00:30 GMT. Please check back at chisenhaledancespace.co.uk and performancespace.org for more information.
About the artist
John Moletress is an interdisciplinary artist and Founding Director of force/collision. With force/collision, their collaborations include the site work The Nautical Yards, Shape with Erik Ehn, Trust me with text by Falk Richter and Jarman (all this maddening beauty) with Caridad Svich (International/US). Their work has been seen within the US at The Kennedy Center, Abrons Art Center, La MaMa ETC, Arena Stage, New Dramatists, Goethe-Institut Washington, Woolly Mammoth Theatre Company, Studio Theatre, FUNDarte/Out In The Tropics, OUTsider Festival, Queer New York International, George Washington University, EMP Collective, Flashpoint Gallery and SPACE Gallery, to name a few. Internationally, their work has been seen at King's College London, Homotopia (UK), unity theatre (UK), The Gulbenkian (UK), The House at Plymouth University (UK) and Warehouse 9 (DK). Publications include Innovation in Five Acts: Strategies for Theatre and Performance (ed. Caridad Svich; Theatre Communications Group), Wendell. (Playwright; NoPassport Press), Jarman (all this maddening beauty) and Other Texts (Intellect Books UK) and the forthcoming title Imaging Home: Practice, Performance, Place (Intellect Books UK).
johnmoletress.com
FUSEBOX FESTIVAL Austin, TX, is an idea engine. A space where artists and audiences can take risks, ask questions, break rules, blur boundaries, and explore ideas together. It is a platform for visionary works, unabashed play, and new ways of engaging with our world.
14th, 11:00pm-April 15, 7:00pm The Museum of Human Achievement 916 Springdale Rd, Austin, TX 78702
fuseboxfestival.com
About Mark Westall