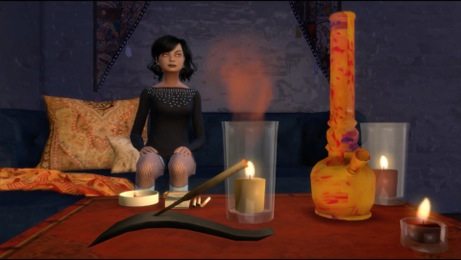 Caption Details: Anhedonia, Jacky Connolly 2017 (courtesy of the artist and Daata Editions)
1. What will you be showing at Strangelove Festival in March?
I am showing Anhedonia and Anorexia, two chapters from Anhedonia (2017), a film in six parts that was commissioned by Daata Editions.
2. What mediums do you work with?
I create machinima (machine-cinema) films inside of pre-existing computer games such as The Sims. I use the software for my own virtual film production and then edit the footage into cinematic narratives.
3. How do you know when you have completed a work?
Once I have a rough cut, I create an export and watch the film over and over again, writing down any moments that feel out of place. When I have watched the film through and cannot find any more of these moments, I consider the work finished.
Anhedonia by Jacky Connolly (trailer) from Daata Editions on Vimeo.
4. How important is the presentation of your work and viewer engagement?
I am happy with the work being viewed both in its native computer environment or in a more formal presentation, such as a theater projection or a large monitor. Either way, there is something captivating about the avatars' movements that seems to draw in viewers.
5. If you could choose to show your artwork in a non traditional art setting, where would that be?
I would like to screen my work on a video billboard, preferably on a remote country highway surrounded by trees and mountains.
6. With the increasing evolution of technology, where do you see film in the next ten years?
The other night I played the new Resident Evil survival horror game on the Playstation 4. There is a sequence where you find a videotape in the game and insert it into a VCR. Survival horror games have always been cinematic, like "playing" a movie, but in this game you can control your avatar inside of the videotape sequence, or essentially experience the memory/flashback/video evidence in the first-person perspective. I look forward to seeing how these forms of cinematic experience will develop in the coming decade.
7. If you could create a time based arts compilation, what would be on it?
A few favorite film & video artists I would like to include would be: Peggy Ahwesh, Stan Douglas, Lillian Schwartz, Dara Birnbaum, Chantal Ackerman, Peter Greenaway, David Lynch.
A Goth Life — is a selection of artist works that compiled together make a composite tale of our joyously souless, self-reflective, insular, tension and angst ridden times. The use of the internet is our guide, confidente, entertainment, mirror, window, general outlet and has created a real alternative social reality, with artists commentating on and providing a contemporary anthropology for this coming of age.
A Goth Life is a compilation from artwork editions on Daata Editions.
Artists: Larry Achiampong, Thora Dolven Balke, David Blandy, Jake Chapman, Jacky Connolly, Keren Cytter, Casey Jane Ellison, Tracey Emin, Ed Fornieles, Leo Gabin, Yung Jake, Rachel Maclean, Jillian Mayer, Takeshi Murata, Rashaad Newsome, Tameka Norris, Hannah Perry, Hannah Quinlan & Rosie Hastings, Scott Reeder, Jacolby Satterwhite, Zadie Xa.
More details here: www.strangelovelondon.uk/sessions/daata-editions-presents/
About Mark Westall