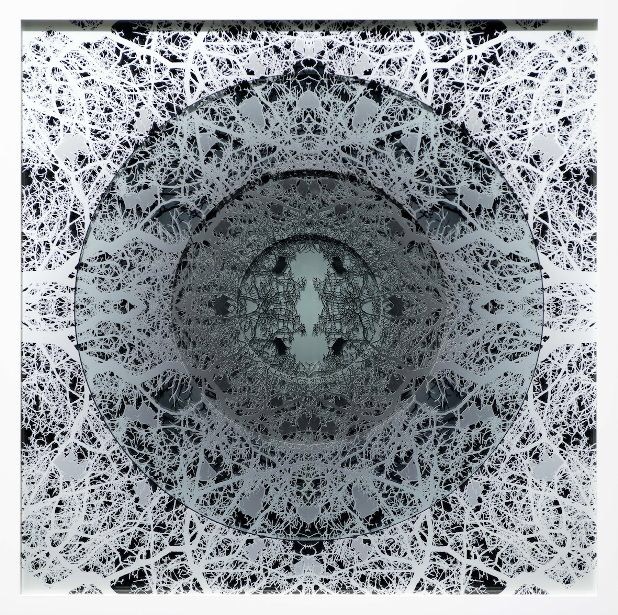 Caroline Jane Harris: Radial (Black) COURTESY AUTISTICA
Autistica, the UK's leading autism research charity and Mehta Bell Projects, are presenting 'An Infinitely Beautiful Mind', a charity art sale and exhibition which will present the works of approximately 26 artists ranging from modern masters, contemporary and emerging talents through to outsider art, whose work share the desire to represent the human experience through highly detailed and laborious artistic techniques.
The exhibition will take place during Frieze Art Week 2016 and feature works by leading artists including including Stuart Semple, George Widener, Caroline Jane Harris and Mat Chivers. It will also show the work of acclaimed artists including Henri Matisse, Victor Vasarely, Pablo Picasso and Roy Lichtenstein whose artistic visions challenged traditional classifications.
British artist Stuart Semple will present a specially commissioned painting inspired by his own struggle with emotional distress and subsequent anxiety suffered by a traumatic near death experience at the age of 19.
The majority of the works will be for sale to raise funds for Autistica's autism research which aims to build long, healthy and happy lives for all autistic people with a focus on the mental health issues that affect almost 80% of those on the spectrum. The exhibition coincides with World Mental Health Day on October 10th.
Jon Spiers, Autistica's Chief Executive said:
"It's undeniable that autism can pose huge challenges for individuals and families, and as a charity, our research aims to address their greatest needs. But with this exhibition, Autistica wants to celebrate and highlight the beauty of the autistic mind. For many, art can overcome communication difficulties and provide a vibrant and therapeutic way to express themselves. Due to the daily challenges that they face, autistic people often live on the margins of society. We wanted their work to be centre stage alongside the mainstream to show what an accepting society could look like."
An Infinitely Beautiful Mind will be exhibiting at The Knapp Gallery, Regent's University, Inner Circle, Regent's Park, London NW1 4NS on Wednesday 5th October 2pm – 5pm, and from 6th – 16th October by appointment only. The event aims to be accessible to all; tickets are free and the event is autism friendly, but capacity is limited. Tickets available here through Eventbrite.
The exhibition will be marked by an in-conversation with Jon Spiers, Autistica's CEO and the commissioned artist Stuart Semple at Frieze London on 5th October at 16.00 in the Reading rooms.
Autism
One in a hundred people in the UK has autism, a lifelong developmental disability that affects how a person communicates with, and relates to, other people. It also affects how they make sense of the world around them. Autism is a spectrum condition, which means that while all people share certain difficulties, their autism will affect them in different ways. Some autistic people are able to live independent lives but many have learning disabilities or co-occurring healthcare conditions often requiring a lifetime of specialist support, as well as the health issues we all face as part of the normal ageing process.
Autistica both funds and campaigns for medical research to understand the causes of autism, improve diagnosis, and develop new treatments and interventions. All the research that Autistica carries out is guided by families, to ensure that it makes a real difference to the lives of those living with autism. Since being founded in 2004, Autistica has raised over £9 million in support of autism research. www.autistica.org.uk
Mehta Bell Projects was founded by Jag Mehta and Melissa Digby-Bell who shared a vision to transcend the conventions of the established art world. They operate both within the tenets of the contemporary art network, yet dare to venture beyond the orthodox boundaries. With a combined knowledge of over twenty years of specialist industry experience, Mehta Bell Projects offer a fresh perspective on the contemporary art world. They take a uniquely creative and holistic approach to curation, collection building, art sales, consultancy, artist and project management. They are kindly supporting the curation of this innovative exhibition pro-bono for Autistica. www.mehtabellprojects.com
Deutsche Bank Autistica are Deutsche Bank's UK Charity of the Year 2016-17. This exhibition is in celebration of their charity partnership and Deutsche Bank's relationship with Frieze. Deutsche Bank have offered to support and promote this event.
About Mark Westall