As the Mayor unveils the latest Trafalgar Square, Fourth Plinth commission – 'Really Good' by David Shrigley – we take a look at five other great new public art installations.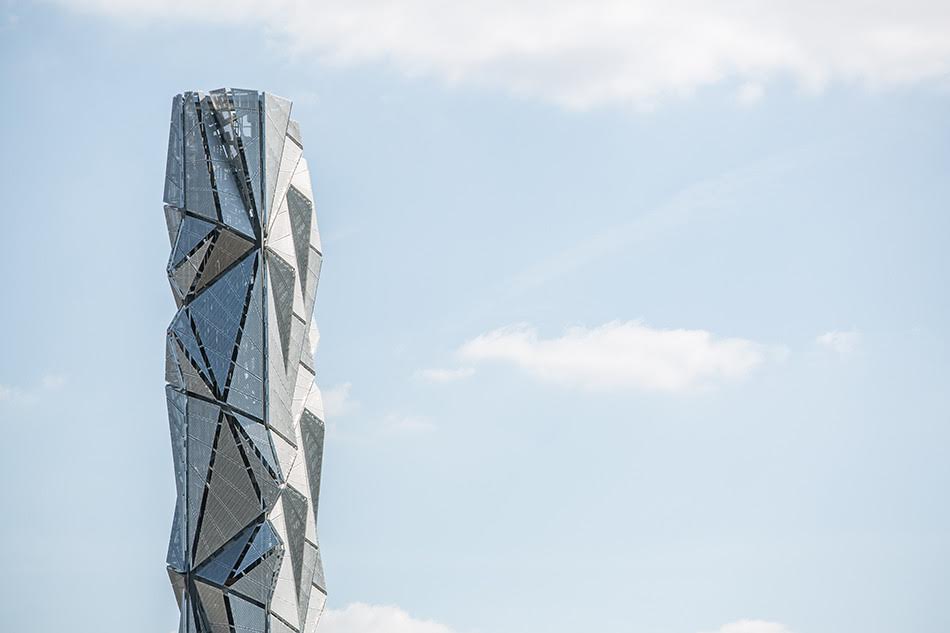 1) Conrad Shawcross' 'The Optic Cloak', at Greenwich Peninsula, is both camouflage to the development's Energy Centre's soaring flues and a work of art in its own right – a dual role that reflects Shawcross' intersectional practice. The piece is inspired by the art of 'dazzle' camouflage, a technique developed and deployed during World War I that involved painting ships in discordant geometric shapes of varying colours. The idea wasn't to make the ship invisible, but rather to make it hard to determine its size and which direction it was going in, effectively making it a much harder target to hit. "We were looking at what makes successful camouflage and one of the paradoxes about it is that on one level it's very arresting, while on another it disappears. It has this contradictory effect like a parrot in a jungle. It's very successful at hiding itself and yet it looks like the most obvious thing in the jungle. The sun face one side of the sculpture in the morning and the other in the evening, so I was looking at this idea that the back and the front could be opened up [by the sun], making it transparent." The effect is striking, with the shimmering installation reminiscent of intense heat seen distorting the air in a desert or rising off an asphalt road. It's as if The Optic Cloak itself is brimming with an energy of its own, a beautiful metaphor for the very thing it's meant to be cloaking.
Greenwich Peninsula, London SE10 0SQ greenwichpeninsula.co.uk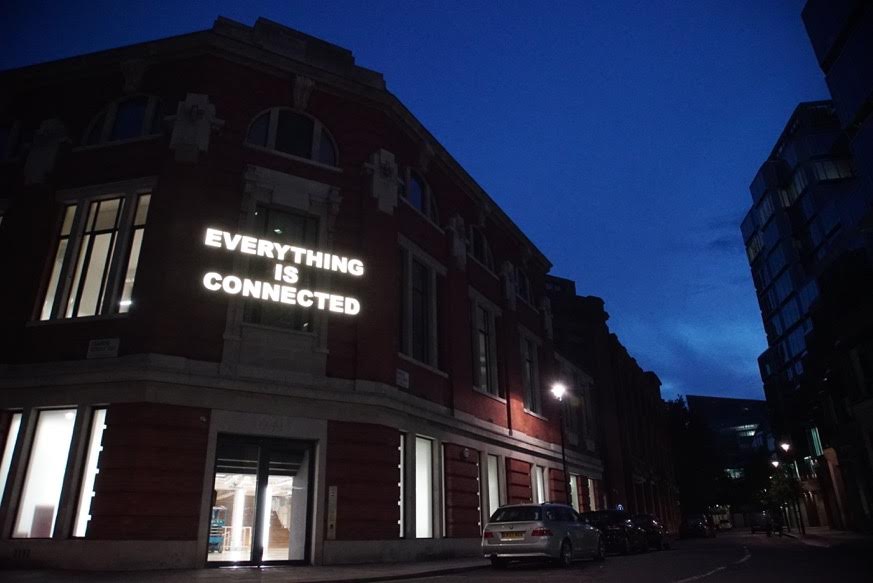 2) Peter Liversidge's large-scale installation 'Everything is Connected', was recently installed on the offices of U+I, a UK property developer renowned for their community-focused regeneration projects and as a major supporter of the arts. Liversidge is known for his multi-disciplinary work, which spans drawing, performance, installation, photography, painting, sculpture and interventions. The common thread that weaves through the artist's practice – and makes these very different manifestations so recognisably his own – is the quiet poeticism and lightness of touch that are evident in all of, what he calls, his 'Proposals' – some of which are realised and some of which remain ideas written down on A4 sheets of paper, but all of which exist as pieces of art in their own right. Most recently the artist was invited by the Tate Modern to participate in the opening weekend celebrations for their new Switch House extension. Responding to the building, its history and its place in contemporary life he created a new choral work, 'The Bridge'. Inspired by conversations with gallery staff, construction workers, visitors and local residents, this unique cycle of songs was performed in the famous Turbine Hall by over 500 singers, in dozens of community choirs. Similarly, the installation of this light-sculpture is intended to invite interaction with the community, to whom it is offered as a piece of public art.
www.uandiplc.com/blog/creative/everything-is-connected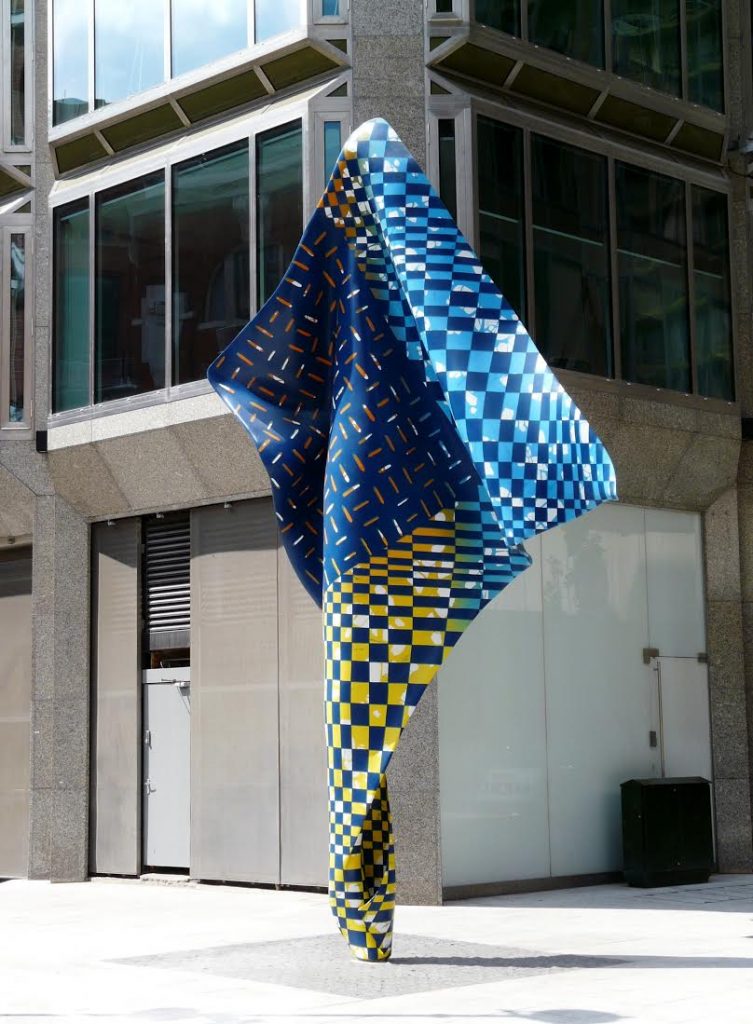 3) Howick Place pedestrians are a lucky lot! Directly opposite Liversidge's work, a new sculpture by Fourth Plinth alumnus Yinka Shonibare, MBE, was recently installed. 'Wind Sculpture' is a striking, site-specific piece, which seems to freeze a volume of wind in a moment in time, exploring the idea of harnessing movement and echoing the sails from Shonibare's Trafalgar Square commission 'Nelson's Ship in a Bottle' (which is now on permanent display outside the National Maritime Museum, Greenwich). 'This new piece sees Shonibare continue to focus on themes of colonialism, trade and race, and employs the artist's signature use of batik Dutch wax fabric designs – materials which have become synonymous with African identity. The work has a particular resonance at Howick Place, which was named after Viscount Howick, later 2nd Earl Grey, one of the main architects of the Reform Act 1832, Catholic emancipation and the abolition of slavery in the British Empire.
Howick Place, London, SW1P 1DZ www.howickplace.com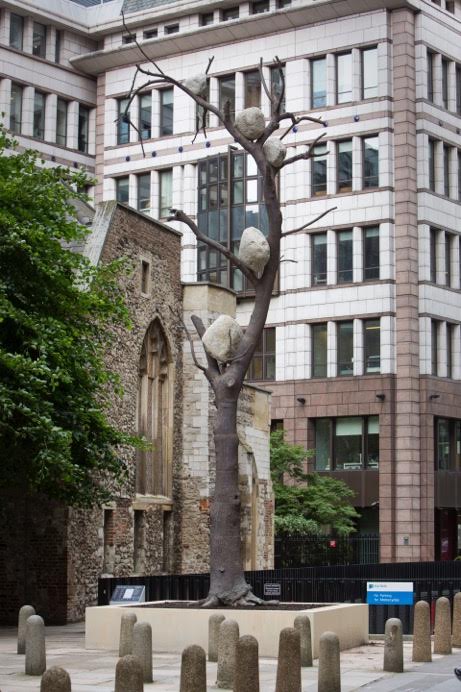 Giuseppe Penone's 'Idee di Pietra – 1372kg di luce'
Photo credit: Nick Turpin
4) Now in its 6th year, 'Sculpture In The City', the annual open-air sculpture take-over of the Square Mile, goes from strength to strength and is now internationally recognized for bringing both established international artists and rising stars to a broad public. It's not easy to pick a favourite, but, if pushed, we'd have to say it's Mat Collishaw's piece, 'Magic Lantern Small' – a grand scale zoetrope, which creates the effect of moths fluttering within the dome, around an oversized lantern. The work sits majestically next to the Gherkin, playing off the similarities between the work and the building's reflective and glass qualities. Or, Giuseppe Penone's sculpture 'Idee di Pietra – 1372kg di luce', which presents a bronze deciduous tree bearing the fruit of five river stones, nestled within its branches. Both the tree on which the sculpture is based and the river stones are local to the artist's studio in Northern Italy and the majestic work is imbued with the essence of the region. See, we said we couldn't pick one.
Various locations, City of London www.cityoflondon.gov.uk/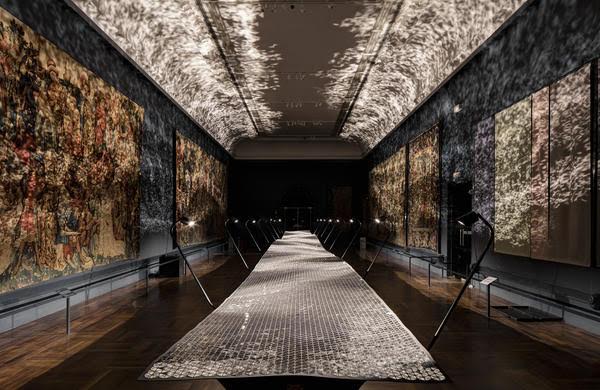 Foil by Benjamin Hubert / Layer Photo credit by Ed Reeve
5) Missed this year's London Design Festival? Well you're in luck, as a handful of installations will remain in situ beyond the festival's run, including Benjamin Hubert's immersive 'Foil', which the V&A has announced will now stay open to the public until 5 October. The large-scale installation comprises 50,000 mirror-finish stainless steel panels on a 20-metre by 1.2-metre undulating ribbon that runs down the length of the gallery and is driven by a high-power motor in a constant sine-wave motion. Light from LEDs reflects off the paneled surface to create a slowly morphing and evocative pattern of scattered light, moving across the walls and ceiling of the gallery. The installation is accompanied by an atmospheric soundscape that emulates the fluid motion of the sculpture and the reflected light. Hubert chose to display Foil in Room 94, because of the gallery's unique atmosphere. Light, humidity and temperature in the room are carefully controlled to protect the three, 15th century hunting tapestries that dominate it. What is already a unique and emotionally engaging environment, is enhanced by the multi-sensory installation, creating an extraordinary immersive experience for visitors.
Victoria & Albert Museum, Cromwell Road, London SW7 2RL www.vam.ac.uk
About Staff