Before nations and religions there were tribes. The definition of tribe implies  living  as  one  with  the  environment  and  others,  to  take  only what's needed and to give back. Artists from all over the  world,  we  are  still  one  tribe,  and  we  have  a  huge  role  to  play  in the moral economy, not  just  the  market economy,  to  influence  society through  the  power that art has to focus on  what  unites  people, fighting  the  antagonism  we  witness again and again.

Tribe is not about decorative  art,  but  provocative  art;  not  from  a  lazy popularity  point  of view, but thought provoking. Tribe has no political or religious  affiliations  of  any  kind;  we  are  only  moved  by  our  belief in the power that us artists  have  in  our hands  and  hearts  to  change  the world  for  the better.  TRIBE Manifesto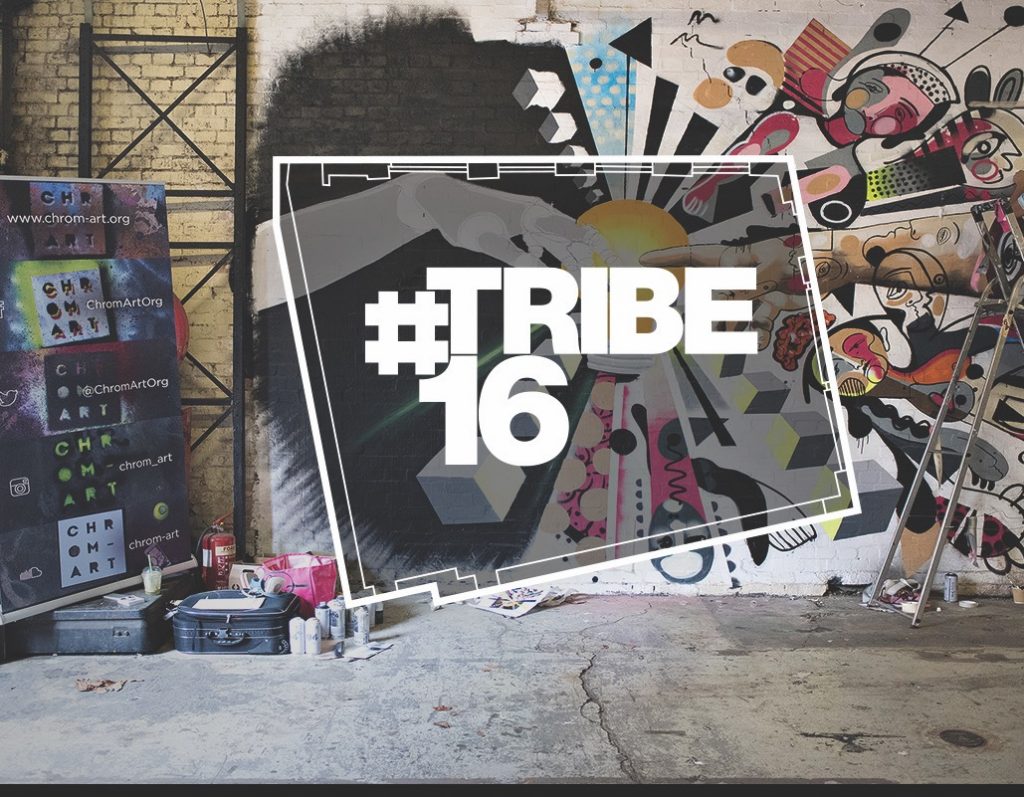 After a huge success from last Year's #TRIBE15, featuring close to 100 contemporary emerging artists and open to over 2500 visitors In the Heart of London, Chrom­Art has  announced its Second Edition #TRIBE16.
Featuring over 100 international and UK ­based artists from the world of contemporary art, music, dance and performance this is a 'living exhibition' encouraging cross­disciplinary collaboration among artists from different backgrounds. The energy­ fuelled weekend includes FREE access for visitors to all activities.
Conceived as an immersive multicultural festival engaging a diversity of art forms including 2D art works, sculpture, dance, graffiti, art installation, video and performance, #TRIBE16 will be held the first weekend of October (Friday 30 September ­ Sunday 2 October 2016) in one of the most exciting venues in the heart of London. UGLY DUCK 47/49 Tanner Street, a spectacular 12,000 sq.ft Victorian warehouse spanning over 3 floors and 5 different areas.
Exploring the theme of the City Tribe and a New Sense of Urban Belonging, placed beyond social and political structures, #TRIBE16 Art Festival aims to combine a very rich offer of interdisciplinary artistic practices and to enrich the multicultural scene within the contemporary city landscape of UK and abroad. For the duration of the festival 47/49 Tanner Street will become a utopian space where notions of physical space and the limitations associated with it will be challenged through a dense network of multiple human relations and energies.
Artists will be inviting visitors to take part in a variety of activities and seeking lively interaction with the public. Opening up new encounters, establishing a sense of community that goes beyond geographical limitations, #TRIBE16 becomes a playground for artists across genre where the multi­layered relationship between space and identity will be constantly tested.
RESIDENCIES & PERFORMANCES
Headline Performances by the multi award winning IthacaAudio  presenting also their jaw dropping installation The Storm.
The Storm from Ithaca Audio on Vimeo.
The most influential new project in the Spanish cultural scene, LA JUAN Gallery, pioneer of the first art gallery fully dedicated to live art in Madrid, is coming to London to present a unique immersive experience, collaboration between Spanish and UK actors and performers. Get ready to be surprised, maybe shocked, and definitely fully entertained!.
Five renowned international street artists (Amara por Dios, Annatomix, Sr.X, Daniel Dalopo and Marc Craig) will showcase new canvas work in a specially dedicated area, joint by Tenbomb, one the most exciting street art collectives now in the UK.
Chrom­Art Resident DJs will be playing soundtracks specially curated for the event. Visitors, families and young children can enjoy group painting sessions run by different artists.
Fifteen­stall food court with be brimming with fresh, delicious international food from independent producers.
Chrom­Art is a new London based Social Enterprise (Community Interest Company) that supports talented undiscovered artists of all disciplines in our local communities, and promotes the education of creativity for the public benefit. We are 100% volunteer run and operate a policy of applying all our profits to our social objectives.
#TRIBE16 International Art Festival Friday 30th September – Sunday  2nd October 2016 47/49 Tanner Street,SE1 3PL London  www.chrom-art.org
Categories
Tags