Views of Grand Palais' Nave. Photo: Cosimo Mirco Magliocca/ Collection Rmn-Grand Palais.
Saturday 24th  September only Installation on view from 2pm to 7pm
Grand Palais, the Nave, Avenue Winston Churchill, 75008 Paris Free entrance
As a metamorphosis of their exhibition "The Well Fair" at the UCCA in Beijing earlier this year, Elmgreen & Dragset present a one-day installation at the Grand Palais in Paris on September 24th. You will never see an art fair the same way again.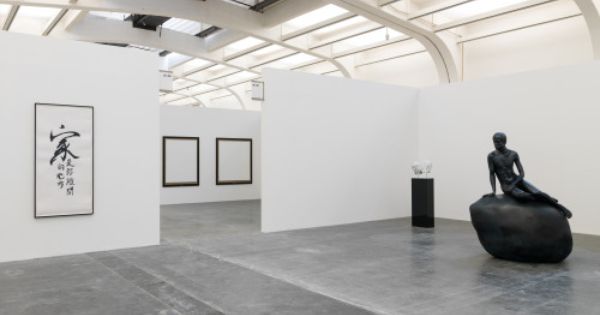 View of the exhibition "The Well Fair" at UCCA, Beijing, 2016. Photo: Eric Gregory Powell.
About The Artists
Michael Elmgreen and Ingar Dragset are based in Berlin and have worked together as an artist duo since 1995. Elmgreen & Dragset have previously held several exhibitions in which they have made use of a staged format, including "The Well Fair", a faux art fair at the Ullens Centre for Contemporary Art, Beijing (2016); "Tomorrow", a fictional architect's apartment at the Victoria and Albert Museum, London (2013); "The Collectors", a transformation of the Danish and Nordic pavilions into two imagined collectors' private homes at the 53rd edition of La Biennale di Venezia (2009); and "The Welfare Show", which morphed the Serpentine Gallery in London into a long labyrinth of institutional corridors (2006). The artist duo is also well known for their works in public spaces, such as "Van Gogh's Ear", commissioned by Public Art Fund at Rockefeller Center, New York (2016); "Powerless Structures, Fig. 101", selected for the Fourth Plinth Commission at London's Trafalgar Square (2012); and "Prada Marfa", their isolated Prada boutique in the middle of the Texan desert (2005). www.elmgreen-dragset.com
Categories
Tags