Paul Maheke's Mezzanine exhibition Green Ray Turns Out To Be Mauve: We're Human Beings After All and Therefore We're Messy, follows on from his Window design at Green Ray and corresponds with his exhibition, I Lost Track of The Swarm, at South London Gallery (18th March – 22nd May 2016), where he is the current Graduate in Residence. In both exhibitions Maheke incorporates various tones of purple; in Green Ray Turns Out to be Mauve he alludes to his failed attempt to glimpse the phenomenon of the green ray at Réunion Island last year, as the sky was obscured by troubling clouds – but instead he saw it illuminated with an amazing purple hue. His creation of a lavender room for his SLG show is also a reference to The Lavender Menace, a group of lesbian feminists from the 1970s, who led actions in public spaces as a way to call out both identity policing and their exclusion.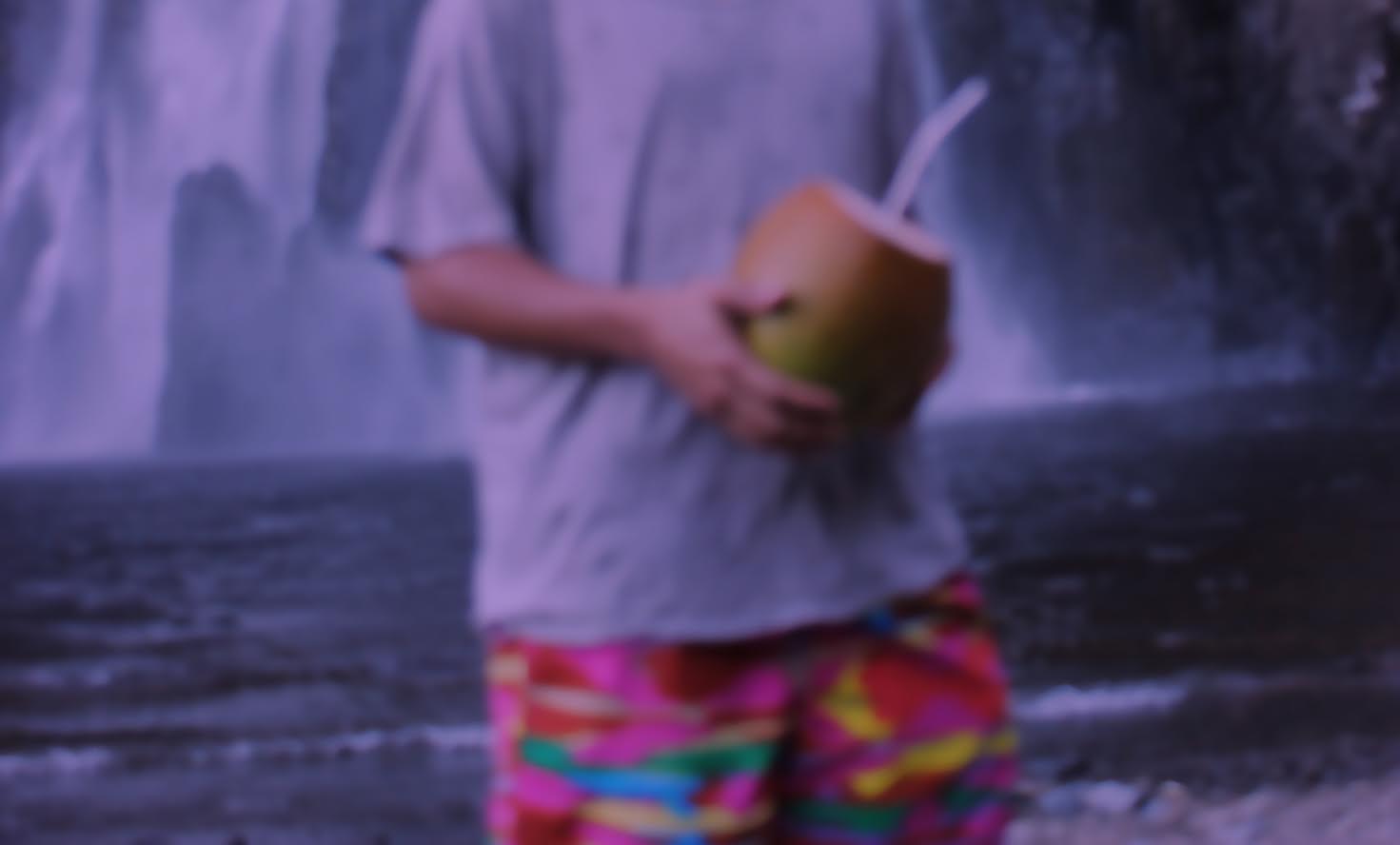 Paul Maheke's Mezzanine exhibition at Green Ray is a visual poem in the form of a sculptural work. It will seep out onto the ceiling so that visitors can either immerse themselves by entering into the upper level of the gallery via ladder or simply by looking up. The work draws on personal investigations into sexual desire and the laws of attraction. It navigates a metaphoric space where affects are politicised and understood through a tortuous web of social constructs. Maheke uses the opportunity to show this new set of work, specially produced for Green Ray's Mezzanine programme, to expand on his show at SLG, that explores the intricate layers of subjectivity-making, by looking at poetic forms to convey political agency.
Through Maheke's recent work crucial questions underpinning his research are raised such as: Can desire be egalitarian in the way it is thought of in the West? Is desire even meant to be egalitarian in the age of dating apps? This discussion is further explored throughout several events he is part of in Spring 2016 – a screening, an artist talk and performance at SLG and Guest Projects, and an open forum at ICA.(see below)
GREEN RAY TURNS OUT TO BE MAUVE: WE'RE HUMAN BEINGS AFTER ALL AND THEREFORE WE'RE MESSY
Enclave, 50 Resolution Way Deptford SE8 4NT www.enclaveprojects.com/portfolio/green-ray/
24th March – 22nd April, 2016/ OPEN: Fridays & Saturdays or by appointment
About The Artist
Paul Maheke recently completed a programme of study at Open School East, after receiving an MA in Art Practice at l'École Nationale Supérieure d'Arts de Paris-Cergy (FR) in 2011. Over the past year he has pursued his research initiating a series of public conversations, at Open School East, entitled Beyond Beyoncé: Use It Like a Bumper!, which considered Hip-Hop cultures through the lens of Queer and Black Feminist theory. Other selected group exhibitions and residencies include; Ruptures, ABI, cur. Katy Orkisz, London (2015); artist-in-residence at Darling Foundry, Montreal, Canada (2015); ODRADEK, Les Instants Chavirés, cur. Mikaela Assolent + Flora Katz, Montreuil, France (2015); Re-former le monde visible, Le 116, cur. Marlène Rigler, Montreuil, France (2014); 59th Salon de Montrouge, Montrouge, France (2014); artist-in-residence at CIAP – Île de Vassivière, France (2014); Videoakt, French Institute, Barcelona, Spain (2013); VIVA!, at Centre CLARK, Montreal, Canada (2012); «Pratiques Furtives» : fragments d'une enquête, cur. Patrice Loubier, Skol art center, Montreal, Canada (2012).
Decolonial Love, Eventually: Could My Desire Have Enacted All the -isms I Call Out
OPEN FORUM: Thursday 31st March, 18.00-20.00
ICA Studio / The Mall / London / SW1Y 5AH
RSVP and receive background material: rupturesinart@gmail.com
In addition to his current show at the South London gallery I Lost Track of the Swarm, Paul Maheke expands his exploration of desire, pondering if it may be possible for an egalitarian desire to exist the so-called neoliberal condition. At his mezzanine show at Green Ray (as well as reimagining the name of the space through the title of the show) he will extend his installation at SLG to recontexualise the white gallery walls at Green Ray. These ideas will be expanded on through a workshop discussion at the ICA Studio on 31st March and background material will be sent out to those who register their attendance.
Categories
Tags