The first UK exhibition presenting the work of Hungarian artist György Kovásznai will open today Thursday 3rd March 2016 at Somerset House. Organised by the Kovásznai Research Center Foundation, the exhibition will introduce the artist's oeuvre as a painter and filmmaker to a UK audience, for the first time. Featuring paintings, drawings and short animated films, "Kovásznai – A Cold War Artist. Animation. Painting. Freedom." will be the first major presentation of the artist's work outside Hungary.
György Kovásznai (1934-1983) was one of the most original artists of the Cold War period. A painter, experimental filmmaker and writer, Kovásznai created colourful canvases and short animated films, which he viewed as a means to 'animate' the images he created through his paintings.

György Kovásznai, Still from the movie Joy Of Light, 1965. Courtesy of Kovásznai Research Foundation
Over 235 works will be exhibited – including some of the artist's most important video pieces – which will be shown on a loop and on different screens throughout the exhibition. The exhibition space itself will be designed to feel as if the viewer is walking within one of the artist's animated films, and many of the works will be accompanied by photographs taken during the Cold War period, offering an insight into the socio-political context in which the works were created. Kovásznai's biography offers a compelling insight into artistic creation and social dynamics during the Cold War period. Throughout the 1960s, when Kovásznai was editing the significant Hungarian arts and literary journal Nagyvilág, he organised semi-illegal gatherings of up to 200 avant-garde artists every week at a friend's house. It only emerged some decades later that this friend had been passing on information about Kovásznai to the counterintelligence agency throughout the years.
During his lifetime, Kovásznai never had an opportunity to exhibit his work, consequently his oeuvre had been little known until recently, after efforts made by Kovásznai advocates and the artist's daughter, who together formed the Kovásznai Research Center Foundation. The Somerset House exhibition follows an acclaimed retrospective which took over an entire wing of the Hungarian National Gallery in 2010. The Foundation subsequently hosted a joint exhibition of William Kentridge and Kovásznai's work at the Museum of Fine Arts in Budapest in 2011, which featured installation-based animated films by both artists.
Speaking about Kovásznai's work, Kentridge said: ''Seeing… Kovásznai… what felt very familiar was kind of the impetus and the essentialness and the emergency of making. That it felt like an emergency. That work has to be made non-stop. …Whether it is in charcoal, or thick oil paint, whether it is a view of Johanessburg or Budapest, that seems secondary to the pressure for, the pressure for making, and the excess of making… seeing his work my immediate thought was I want to be back in the studio making something. There was kind of a collegial fury of creation which is a main thing that I kind of got, got from him."
Kovásznai A Cold War Artist. Animation. Painting. Freedom.
3rd – 5th March 2016 Somerset House West Wing London WC2R 1LA Opening Hours: Daily 10.00-18.00
kovasznai.org
Free Exhibition Guided Tours
Friday 4th March 10.00 with Paul Wells, Professor and Director of the Animation Academy, Loughborough University.
Saturday 5th March 10.00 with Sarah Wilson, Professor of Modern and Contemporary Art The Courtauld Institute of Art.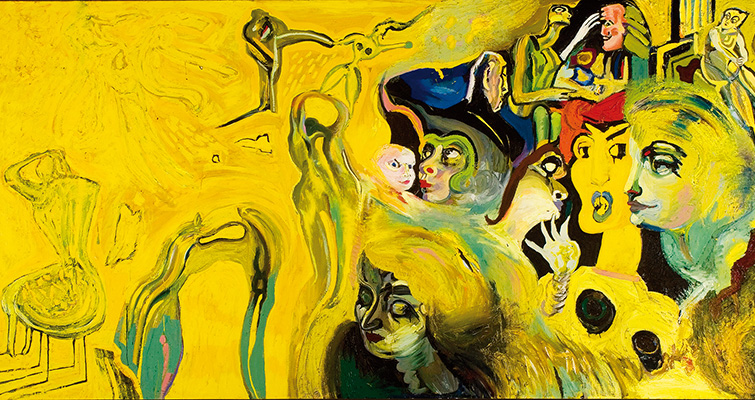 About The Artist
György Kovásznai (1934-1983) was born on 15 May 1934 in Budapest, Hungary.
In 1944 Kovásznai's foster father was called upon for military service in Austria with his family. During their time away from Budapest the family lost their home, and all of their personal belongings. Returning to Budapest at the end of 1944, the family had to start life all over again, and lived in poverty from that time onwards.
Kovásznai attended the Budapest College of the Fine Arts, but gave up his studies in 1954, at the age of 20. He then worked as a miner for a year and a half, in an effort to get some first-hand experience with the working class. However, the artist soon became completely disillusioned, as he found that "people hate struggle, great slogans and politics. They pay attention to them only as long as they suffer from them…"
In 1956 Kovásznai was readmitted to Budapest College of the Fine Arts, but was dismissed the following year before receiving his diploma.
From 1958 to 1974 he worked as the editor and columnist of Nagyvilág, a significant Hungarian arts and literary journal, in which he published some of his criticism and paintings. He came to know writers and literature critics during his time at the journal. Around the same time, in the late 1950's, Kovásznai started holding semi-illegal artistic gatherings at a friend's house. An avant-garde artist community of 50-200 people came together several times a week, until the end of the 1960's. It emerged decades later that his best friend, who hosted these sessions, had been passing on information about Kovásznai to the counterintelligence agency throughout the years.
In 1961 Kovásznai started to work at the Pannonia Film Studio, Hungary's main animation film studio, initially as a playwright, but soon moving on to make his own films. He continued to work at the studio until his death in 1983. Over the course of his career at the studio he made 26 short films, a mini TV-series and a musical-animation feature film. However, his animations were only shown for brief periods of time in cinemas, or not at all. Kovásznai never had an opportunity to exhibit his paintings and drawings in his lifetime. Politically, Kovásznai was attached to Marxism, yet had an ongoing conflict with the ruling regime. A significant part of his oeuvre reflects on the spring and summer of 1968, and the events in Paris and Prague. His take on the Prague Spring, which culminated in the Soviet invasion, was expressed in his short film "Memory of the summer of '74".In this movie a cockroach-like creature and a black, windowless train form a sharp contrast with a world of summer joy, full of pop music and pretty girls.
Kovásznai was diagnosed with a serious form of leukaemia in 1980, but refused to be treated and ran away from the hospital, so that he could create his final monumental series of paintings and write his great summarizing essay on art theory. He died in 1983.
About Mark Westall