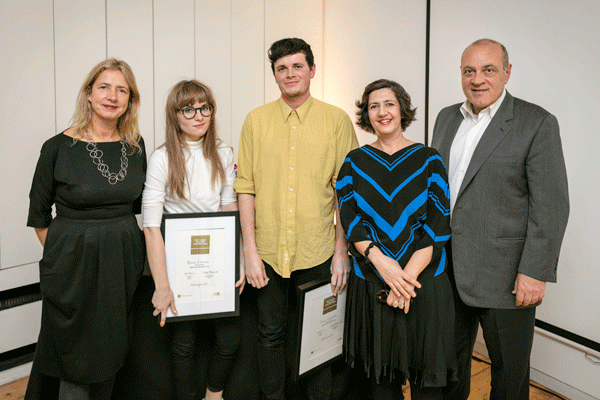 Whitechapel Gallery Director Iwona Blazwick; winning curators Rebecca Edwards and Joseph Constable; Whitechapel Gallery Curator Nayia Yiakoumaki; and NEON Founder Dimitris Daskalopoulos
Image Courtesy Whitechapel Gallery. Photo: Dan Weill
Whitechapel Gallery have announced Joseph Constable and Rebecca Edwards as the winners of the 2015 NEON Curatorial Award. This is the first year in which two winning curators have been selected.
Curators were invited by the Gallery to devise an exhibition proposal drawing from the D.Daskalopoulos Collection, which includes over 500 artworks by 170 international and Greek artists. The best submissions received the award at a ceremony at Whitechapel Gallery yesterday evening, Thursday 10 December.
Joseph Constable was selected for his group show proposal The Labours and Rebecca Edwards was selected for her proposal The Ear and the Eye – a two part exhibition presented simultaneously in London and Athens. Joseph Constable is a graduate of the Curating Contemporary Art MA programme at the RCA and Rebecca Edwards is a graduate of London Metropolitan University.
The award was established in 2012 to champion curatorial excellence, and is part of an ongoing partnership between Whitechapel Gallery and NEON, a non-profit organisation in Athens. Building links between emerging curators in London and across Greece, the prize celebrates the exchange of ideas and innovations in the presentation of contemporary art.
About Mark Westall