Describing themselves as Q from James Bond (when he's on holiday), Harvey + John exists to invent the world's friendliest products. Designers Harvey + John have created an interactive installation which lets floating orbs dance in mid-air.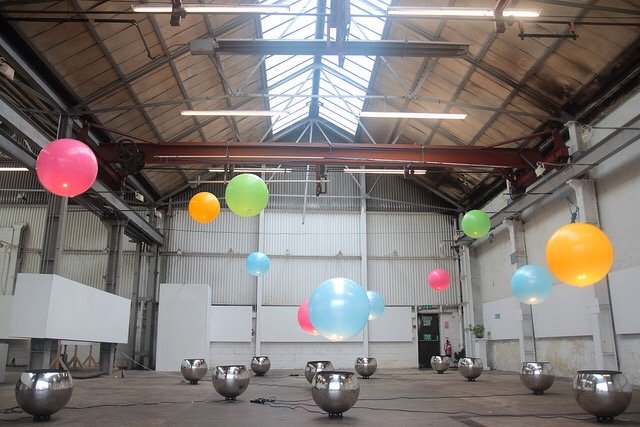 'Thought Bubble' is an interactive installation which invites you to play with giant spheres that levitate in midair. The idea of making a real life Thought Bubble developed into floating whiteboards, billboards and atmospheric spheres.
Harvey & John has developed a variety of installations that incorporate the Bernoulli Principle which allows spheres to float on columns of high flow, low pressure air. This latest exploration the 'Thought Bubble' is the largest in scale to date, granting a new visual and interactive experience. It initially came to life as a playful reinvention of the whiteboard; one which encourages and inspires new ideas has since taken on a surprising number of functions, from an atmospheric, immersive installation to that of a levitating billboard.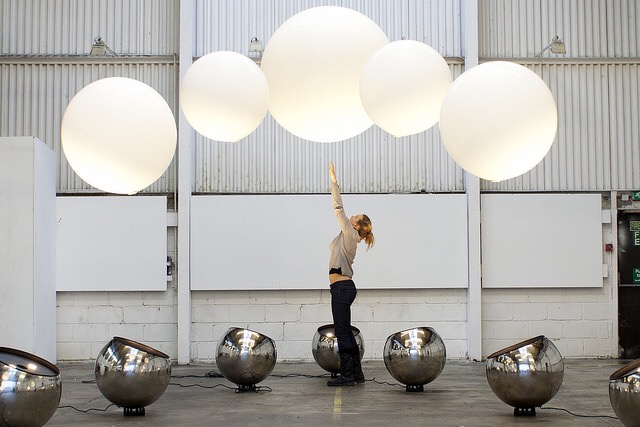 "We try to inject the feel of something that lives into everything we make, we imagine Thought Bubbles to have the personality of an energetic dog! Eager for attention and boundlessly happy in every situation"
The "Thought Bubble" can be controlled by an app designed by the studio. There are several functions available depending on the usage of it. From static hovering up to building floating shapes like an arch, the airstreams give you the possibility to be creative and come up with how you want to place the orbs in your surrounding. Each 'Thought Bubble' base is made from a polished stainless steel sphere, housing wirelessly controllable large air generators and lighting. They float orbs around 70cm in diameter up to 5m high on powerful jets of air. The base can be angled up to 45o and the sphere will stay in the airstream and defy gravity.
Thought Bubble can be hired for events & stage performances or purchased as a levitating whiteboard. The studio hopes Thought Bubble will work as calling card to potential collaborators to take the concept to the next level.
About
Founded in 2011, Harvey & John is the partnership of life-long friends Richard Harvey and Keivor John. The Brighton based studio's aim is not to create something that offers more beauty or function; it is to create something that offers more feeling.
The studio sits at the intersection between invention, design, art and engineering, with a focus on how imaginative design can inspire people in their everyday lives.
About Mark Westall