As part of their current exhibition, LUDIC + VEIL, Herrick Gallery are presenting Iain Nicholls in conversation with Phillip Allen. These two friends and fellow artists have been discussing art and life for twenty years, on the 14th they will be talking life and art plus the hot topic of virtual reality and its potential impact on the art world.
It is advised to visit the gallery prior to the talk, to view the exhibition and experience the three-minute interactive virtual reality installation.
The talk will start at 4pm followed by Q&A
Herrick Gallery 93 Piccadilly London W1J 7NQ Saturday 14th November 4pm £10 in advance or £15 on the door Ticket price includes refreshments. Limited number of tickets available so book early to avoid disappointment. book tickets
LUDIC + VEIL exhibition continues until 21st November 2015 Gallery opening times: Tues-Sat 11-6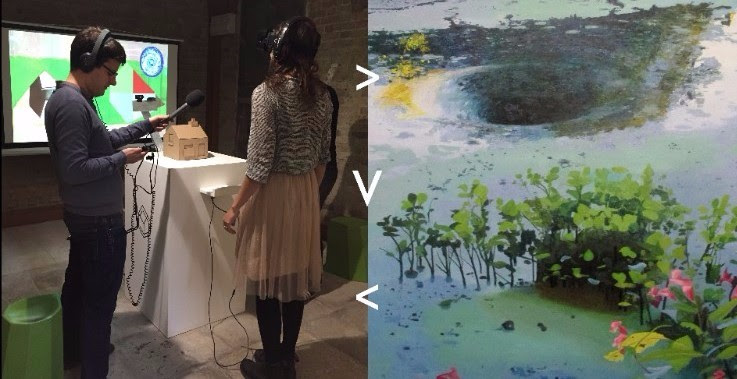 Veil is an innovative art installation that uses virtual reality (VR) technologies to transport visitors into an alternate reality where they can experience art in new and extraordinary ways; in the process subverting the gallery experience. Each installation of Veil is site specific and as such has to be experienced in the context of a gallery or exhibition space. The piece explores the concepts of recursion, alternate realities and space referencing the works of Diego Velazquez, Casper David Fredrick, Hans Holbein and early pioneers of film. The installation centres around a custom plinth on which sits a humble model house made of cardboard. A virtual reality headset is attached to the plinth that the visitor is invited to wear. Whilst wearing the headset they find themselves back in the familiar exhibition space with the plinth and house exactly where they are in the physical world. However, in this reality things are subtly different and the model house begins to change and take on special properties. Through the act of examining the participant can pass between the models interior and exterior. The interiors are worlds in themselves with surreal semi-narrative sequences that the participant can interact with. Whilst the virtual space can only truly be experienced by the participant, other observers in the gallery can engage with them through a set of images and sounds that relate to their journey. Thus Veil intertwines the real and virtual worlds.
Veil was debuted to much acclaim at the Barbican in August.
A truly unique experience that explores the artistic frontiers of virtual reality.
Veil is a colaboration between visual artist Iain Nicholls and creative technologist Tom Szirtes.
About The Artist
Iain Nicholls has 27 years' experience as a fine artist living and working in Barnsley. He has a first class degree in fine art (painting) from Chelsea College of Art and Design and an MA in painting from the Royal College of Art. In the last seven years Iain has received two Arts Council grants to realise 'Riverdearn from Birds Edge to Darfield' and 'Cathill'. These awards enabled Iain to form a solid relationship with The Civic, Barnsley, and he went on to become Artist in Residence as part of The Civic Artist Residency Programme in 2013.
Since then Iain has exhibited three solo shows in Dublin, Barnsley and London. Most recently Iain won first prize at The Royal Watercolour Society 'Open Show 2015'. He was then elected into the Royal Watercolour Society as an Associate (ARWS). Prior to working as a professional artist Iain spent ten years designing computer games and creating graphics for games companies (SEGA) in England and California.
About The Creative Technologist
Tom Szirtes is the founder of Mbryonic a creative technology start-up that specialises in the use of interactive digital media. Mbryonic create beautiful apps, interactive installations and virtual reality experiences that engage and inspire audiences. Tom started programming at the age of ten, and after graduating in computer science went on to work in research and development departments for likes of Sega, Square Enix and Orange creating innovative products and technologies. Also a successful musician, producer and international touring DJ Tom straddles both the creative and technology worlds. Tom is currently a resident at Fish Island Labs a platform run by the Barbican and Trampery a unique new centre to kickstart the careers of a new generation of emerging talent whose work spans technology and the arts.
Categories
Tags