There are lots of art events happening in London; talks, workshops, tours, discussions and many many more! To help you with the choice Jenny Judova from Art Map London has picked the events to visit.
Tuesday 3rd November
On November 3rd at 7:00 PM arebyte hosts Autonomous Labour a talk in relation to the on-going exhibition Autonomous Times created by artist Nelmarie du Preez. Nelmarie will present her work and ideas along with Ben Dalton, RCA Researcher and Principal Lecturer and Patrick Tresset an artist famous for his work with robotics. Writer and curator Bronac Ferran will introduce and chair the event; each presentation will focus on Autonomous Labour: asking how do technology and computational systems affect how we make artworks now and into the future? Can we still distinguish between how a robot works and how 'we' work? What are the social and ethical implications? The talk is free and there will be a chance for discussion and questions.
Please book your tickets here.
6:30 PM – 8:30 PM
arebyte, Unit 4, 49 White Post Lane, Queens Yard, London, E9 5EN
Wednesday 4th November
Join Cornelia Parker and Jonathan Watkins, director of the Ikon Gallery, Birmingham, as they reflect on Cornelia's career to date including her newest body of work, currently on show at the Alan Cristea Gallery until 14 November 2015.
6:00 PM – 7:30 PM
Alan Cristea Gallery, 34 Cork STreet, , London, W1S 3NU
Thursday 5th November
Curated by Eye-Eye (Flore Nové-Josserand and Thorbjørn Andersen)
Artists: Claudia Djabbari, Florian Meisenberg, Grégoire Motte, Laurence Payot, Philip Ewe, Luke McCreadie and Bruce McLean.
The casual gesture betrays a serendipitous state of mind, an offhand attitude. Provocative in its disregard for conventions and formalities, the casual gesture, like throwing a coat over a chair, takes a chance, cuts loose and asserts its freedom in the face of no-nonsense living. "Nothing matters," it says, "ha ha!"
6:00 PM – 8:30 PM
Standpoint Gallery, 45 Coronet Street, , London, N1 6HD
The exhibition, All The Revolving Cells, considers how to create a wider set of relations where nature is understood as a historical and material conditioning of social life.In his book, A Thousand Years of Non-linear History, Manuel De Landa focuses on the relationship between natural sciences and sociology. As opposed to ideas of linear evolution, he re-imagines history as an arena where society and nature overlap through the exchange of matter and energy flows.For instance, in the same way a given chemical compound (i.e. water) may exist in several distinct states (solid, liquid, or gas) and may move from one stable state to another at critical points as a result of the intensity of temperature (phase transitions); a human society may also be seen as a material capable of undergoing these changes of states as it reaches critical mass in terms of density of settlement, amount of energy consumed, or even intensity of interaction.
7:00 PM – 9:00 PM
Tenderpixel, 8 Cecil Court London WC2N 4HE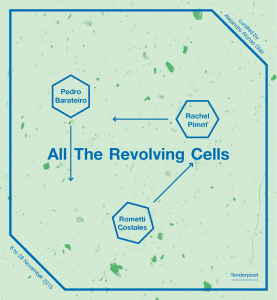 Saturday 7th November
Paul Carter participates in an artist's talk relating to his exhibition 'Paul Carter:Hotel Swallows the Workers' at Lubomirov/Angus-Hughes.
2:30 PM – 5:00 PM
Lubomirov/Angus-Hughes, 26 Lower Clapton Rd, , London, E5 0PD
About Art Map London