1. Can you tell us about your work and what are the main ideas you try and express
My work doesn't really express ideas directly, instead it seeks to meet people in the middle. For that reason I let it wander off on a long leash, as it were. There is this desire to project something about latent potential and self-image, perhaps about grandeur and insecurity. A line from a recent Keller Easterling essay seems to sum it up, describing 'a present which is yet to come'. The work itself is quite simple in essence. Normally it consists of 3D objects, predominantly human bodies, that are animated to float in illusion-giving backgrounds. They are hyper real and at once trashy and unstable. They are hollow and of no substance, but derive from real life performances (or poses). I use found objects to transport the bodies into the virtual. It's a way of reifying very ephemeral substances into concrete digital images. It is a strong visual effect almost always accompanied by live sound recording and collected sounds, which are in opposition to the heightened irreality of the animations.
2. How do you decide what your next artwork/project will be and how do you know when it is finished?
Unfortunately, deciding isn't one of my strong points. Working hard is, though. As I search and pick away, things crop up, and it can be the silliest things that instigate stuff. As I say, I'm not very decisive so I generally leave it up to unconscious-curiosity to lead me onto the next thing. When do I know I'm finished … Well, when I get fed up with myself obsessing.
3. How has it been working with the zabludowicz collection ?
They've been very supportive and have a great team there. They seem to have built up a good programme for emerging artists and this very same programme has allowed me to try out more ephemeral modes of working. This can be seen in the HEADBONE exhibition, which is built specifically for the space. Also all the recording of the soundtrack was done in the Collection space (previously a Methodist church) and very well supported technically. So, based on my personal experience, it has been great.
4. Can you tell us about your exhibition at zabludowicz collection.
Yeah, it's called HEADBONE a title taken from the song 'Dry Bones' used in its soundtrack. It is an ambitious project for the size of the space, you could call it an installation. The space is split into three spaces. There are slight obstacles to overcome: the entrance is part-blocked and the opening into the last chamber is a low hole. The intention is to impede a simple entrance so that the spectator becomes aware of him or herself. It's built with aluminium-covered boards, used in domestic construction. It all looks a little like a Sci-Fi TV set. One thing that is totally new to this project are the sculptures that accompany the video. They bear reference to the themes in the work and one, made from a zimmer frame, is set on a rotating platform. In the final chamber, where the video is projected, you are faced with a quite mesmerising illusion that I will not disclose totally here.
5. In your work you seem to bring the digital world into the 'real' world. Do you see them as apart or are they merging?
Physically all is connected. But on an aesthetic level, no, not fully merging. At the present we can't perform such illusions that would connect the virtual and the real seamlessly. Also it would have to be done communally to be objective. But there is definitely an intention in the air, in many contemporary disciplines, and in the form of virtual reality, augmented reality and even direct access to the brain involving quantum computing. I myself don't dispute that we live in a real world, we do! And we should be responsible in that knowledge. I am therefore not a 'I-think-therefore-I-am' person; that was an irresponsible philosophical stance to say the least. True experience is important and we should make time for it. We are coming to a point in time where we are in contentious waters regarding our perception of the self and the other. Our psychological perceptions without doubt are having to evolve at break neck speed. For good or bad it is definitely an interesting time for those who mirror or observe such changes.
It has many similitudes to the late 19th century and specifically the period when Étienne-Jules Marey and Eadweard Muybridge were experimenting with that new technology of the time – photography. What happened is that Marey´s take on it became obsolete, as it was more in keeping with ideas in art such as futurism and cubism – the expression of movement. Muybridge on the other hand produced a technique of frames and it was this that seemed to work for the technologies of the time, consequently producing a moving image illusion (perhaps an action that brought the virtual closer to the real). My long-winded point is that neither of these guys were right or wrong, just one technique was able to communicate better to the technologies of the time. When technology and art meet to bring us the illusion of the real, it is generally the most convenient relationships that survive. So in response to the question is the digital world merging with the real, I would say yes, but on the real worlds terms, as always.
6. What plans do you have to further your career?
Work hard.
Zabludowicz Collection Invites: Charles Richardson 8th October–8th November
Charles Richardson (b.1979, Leek, UK) completed an MA in Fine Art at Slade School of Art in 2014. He was the winner of the 2014 Saatchi New Sensations prize for his video installation Rehearsal. Richardson had a solo exhibition at Cabin Gallery, London in January 2015, and was recently included in Daata Editions, LOOP, Barcelona, Spain and NADA, New York, US, 2015; Bloomberg New Contemporaries, World Museum, Liverpool and ICA, London, 2014–15; and Film at Art Basel in Miami Beach, Miami, US, 2014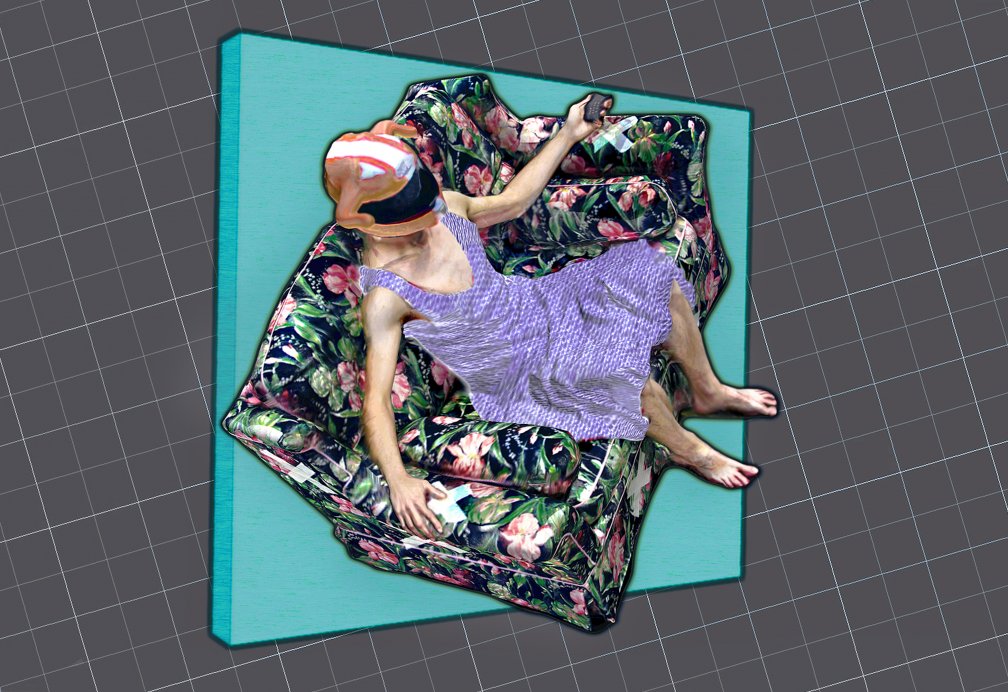 Categories
Tags