If you are having withdrawal symptoms because all of London's comedians have deserted the capital and gone to the Edinburgh Fringe this August, well, I have just the perfect remedy. Go and see Running from Greenbaum, a smile-raising and revealing exhibition of portraits of dozens of Britain's best-loved funny men and women by photographer Andy Hollingworth.
This is the first exhibition that Snap Galleries has ever held that doesn't have a rock music theme. Yep, comedy is the new rock'n'roll.
And at the packed private view, two of British comedy's finest gave me their verdicts. Monty Python's Terry Jones, who sat for Hollingworth at home in Highgate this May, told me:
"He is an excellent photographer who captures the vitality of the people he photographs"
An old friend of Hollingworth's, stand up comedian and actor, Alexei Sayle said,
"He is a man dedicated to his craft, knows inside out how to get at the essence of a comic."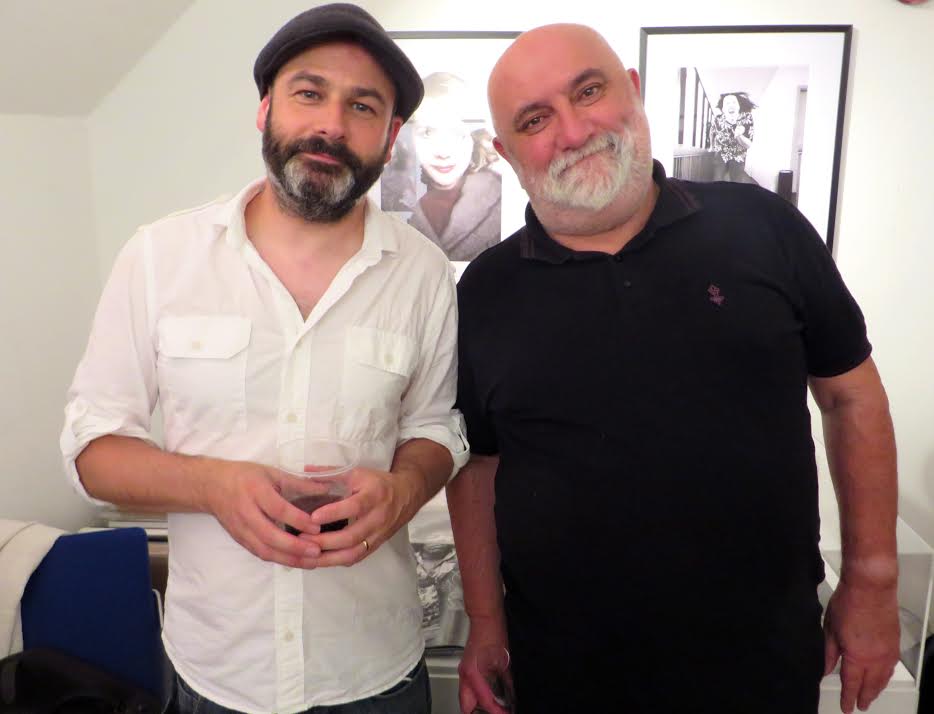 In Snap, down Piccadilly Arcade in London's West End, I meet Andy Hollingworth, in a New Order T-shirt and Specials tracksuit top, who shows me round the exhibition one fine afternoon between hanging the work and the evening's private view.
Chester-based Hollingworth has been photographing comedians for almost two decades. He has seen many progress from their earliest gigs to sell-out arena tours, including Sarah Millican and Johnny Vegas.
This all started, he tells me, because of his grandfather who was "a miserable, stone-faced character". The only time young Andy, born and brought up in Huddersfield, heard his grandfather laugh out loud was when he saw Charlie Williams, the first black comedian to find fame on TV presenting The Golden a Shot in the early Seventies – because he found it hilarious to hear his catchphrase, "me old flower" come out of the mouth of a black man in a broad Yorkshire accent.
When he was in his twenties, Hollingworth, who started taking photographs when he was 14, tracked Williams down to his home in Barnsley and took photographs as a souvenir of their meeting. These were to become the first in the self-taught photographer's portfolio of comedians' portraits that now runs into hundreds. His work is in leading public collections such as the National Portrait Gallery, which has his black and white photographs of Alexei Sayle as his alter ego Bobby Chariot and veteran comic actress Beryl Reid taken in 1996, the year of her death.
This new show features striking images from Andy's considerable archive along with a set of portraits never displayed before, and in a new departure, pictures of iconic items from the world of comedy, Eric Morecambe's glasses, Harpo Marx's coat and Chico Marx's Borsalino hat.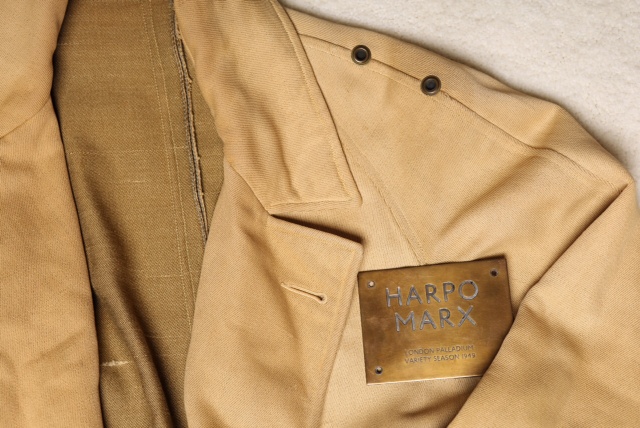 Lifelong Marx Brothers fan Andy managed to persuade Harpo Marx's son in Palm Springs to let him photograph his father's famous trench coat from his private collection of memorabilia. And the show's title, Running from Greenbaum is a reference to the young Marx Brothers' terror of the mortgage holder of their family home, a man named Greenbaum.
As we tour the two floors of the exhibition, it is fascinating to hear the background to some of his favourite shots. In the middle of the first room is a powerful, black and white, wild-eyed close up of the late Rik Mayall, taken four years before his untimely death.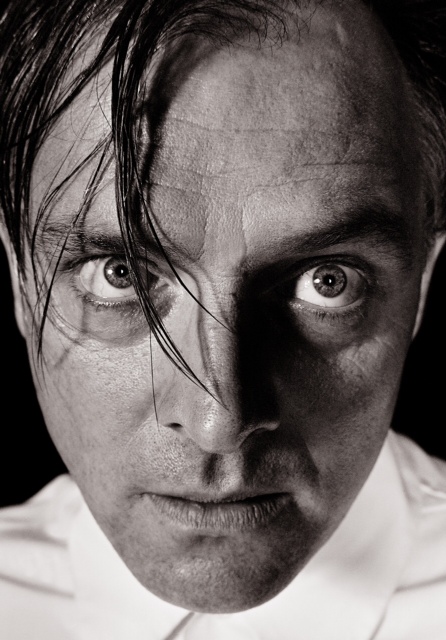 "I only met him once – and I feel genuinely privileged to have done so. When he died suddenly last year, he had so much more to do. Rik was one of the first comedians I decided I was going to photograph back in 1995, but I didn't feel I was ready for years. In October 2010 I got my opportunity when he was on a theatre tour."
The photograph came at the end of a shoot on stage in Stoke-on-Trent in which Mayall had put three oranges down his lucky white underpants and had goose stepped up and down shouting, "Shoot this! Shoot this!"
"The pictures that we made were hilarious. But as he was panting from his crazy walk, I asked him to gaze straight into the camera and was able to grab two frames. His hair swept across his face, the pores of his skin wide open and his eyes staring right through me – click – and here it is."
We move on and Andy pauses in front of a 2009 studio portrait of Sarah Millican, recreating the US World War II propaganda poster of 'Rosie the Riveter' for the poster for her Typical Woman Edinburgh Fringe show.
"Of all the comedians I have worked with during the last ten years I am probably linked with Sarah's image more than any other,"
he says.
"We first met in 2007 and although her career has gone through the roof, celebrity really hasn't changed her. She is still one of the most grounded people I know and that is rare in show business. I believe Sarah's career represents a genuine shift in the way female comedians are perceived and quashes the groundless view that women aren't funny. She's a brilliant comedian."
Two stand out pieces in the show, nine images of Rowan Atkinson contact sheet-style and a full portrait, are the result of what must surely be Hollingworth's most productive shoots ever, in the living room of Q. I. producer, John Lloyd in Oxford for the comedy quiz show's annual in 2009.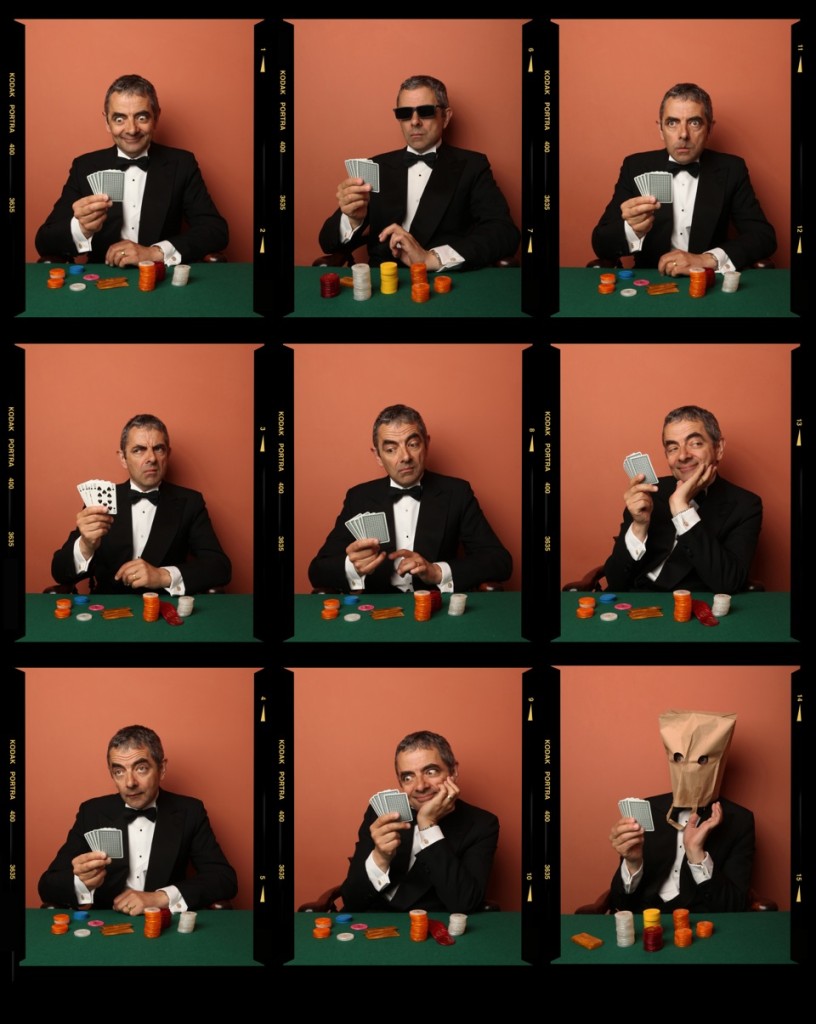 "The shoot was based around the theme of 'Poker Face' and it was extraordinary,"
Hollingworth recalls.
"Rowan has such a clear idea in his mind about what will work visually. He bent and twisted his face in ways that only he can while the flash head fired at him almost non-stop for nearly three hours. Out of nearly 700 pictures taken that day, there were only about 12 that couldn't be used. That man just knows what's funny."
From the gallery's walls Eric Idle, Katherine Tate, Lee Evans, Eddie Izzard, Ruth Jones and James Corden, the cast of The Office and so many other heroes of comedy look out at me.
What, I wonder, among so many portraits capturing their subject's personalities in their faces, are the photographs of inanimate Harpo's coat, Chico's hat and Eric's specs about?
"My work has taken a left turn,"
Hollingworth says.
"I'm looking at artefacts that have shaped the world of comedy."
This latest project has him peeping at Sarah Millican's notebooks, a Monty Python script and who knows where his creative eyes will turn next? I for one, can't wait to see.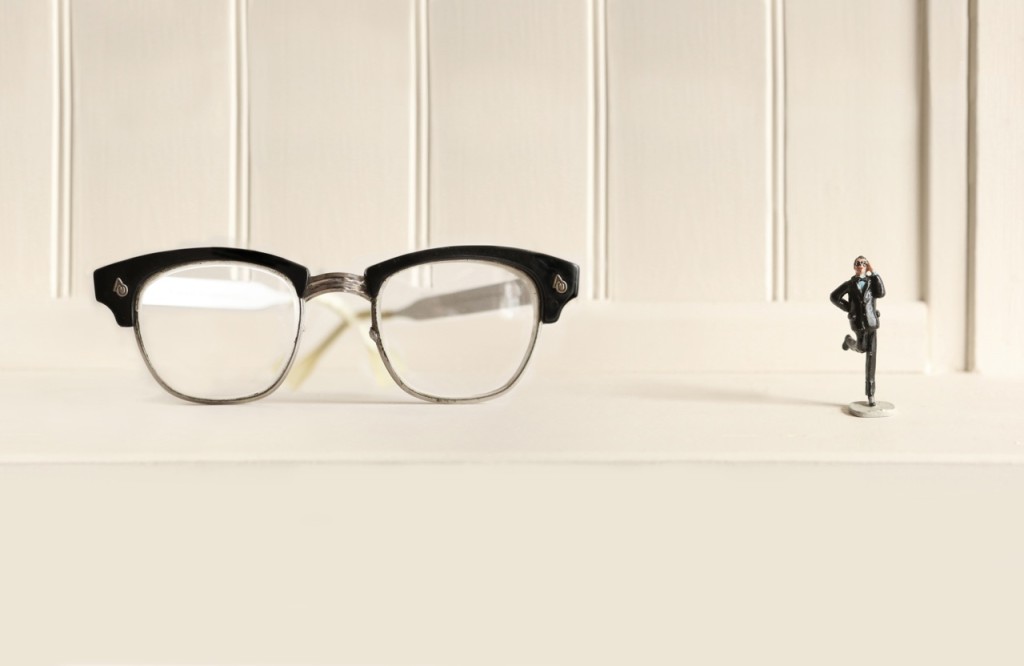 Postscript
Two days after the private view Andy Hollingsworth and actor Jack Lane made a pilgrimage to the statue of Marshal Foch opposite Victoria Station. It has a special significance for both, that none of the passersby could have been aware of. Beneath this statue 14-year-old Norman Wisdom slept rough in the 1920s. Lane has co-written and stars in a one-man play, Wisdom of a Fool opening this autumn and had brought with him one of Norman Wisdom's famously ill-fitting suits. At 11am, together they placed the suit at the foot of the statue for a few minutes while Hollingworth photographed it. It was a poignant moment that brought tears to their eyes.I will leave the final words to Jack Lane:
"Andy is a wonderful guy with an incredible eye for a clown's soul."
Running from Greenbaum: Andy Hollingworth Portraits is at Snap Galleries, 12 Piccadilly Arcade, London SW1Y 6NH until September 19, 2015 (closed Sunday and Monday).
www.snapgalleries.com
www.andyhollingworth.com
Categories
Tags