Applications now open for The Brighton Mini Maker Faire 2015.
This year's Brighton Mini Maker Faire, which is part of the Brighton Digital Festival, is returning for its fifth consecutive year. The celebration of arts, crafts, science and technology has appealed to people from all walks of life and ages, particularly families with children. Visitors spend on average 4 hours at the event, soaking up the magic and getting hands­on.
Last year, more than 3000 people went to learn something new, and be inspired by over 200 mind­boggling Maker projects. Highlights included playing the giant spherical Pac­Man game, felt­making, knitting, robot wars, the explosive science lab, toy­hacking, designing a city in Minecraft, and smartphone­controlled 3D­printed cars.
Some makers get involved to share their passion for traditional craft or their latest invention, others see it as a chance to test the waters with new products and have launched ventures such as 3Dify, MakerClub, Young Inventors' Centre, Stone Turners and the Crafty Robot.
Andrew Sleigh, co­founder of the Brighton Mini Maker Faire, said:
"I never cease to be amazed by the ambition and passion of our makers. Each year there's something bolder and more creative than the last."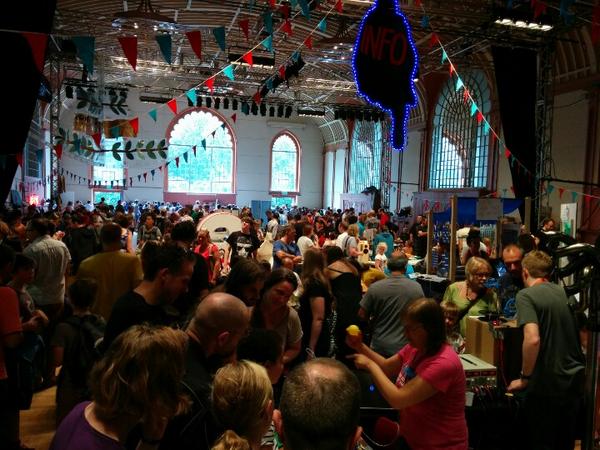 Key dates:
Deadline for projects and workshops submissions: Monday 8th June 2015
Brighton Mini Maker Faire: Saturday 5th September 2015
Applicants are asked to describe the nature of their project or workshop and how they would like to exhibit or share it with visitors here: LINK
All applicants will be contacted in July.
If you don't want to make something or do a workshop you can still take part as a volunteer info here: www.makerfairebrighton.com/volunteer
More About Maker Faire
Maker Faire is the Greatest Show (and Tell) on Earth—a family-friendly showcase of invention, creativity and resourcefulness, that celebrates the Maker movement. Activities for all ages include arts & crafts, robots and engineering, wood and metalwork, electronics, science, tech, music and more amazing do-it-yourself creations.
Makers range from tech enthusiasts to crafters, educators, tinkerers, hobbyists, engineers, artists, science clubs, students, authors and commercial exhibitors. They are of all ages and backgrounds. The Maker Faire mission is to entertain, inform, connect and inspire.
About Mark Westall