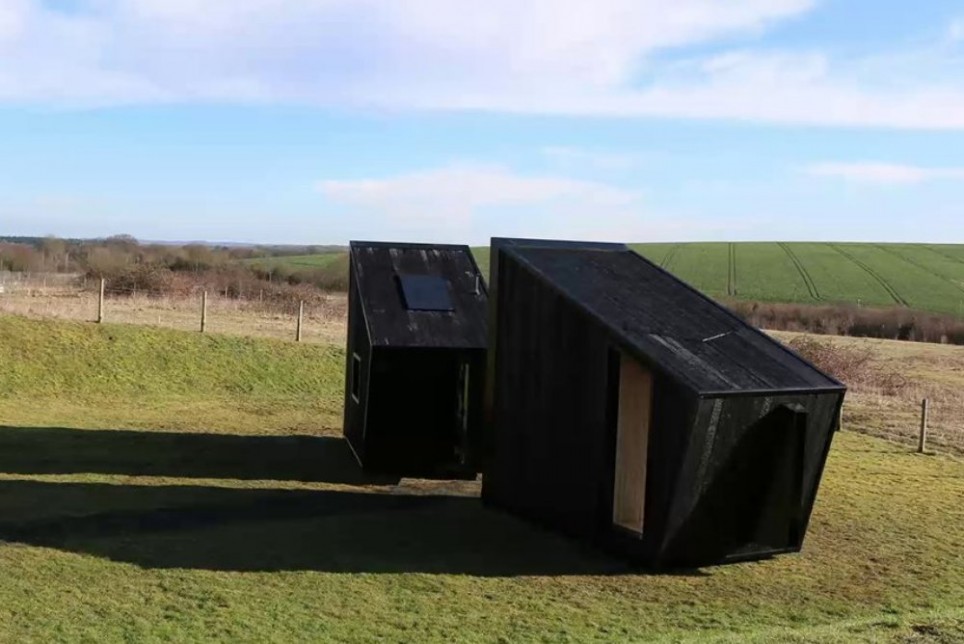 A mobile artist residence has been installed in Winchester, UK, providing inhabitants with both a study and a workshop. The Observatory consists of two structures and is set to visit various stunning locations across southern England over the next two years. Year two is booked up but you can find out more info on Residencies for year two HERE
The team behind the Observatory is comprised of four architectural assistants from FCBStudios in collaboration with Devon-based artist Edward Crumpton. The £50,000 project is being run by the organization SPUD.
The design of the Observatory aims to articulate the collaborative process between architecture and art. The team chose to take
"an aesthetic approach that is informed by the natural beauty of sustainable materials, the unique characteristics of the sites and the tripartite narrative between the resident artist, general public and wider landscape."
The two structures were pre-fabricated off-site and built in eleven weeks. They were designed to fit on a 2x10m flatbed truck to enable transportation from each location every six months. Rotating stainless steel bases are integrated into the structural timber frames and manually powered by a wheel.
The Observatory will spend six months at four picturesque locations. It is currently installed by the Winchester Science Centre on the South Downs and will later travel to Lymington Salt Marshes, South Dorset Ridgeway and the River Tamar (Devon and Cornwall). Twelve artists who cover a wide range of disciplines will be invited to occupy the mobile residence for two months each during the program, offering them a unique environment in which to work.
The Observatory – Stop-Motion Rotating Film from FCBStudios on Vimeo.
About SPUD
A world leader in developing collaborations involving art, architecture and education.
SPUD is committed to promoting quality design and increasing engagement for people of all ages in understanding and influencing the nature and quality of the places where they live.
www.spudgroup.org.uk
About The Artist
Edward Crumpton lives and works in North Devon. Edward studied Fine Art at the University of Lincoln and it was here that he began to develop his practice around landscape, the nature of the journey and how these journeys connect the human with the environment. Edward is particularly interested in how people have interacted historically with the environment, how the landscape is marked by the physical traces of human existence and how the oral tradition evidences their passage.
Edward's work begins with a direct engagement with the landscape usually in the form of a walk. On this walk he creates sketches, often in pen and ink, takes photographs and uses other forms of mark making to record the event. This material then forms the basis for his studio practice that translates his experiences into sculptures, worked canvases and art installations.
Edward Crumpton
About Mark Westall