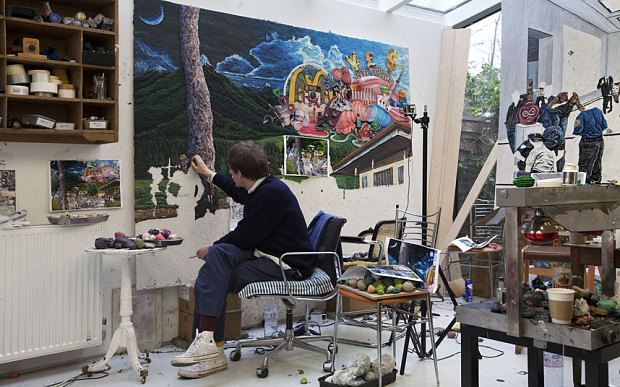 Hudson working in his studio. PHOTO: Gautier Deblonde
'The Contemporary Artist's Progress: the Rise and Fall of Young Sen', offers a "modern moral subject" for the 21st-century: the contemporary artist. The series follows the plight of Young Sen, tracing the protagonists journey from his home in rural China, to his rise to prominence on the international art scene and his eventual demise embroiled in a world of drugs, vice and the darkest corners of global politics.  The intricately detailed panels seamlessly combine allusions to the greats of art history with references to pop-culture and politics. In Hudson's labyrinthine world you find Bosch, Breugel and Rembrandt alongside Nigel Farage, Tommy Hilfiger, Hello Kitty and Instagram. Like Hogarth before him, Hudson satirises and celebrates the absurdities of modern life, bringing together the traditions of the great painters with the visual language of the digital age.
About The Artist
Henry Hudson is a British artist who makes paintings, sculpture, etchings and performance based work. He graduated from Central St. Martins and lives and works in London.
For the past 7 years, Hudson's medium of choice has primarily been plasticine. With this material he creates paintings that have a depth and sculptural quality that cannot be replicated with oil paint. In preparation he softens the plasticine over a hotplate so that it can be manipulated with his fingers. It is then mixed, empastoed thickly on board in several layers of colour, finally sculpted and texturised with biros, paint brushes and other make-shift tools. The art critic Richard Dorment, described Hudson as "an astonishing young painter" and the writer Laura K. Jones said "There's an odd, almost perverse lushness to what inhabits Hudson's canvases that make then look more like oil paintings than oil paintings themselves." According to the artist Marc Quinn, "Hudson aligns himself with an irreverent and eccentric British tradition in art that is really the saviour of it… it's a lineage of non-conformity yet quintessentially Britishness that is unique… Hudson has reinvented this tradition in his visual, trembling, vibrating, sculpted paintings."
Hudson's work thematically covers much ground from exploring social stereotypes, to satirising the madness of contemporary life. His scenes are often theatrical and at first glance appear playful, yet this humour masks a darker picture which reveals a grotesque and depraved version of humanity. Scattered throughout the works are references to political and contemporary affairs, the idols of consumerism and obscene products of salacious desire. Hudson depicts a world that at first glance seems trapped in the depth of hedonistic excess, however closer inspection reveals glimpses of hope and reminders of the fundamentals that keep us grounded to a deeper lever of reality. One such example is Hudson's aesthetic references to the great artists of history, most notably Hogarth, Van Gogh and the School of London painters. Through paying tribute to their legacies Hudson illustrates that at the heart there is always beauty.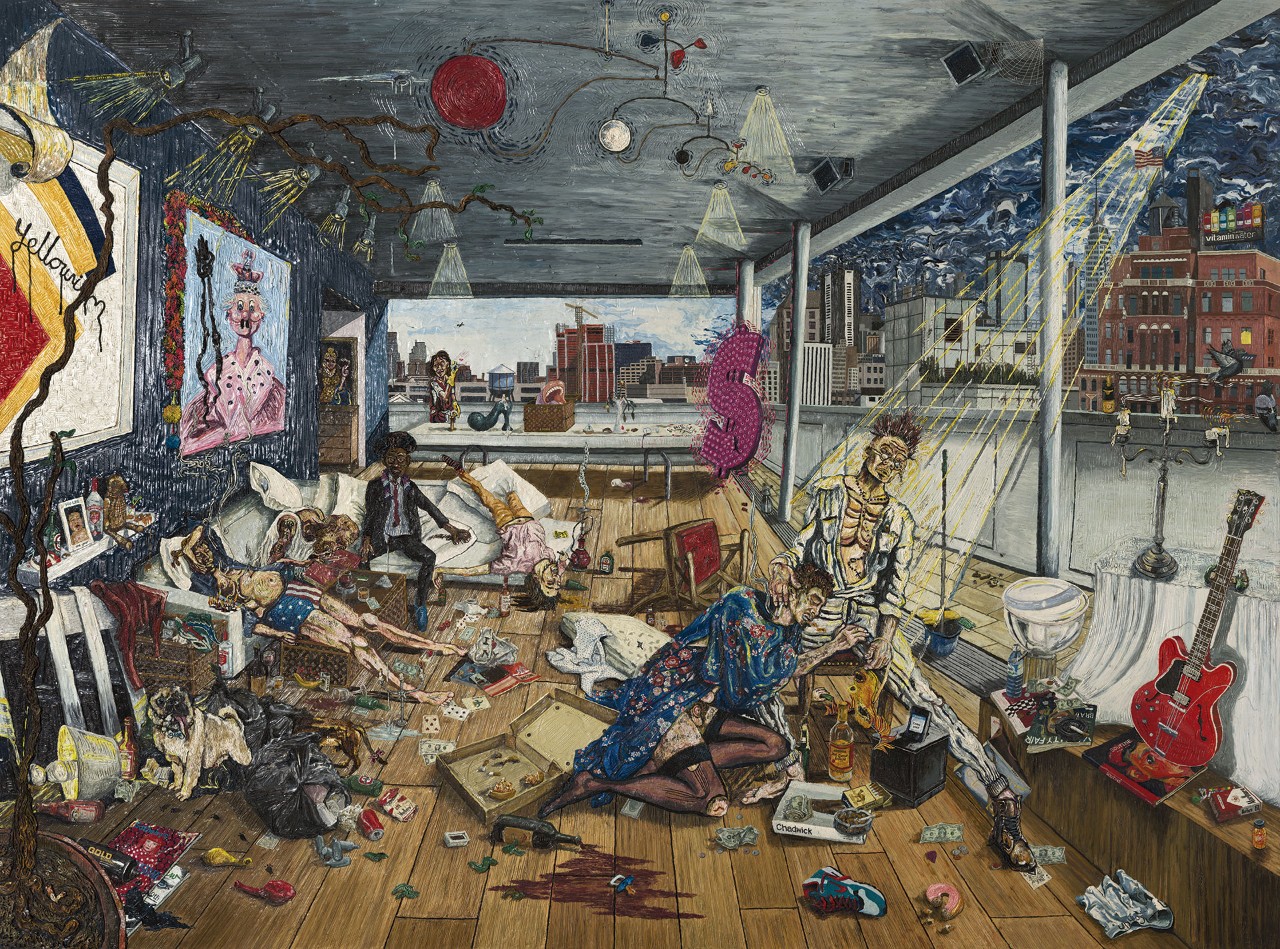 Hudson has exhibited internationally, including New York, Milan, Miami, Beijing Paris and Singapore.
23rd April to 29th May 2015 Henry Hudson "The Contemporary Artist's Progress: the Rise and Fall of Young Sen" S|2 Gallery, 31 St George St www.sothebys.com/S|2
Categories
Tags