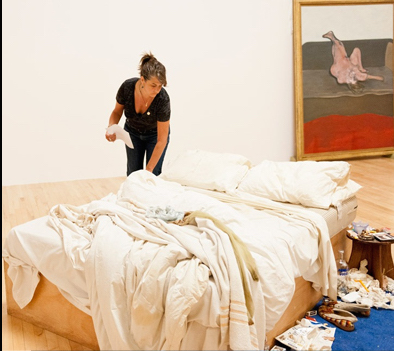 Tracey Emin installing My Bed at Tate BritainPhoto © Ana Escobar
Tracey Emin's My Bed returns to Tate Britain 15 years after it first came to public attention when shown in the 1999 Turner Prize exhibition.
It will be displayed at Tate Britain alongside six of the artist's recent figure drawings, as well as two oil paintings by Francis Bacon selected by Emin. Her installation, as Bacon's paintings do, retains a strong sense of the lived presence and memory traces of past events.
By virtue of bringing the domestic into the public sphere, without directly representing specific events, My Bed is forcefully and compellingly suggestive of personal narratives.
I was at a point in my life when I was pretty low – I hadn't got out of the bed for four days, I hadn't eaten properly for maybe a few weeks and had been drinking like an absolute fish – Couldn't sleep because I wasn't eating and I went out and got absolutely paralytically drunk, came home and didn't get out of bed for four days. I thought 'If I don't drink water soon, I'm going to die' but I was in a weird nihilistic place where I thought if I die it doesn't matter. But because I didn't want to die I got up, and then fell over, and crawled to the kitchen and managed to get some tap water and then kinda crawled back. When I looked at the room I thought 'Ughh!' it was disgusting – it was so vile what I was looking at- it seemed so incredibly ugly. But then when I looked again I saw all of these things out of that room in a different place in my head and I thought – 'That's closed, that's finished' and then once I had transported that death bed and took it somewhere else in my head it became something incredibly beautiful.
Tracey Emin, The South Bank Show, 2001
The display is curated by Elena Crippa and Leyla Fakhr. Lent by The Duerckheim Collection 2015
Opening Tuesday 31st March 2015 at Tate Britain more details:
About Mark Westall