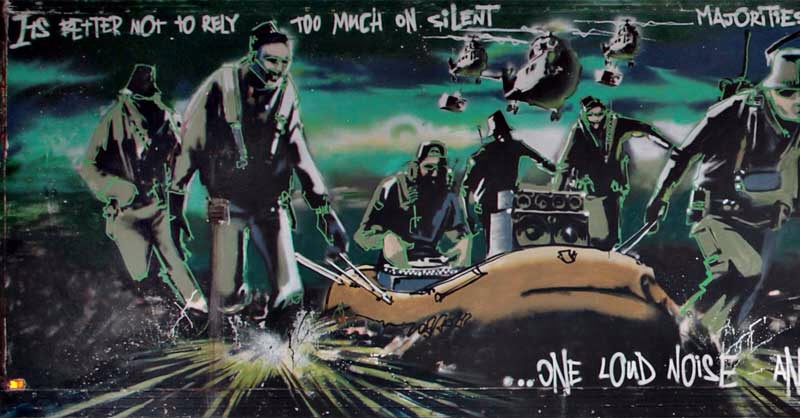 Banksy's largest and original mobile work Silent Majority goes under the hammer at DIGARDAUCTION
An early and unique work by Banksy will go under the hammer in June at DIGARDAUCTION Paris, France.
Silent Majority is an original travellers trailer almost 10 metres long painted by Banksy in 1998 in collaboration with graffiti artist Inkie. This is the first time the work has been presented at auction.
The current owners are long term travellers in England, and allowed Banksy to paint on their home. They testify to the trailer's extraordinary provenance. In a hand written history of the art work, they say:
" Silent Majority was painted in 1998 at Glastonbury Festival as a Graffiti show outside the Dance Tent, done over three days. Banksy asked us if he could use the side of the lorry as a large blank canvas. ….The significance of Silent Majority is that it depicts this era and was painted whilst the free party movement was in its prime..…  Silent Majority depicts the last rave and hiphop scene of the time."
This is one of the oldest works by Banksy and comes with a Certificate of Authenticity from Banksy's team at Pest Control. It's style is definitely Old Skool Graffiti, created free handed with very little use of stencils. It's expected to reach in the region of £300,000 – £400,000.
Mary McCarthy, the UK's leading street art specialist, adds " We've seen some incredible works by Banksy on the market in the last few years. However, I think in terms of provenance and uniqueness, this one tops them all. For me what is quite special about this piece is it's one of the few free hand pieces on the market. This one really is a rare piece."
The work will be auctioned on Monday 1st June 2015 at DIGARDAUCTION in Paris at Hotel Drouot. Sale preview Saturday 30 May, Sunday 31 Mary and Monday 1st June 2015 in Room 10 and 16 at the Hotel Drouot in Paris.
Categories
Tags